Producer and rapper Timbaland has apologised after being criticised for suggesting Justin Timberlake should "put a muzzle" on Britney Spears.
In her recent memoir, Spears revealed details about her relationship with Timberlake between 1999 and 2002.
Earlier this week, Timbaland said: "I wanted to call and say, 'JT you've got to put a muzzle on that girl, man'."
However, after significant social media backlash, he said: "I apologise to the Britney fans and her."
Timbaland made the original comments in front of an audience during an interview at the Kennedy Center in Washington DC.
One attendee asked Timbaland about the renewed interest in Timberlake's 2002 hit Cry Me A River, a song Timbaland co-wrote and produced, and which was inspired by the former 'NSync star's break-up from Spears.
In her autobiography, titled the Woman In Me, Spears said she had an abortion while in the relationship with Timberlake.
Spears also wrote that she and Timberlake had cheated on each other, and that Cry Me A River and its video - which features a Britney look-a-like going off with another man - made her out to be a "harlot who'd broken the heart of America's golden boy".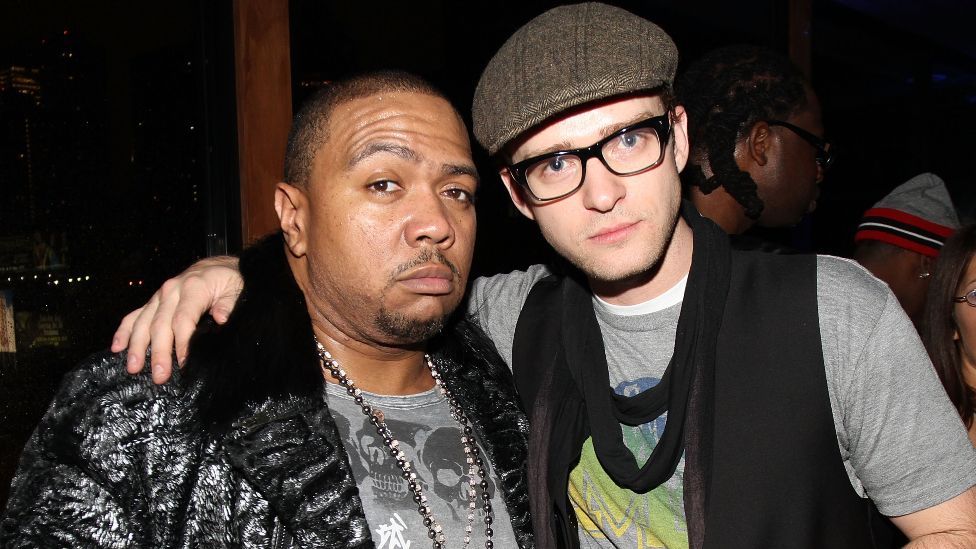 At the event in October, Timbaland replied to the question by saying: "She's going crazy, right?" before making the comment about muzzling Spears.
Fans strongly criticised him on social media. One said: "Imagine in 2023 saying a woman should have a muzzle put on her for speaking her truth, especially after 13 years of abuse and silence."
Spears was subject to a conservatorship, a legal arrangement that controlled many aspects of her life, until 2021.
Other fans suggested Timbaland's comments were partly influenced by reports that Spears had refused to work with him in the mid-2000s.
Timbaland is one of the most prolific producers in R&B and hip-hop, and has worked with Nelly Furtado, Missy Elliott, Aaliyah, Jay-Z, Tweet and Lil Kim as well as Timberlake.
He also scored chart hits as an artist in his own right with songs including The Way I Are, Give It To Me, Apologize and Morning After Dark.