Technical glitches marred the presidential launch of Republican Florida Gov. Ron DeSantis on his May 24 Twitter Spaces interview with Twitter owner Elon Musk. (Video: Billy Tucker/The Washington Post)
---


MIAMI — Ron DeSantis and his allies worked to build momentum ahead of a long-expected presidential campaign launch on Wednesday — rolling out endorsements, sleek videos and the image of an alligator lurking just beneath the water on his campaign website.
But the novel Twitter Spaces announcement with Elon Musk that the Florida governor's team had hyped as the culmination of his big day was plagued by glitches in the evening. The live chat came to a halt after roughly 20 minutes of mostly silence; by the time it restarted and DeSantis began his remarks, hundreds of thousands of listeners had peeled off.
It was an awkward start to a campaign that had already hit numerous roadblocks this spring, even as many Republicans still view DeSantis as the most formidable primary challenger to Donald Trump. The online event beset with technical problems drew ridicule from DeSantis critics in both parties.
The governor plowed ahead with a pitch that casts him as the antidote to Republicans' disappointing election losses — an implicit rebuke of Trump, whom many in the GOP blamed for their poor showing in the midterms last fall. "There is no substitute for victory," DeSantis said. "We must end the culture of losing that has infected the Republican Party in recent years. The tired dogmas of the past are inadequate for a vibrant future. We must look forward, not backwards."
In a Fox News interview shortly after, DeSantis sought to put a positive spin on the situation. "We had a huge audience. … It did break the Twitter space, and so we're really excited with the enthusiasm," he said. On Twitter, DeSantis's team directed their fans to WinRed, the fundraising platform, asking supporters: "What can we break next?"
The governor's entrance comes after some upheaval in the Republican primary. Trump, the former president, has strengthened his position since the start of the year, even as he faces increasing legal peril. Other Republicans have entered the race, but all are mired in single digits and have failed to make a dent in Trump's commanding polling lead. And the Florida governor is trying to regain his footing after falling well behind Trump, even as he has maintained a clear grip on second place.
DeSantis, 44, became a GOP star as a first-term governor who derided pandemic-driven shutdowns and vaccine mandates and cast himself as an enemy of what he calls "woke ideology" in the news media, major companies such as Walt Disney and schools, where he has worked to restrict discussion of sexual orientation and gender identity.
His landslide reelection in November stood in stark contrast to Republicans' underwhelming performance nationwide, intensifying GOP doubts about Trump's viability in 2024 and elevating DeSantis as a possible new standard-bearer for the party. Since then, he has pushed Florida policy to the right with a crackdown on undocumented immigrants, a strict new abortion ban and other dramatic moves that have made his candidacy particularly alarming to Democrats and some civil rights leaders. He signed a bill Wednesday that allows him to run for president while still serving as governor and puts new restrictions on how third-party registration groups operate.
Aided by GOP supermajorities in both chambers of the Florida legislature, DeSantis has racked up policy victories that excite the conservative base — but also stoked concerns among some donors and prominent Republicans that he is picking fights that will alienate more moderate voters. Some have also voiced doubts about his retail politics skills.
Allies hope an official plunge into the 2024 race will help DeSantis turn the tide and dismiss DeSantis's current lag in national polls. "Let's give him time and let him prove himself," said Bill Stern, a former state finance chair for Trump in South Carolina who is now backing DeSantis.
By Wednesday afternoon, DeSantis had filed paperwork to make his campaign official and wealthy donors gathered at a Four Seasons in Miami to kick off fundraising for his campaign. Then came the social media snags.
Rivals pounced on Wednesday's rocky start.
"Ron DeSantis' botched campaign announcement is another example of why he is just not ready for the job," said a statement from Karoline Leavitt, a spokeswoman for the pro-Trump super PAC MAGA Inc.
President Biden on Twitter shared a video highlighting DeSantis's comments on abortion and Social Security while also jabbing at the glitches, saying that "No matter what happens, you can hear Ron DeSantis's agenda loud and clear."
DeSantis aides pointed to the size of the audience. Spokesman Bryan Griffin tweeted that there was "so much enthusiasm for Governor DeSantis's visions for our Great American Comeback that he literally busted up the internet. Washington is next. $1 million raised online in one hour … and counting!"
Generra Peck, DeSantis's campaign manager, said on Twitter that she spoke with Musk and co-host investor David Sacks over the phone afterward and similarly celebrated the number of people who joined Spaces, saying the chat was overwhelmed.

An unwelcome distraction for DeSantis
The technical issues distracted from the substance of DeSantis's campaign pitch — which echoed his speeches around the country in recent months. Speaking Wednesday on Fox News, he said he would build a wall on the southern border, vowed to replace the FBI director and spoke supportively of "national school choice" legislation. Asked about abortion — a divisive subject he doesn't usually dwell on — DeSantis said there is a "role for both the federal [government] and the states" but did not endorse any particular national limit on the procedure, emphasizing that country is "divided on the issue."
Neither DeSantis nor his interviewer, Trey Gowdy, said Trump's name during the roughly half-hour interview — but Gowdy alluded to the former president, at one point asking DeSantis what he would say to candidates "equivocating" about whether to attend primary debates. Trump has suggested the debates should be canceled.
"I think all of us have to go out and earn it," DeSantis said.
The unusual launch on Twitter reflected DeSantis's embrace of conservative influencers as he looks to bypass the mainstream media he derides. It also aligned him with one of the world's richest people — Musk, the Twitter CEO and a polarizing figure who shares DeSantis's disdain for the media and liberal critics and has quickly become one of the most prominent, provocative voices on the right.
But Twitter's servers appeared unable to handle the hundreds of thousands of people tuned in to the live audio feature. Musk and Sacks repeatedly remarked about the number of people listening, which exceeded 600,000 at one point.
As the audience grew, users' Twitter apps crashed unexpectedly and some speakers appeared to drop off the call. At one point, it appeared as if DeSantis himself dropped off. Musk has called Twitter "brittle" and said the site he purchased for $44 billion in October is prone to breaking.
But even he sounded surprised by Wednesday's problems. "This is unfortunate," he said. "We've never seen this before."
Musk, DeSantis and Sacks then shifted to a new Spaces hosted by Sacks. It had far fewer listeners around the time of DeSantis's announcement — around 150,000.
Emerging campaign strategy
DeSantis has signaled he will campaign on his combative approach to critics and willingness to dig in on some of the country's most polarizing debates. At the same time, allies frame him as someone who eschews Trump's daily drama and is better suited to win a general election and enact a conservative agenda. He traveled the country this year in advance of his announcement, telling crowds that "Florida is where woke goes to die" and criticizing Democratic-led cities and states.
The governor is entering the race with national name recognition, long lists of legislative endorsements in early-nominating states and formidable financial resources, with well over $100 million potentially at his disposal between a super PAC supporting him and another political committee. The super PAC will play an unusually expansive role in DeSantis's campaign, with door-knocking efforts underway in early-nominating states and plans to invest significantly in the first 18 states on the primary calendar.
DeSantis group plans field program, showing the expanding role of super PACs
DeSantis's bid will test GOP voters' willingness to move on from Trump for a more disciplined candidate who in many ways has emulated the former president.
Other 2024 hopefuls are trying to position themselves as the leading Trump alternative if DeSantis continues to lose steam. Former U.N. ambassador Nikki Haley, former Arkansas governor Asa Hutchinson, Sen. Tim Scott (R-S.C.) and lesser-known candidates have already declared campaigns, while others such as former vice president Mike Pence could also jump into the race.
Haley on Wednesday released a video that drew parallels between Trump and DeSantis down to their hand gestures, saying that "America deserves a choice, not an echo."
An elite résumé
DeSantis joined Congress in 2013 with an elite résumé — a law degree from Harvard, a history degree from Yale, where he captained the baseball team, and service in the Navy, where he was a legal adviser to SEAL Team 1 in Iraq. He had recently published a book criticizing the policies of President Barack Obama and soon became a founding member of the Freedom Caucus, home to some of the House's most conservative members.
He won the 2018 GOP primary for Florida governor with Trump's endorsement, besting an establishment-backed candidate by 20 points — an outcome widely interpreted as a sign of Trump's influence in the party. He defended the president often on Fox News and made national headlines with an ad in which he encouraged one of his children to "build the wall" with blocks and read Trump's book to another. ("Then, Mr. Trump said, 'You're fired!'")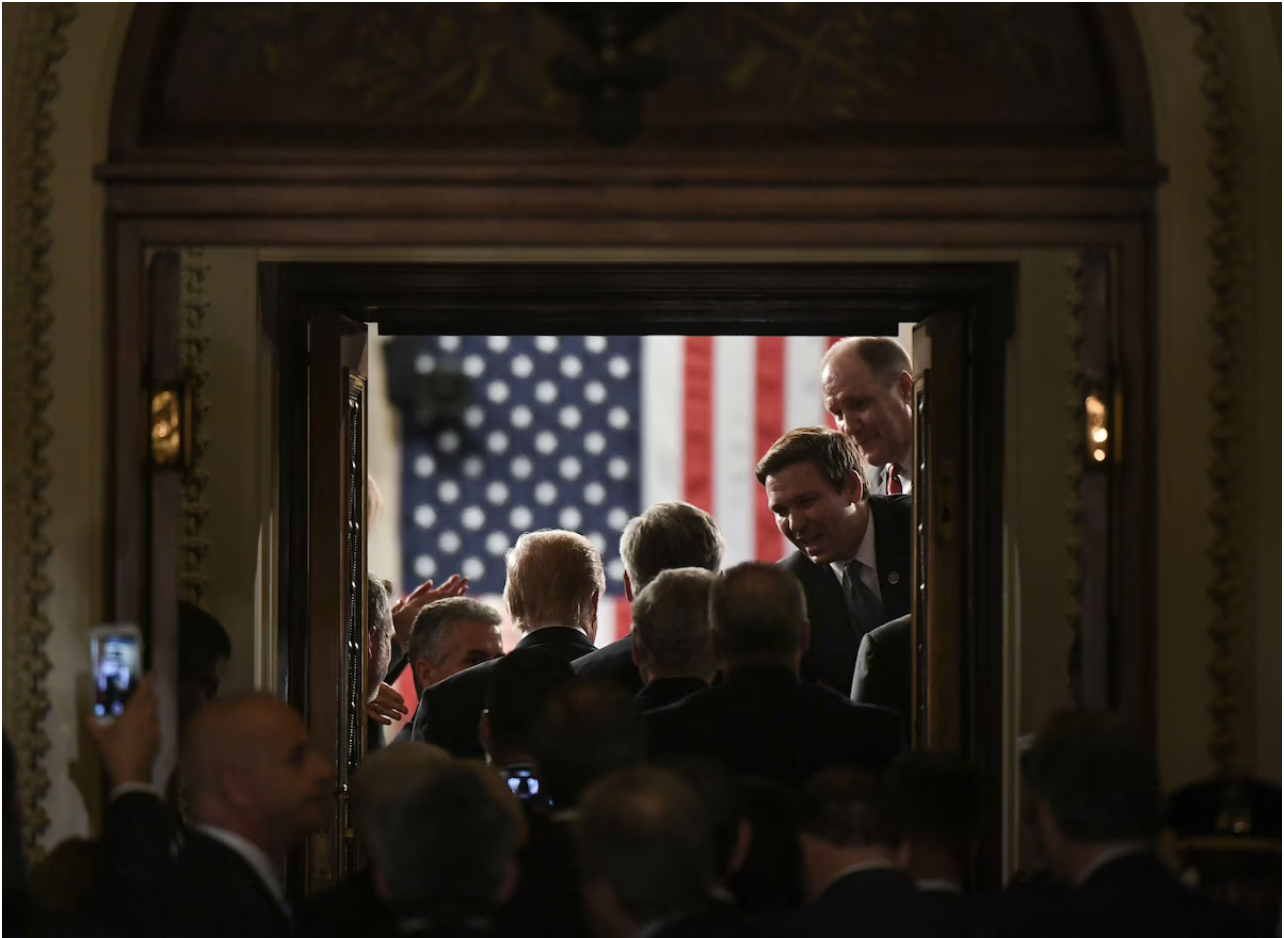 DeSantis won the governorship by a razor-thin margin and at first focused on less-partisan issues, promoting increased funding for education, hurricane recovery and environmental projects such as restoration of the Everglades. Then, in 2020, he became a star of the GOP's opposition to coronavirus restrictions. He lifted his state's pandemic restrictions earlier than many other governors, denounced mask mandates and helped ban local governments and private businesses from enforcing vaccination mandates.
Criticized as dismissive of public health and the thousands of Floridians who died of covid-19, DeSantis said he was protecting people's livelihoods.
Since then, he has championed causes dear to the Republican base, raising his stock with primary voters but also drawing a backlash from critics across the country and legal scrutiny.
A federal judge in 2021 blocked an "anti-riot" law DeSantis championed, saying it could allow "rogue actors" to "criminalize the protected speech of hundreds, if not thousands, of law-abiding Floridians," and also objected to parts of a "Stop Woke Act" limiting discussions of race in public colleges and universities.
DeSantis's state surgeon general put out guidance that puberty blockers and "social gender transition" — which includes the use of new names, pronouns or clothing — should not be options for young children and adolescents. The governor's administration this year expanded the state's restrictions on school discussions of LGBTQ+ issues, banning teaching about sexual orientation or gender identity throughout K-12 public schools with limited exceptions for reproductive health courses.
DeSantis also disparaged coronavirus vaccines (after once championing them) and pushed to investigate "wrongdoing" related to the shots — and outraged Democrats and human rights advocates last fall by flying undocumented immigrants from border state Texas to Martha's Vineyard in Massachusetts.
He has not repeated Trump's false claims that the 2020 election was "stolen," but he has avoided directly answering questions about the claims and embraced the resulting GOP push for new voting restrictions. Highly publicized arrests by Florida's new elections police force drew an outcry last year, as mostly Black defendants said they believed they were eligible to vote despite their felony records and had their registrations approved by the state Division of Elections.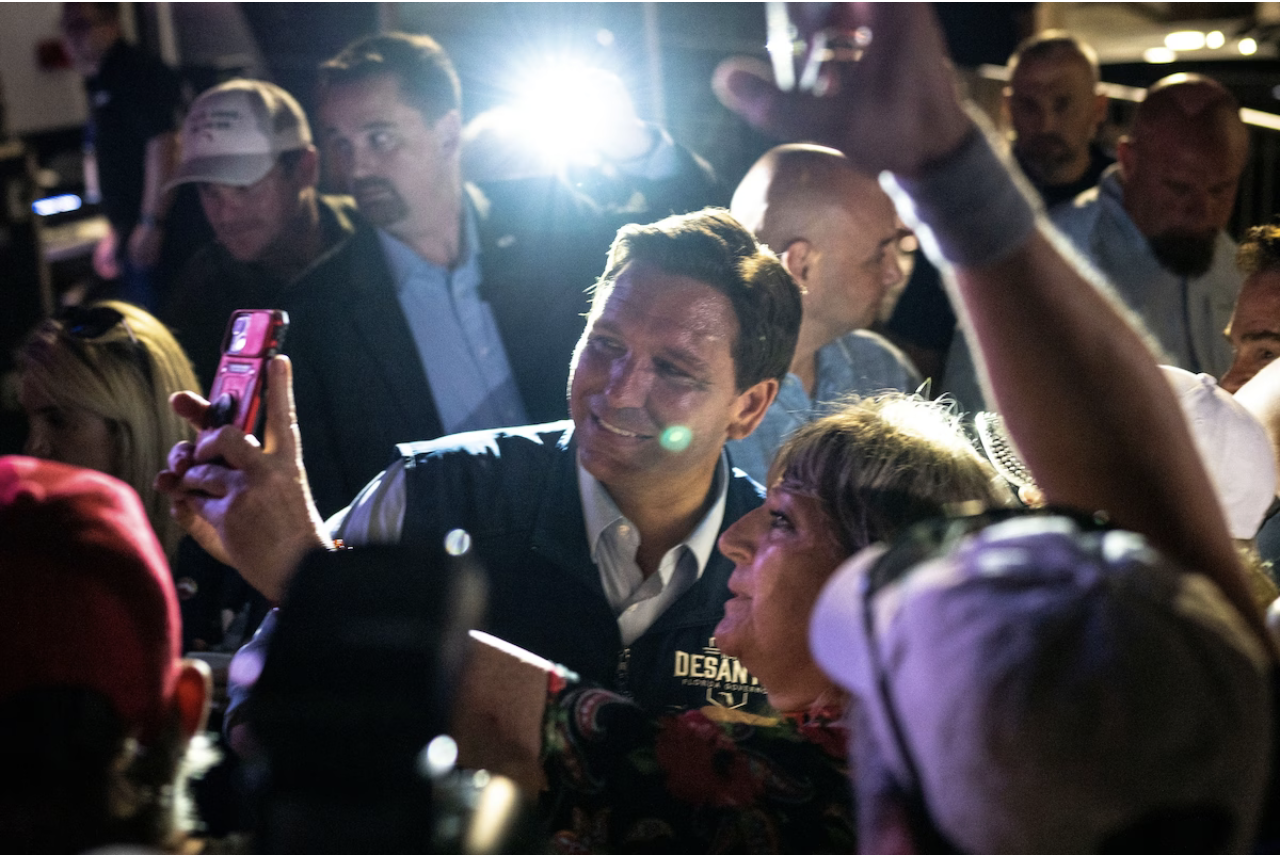 Increased scrutiny
DeSantis has faced increasing scrutiny and staked out positions that some supporters view as missteps. He alienated some donors and hawkish Republicans earlier this year when he called Russia's invasion of Ukraine a "territorial dispute" not central to American interests, aligning himself firmly with Trump on a divisive foreign policy issue for the GOP. He signed a six-week abortion ban in Florida that many worry will be politically costly — and that DeSantis himself has appeared reluctant to tout in public.
How DeSantis backed a six-week abortion ban — while barely talking about it
Rivals have also zeroed in on DeSantis's reputation for standoffishness — despite the governor's efforts to spend more time meeting and talking to local activists and voters in early-nominating states — and the latest turns in his battle with Disney, one of Florida's largest employers.
DeSantis moved last year to punish Disney after it opposed a Republican-led bill to ban public schools from broaching gender identity and sexual orientation before fourth grade. The governor has highlighted his tangle with Disney in speeches, betting it's a winner with Republicans, and escalated the fight this year after the company quietly undermined his attempt to take control of a special district home to Disney World.
Trump allies have ridiculed DeSantis for being "out-negotiated by Mickey Mouse," while prominent Republicans such as House Speaker Kevin McCarthy (R-Calif.) have suggested DeSantis should back off the issue. Disney sued DeSantis in late April, alleging political retaliation. But DeSantis allies believe the Disney fight remains galvanizing for GOP voters.
Siddiqui reported from San Francisco.