Relatives, Army Reserve friends, told authorities Card was deteriorating mentally and had access to firearms. Sheriff deputies couldn't locate him.
The family of the gunman who killed 18 people last week in Maine contacted police with concerns about his mental health and access to guns more than five months before the massacre, according to their local sheriff.
In addition to his own relatives, law enforcement officials and government agencies also expressed anxiety about Robert Card and the possible risk he posed to others, long before police say Card gunned people down in a bowling alley and a bar Wednesday in Lewiston.
The concerns even extended to fears he would commit mass violence. In September, the local sheriff's office received a letter saying that a soldier who served with Card in the Army Reserve believed that Card might "snap and commit a mass shooting."
But even amid these repeated worries and warnings, law enforcement officials who just weeks before the shooting were tasked with checking on Card — a 40-year-old Army reservist from Bowdoin, Maine — were unable to find him, according to records made public Monday evening.

After last week's shooting rampage, the attacker disappeared, prompting a manhunt that stretched for nearly two days before officials found his body. Officials believe he shot himself. Since then, questions have mounted regarding what warning signs predated the shooting and whether any opportunities to prevent the bloodshed were missed.


The man suspected of killing 18 people in a shooting rampage in Lewiston, Maine,
was found dead of a likely self-inflicted gunshot wound on Oct. 27.
(Video: Jackson Barton/The Washington Post)
---
The Sagadahoc County Sheriff's Office, which serves the area that includes Bowdoin, on Monday released the most detailed timeline yet regarding prior law enforcement alerts concerning the gunman. The sheriff's office also released records that illustrated the concerns shared by people around Card, along with other documents showing how deputies had tried to reach him and asked other law enforcement officials to also watch out for him.
Victims of Maine shooting include father, 'hero' who tried to fight back
Sheriff Joel Merry said in a statement that his office was contacted by members of Card's family on May 3. The relatives said Card's mental health had begun declining in January, adding that they were worried about his well-being and noting his access to guns.
Merry said one of his deputies then spoke to Card's Army Reserve unit "and connected them with Mr. Card's family, who assured our office that they would ensure that Card received medical attention." The sergeant of the unit also said he would speak with Card, Merry said.
A May 3 incident report released by the sheriff's office said Card's ex-wife reported that he had "recently picked up 10-15 handguns/rifles" from his brother's house, and that Card's adult son said it appeared his father had begun hearing voices in January.
According to the incident report, Card's son denied that the future gunman did anything threatening with the weapons — but he remained concerned that his father had them.
Repeated efforts to reach Card's relatives, including on Monday, have been unsuccessful.
One attempt by Card to add to his arsenal was stymied. On Aug. 5, Card went to Coastal Defense Firearms, a large gun store near Lewiston, to pick up a silencer that he had purchased online, according to ABC News.
But when Card answered yes to a question asking if he had ever been "adjudicated as a mental defective" or "committed to a mental institution," the store's staff declined to give him the device he had purchased, ABC reported.
The co-owner of Coastal Defense Firearms declined to comment further Monday, referring a reporter to the ABC article.
By September, fears about Card had only grown.
According to Merry's statement and documents released Monday, a Sagadahoc County sheriff's deputy visited Card's home on back-to-back days that month after the sheriff's office received an email from his Army Reserve unit asking for a wellness check on him.
Card's unit had asked for the check "out of an abundance of caution after becoming concerned for his safety," Lt. Col. Ruth Castro, a spokeswoman for the Army, said in an email Monday. Castro declined to provide further details, citing "ongoing Army and law enforcement investigations."
During the first attempted visit, on Sept. 15, Card was not home, according to Merry. An incident report released by his office said that it was contacted by military officials concerned that "Card is having psychotic episodes where he is hearing voices that are insulting him calling him a pedophile."
The report also says Card was "making threats to shoot up" a National Guard facility.
The Sept. 15 incident report repeatedly mentions the Maine National Guard, which said Monday that Card had never been affiliated with the organization. Merry on Monday clarified that while his office's records mention the National Guard, its contacts with the military regarding Card had only been with the Army Reserve.
The incident report also describes a letter from the military regarding Card that reported that he had been "hearing voices" insulting him. The voices started in the spring, the letter said, but only worsened. Card grew agitated and angry with other soldiers, then was taken to receive psychiatric treatment, the letter said.
But then in September, the letter continued, a soldier described as a friend of Card's reported that the future gunman "had assaulted him" while they were driving home from a casino. The soldier said Card then threatened to open fire at a drill center in Saco, Maine, the letter said. The soldier also expressed his fear that Card would carry out a mass killing.
When the sheriff's office could not locate Card on Sept. 15, it sent out an alert known as a "File 6," a bulletin essentially asking other public safety officials to keep an eye out for Card. The alert, a copy of which the sheriff's office released, made clear that there was danger involved in approaching him.
The alert said Card "has been suffering from psychotic episodes & hearing voices." It continued that he "made threats to shoot up the National Guard armory in Saco," where his Army Reserve unit was based. The alert also said Card had been "committed over the summer for two weeks due to his altered mental health state, but then released."
"If located, use extreme caution," the alert said. Card is "known to be armed and dangerous."

This type of alert is used to find missing people or people the police are trying to locate, said JoAnne Fisk, the police chief in the city of Biddeford, Maine. (Fisk had no memory of the specific alert involving Card.) They can be initiated by any law enforcement agency in Maine and are transmitted statewide. These alerts are a daily occurrence, Fisk said, and often arrive multiple times a day. They tend to adhere to a standardized format, including a person's name, physical description and details about their vehicle, if applicable.
The alerts sometimes flag particular jurisdictions, asking personnel there to keep an eye out for the person described, according to Matthew Gagné of the Sanford Police Department. The messages also indicate why the person is being sought.
On Sept. 16, a deputy from Sagadahoc returned to Card's residence accompanied by another deputy from neighboring Kennebec County. Card's car was there, Merry said, but no one answered the door when they knocked multiple times. (The Kennebec County Sheriff's Office did not respond to repeated calls and emails Monday.)
The deputy from Sagadahoc then contacted the gunman's unit commander, who reported that Card "no longer had any weapons from the reserve unit," Merry said in his statement. The commander said that the unit was trying to get treatment for Card "and that he thought it best to let Card have time to himself," Merry said.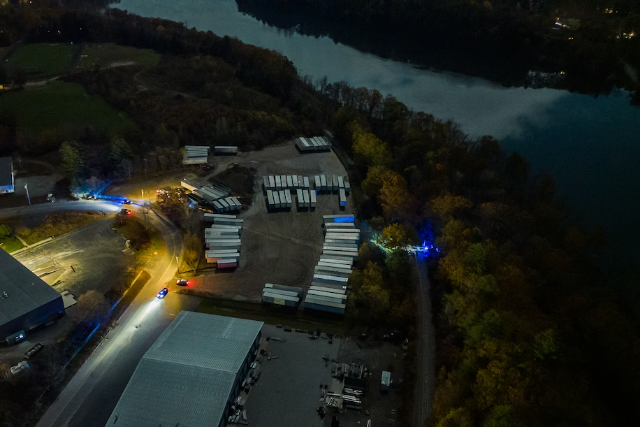 The incident report concerning the attempts to find the future gunman describes how, on Sept. 16, the deputy spoke to Card's unit commander, who said officials were trying to get Card to retire from the Army Reserve on the condition that he receive mental health treatment.
The following day, Merry said in his statement, a deputy connected with the gunman's brother and was told that he planned to "secure" any guns to which Card had access.
In the incident report, the sheriff's deputy said Card's brother reported that such weapons were stored in a gun safe on the family farm. The family planned to move them, the brother added, according to the report.
The deputy asked the family to reach back out if they believed Card posed a danger to himself or others, or needed an evaluation, according to Merry.
"We believe that our agency acted appropriately and followed procedures for conducting an attempt to locate and wellness check," Merry said in his statement. Merry also said he would not answer additional questions Monday.
The FBI said the alarms raised about the gunman never made it to the bureau. In a statement, the FBI said that its national threat center, which receives tips from the public, "did not have nor did it receive any tips or information concerning Robert Card."
Similarly, the bureau noted, its background check system did not receive any information that could have stopped Card from legally buying guns.
Maine Gov. Janet Mills (D) on Monday declined to address questions about any previous alarms raised about the gunman, saying that the Maine State Police were conducting "a thorough investigation of every aspect of the case."