In an ominous new move, Russia and North Korean leaders have accelerated diplomacy between the two nations — with Kim Jong-un set to take a rare trip abroad to discuss potential military cooperation.
The partnership has been described as a "food for guns deal", as North Korea grapples with an ongoing famine resulting from poor trade relations with developed nations.
The talks will reportedly involve North Korea's military supplying Russia with weaponry for its war in Ukraine.
Dr Matthew Sussex, Associate Professor of the Griffith Asia Institute, says the alliance between North Korea and Russia is part of a "coming out party" for nations opposed to the West.
"The meeting between Putin and Kim Jong-un this month, this is basically showing that Putin is willing to go to any length to get his hands on artillery ammunition," Dr Sussex told news.com.au.
The meeting is expected to take place in Russia's far eastern coastal city of Vladivostok. It's assumed Kim Jong-un will travel by armoured train. Both leaders are also set to attend the Eastern Economic Forum from September 10 to 13.
Vladimir Putin is seeking artillery shells and antitank missiles from North Korea, while Kim is interested in securing advanced technology for satellites and nuclear-powered submarines from Russia.
The White House has warned about possible arms deals between Russia and North Korea as high-level talks on military cooperation progress at a rapid pace.

A North Korean delegation visited Russia in late August to plan Kim's visit, indicating their commitment to the meeting.
Deterring support for Russia from North Korea, Iran, and China is a critical part of the Biden administration's strategy to help Ukraine defend itself against Russia, as NATO allies continue to funnel support into the invaded nation.
US National Security Council spokeswoman Adrienne Watson revealed Russian defence minister Sergei Shoigu, who visited North Korea in July, presented Kim with options for greater military cooperation and urged Putin to make his move.
"We have information that Kim Jong-un expects these discussions to continue, to include leader-level diplomatic engagement in Russia," Ms Watson said on Monday.
Russia's plot to cultivate influence from surrounding nations continues to steamroll ahead. Information campaigns deployed in neighbouring nations have continued to sow resentment for the West and NATO.
Dr Matthew Sussex told news.com.au said Putin was scrambling to source more weapons.
"The Russians shot through 12.5 million artillery shells in 2022. This year, because they're running out, they'll shoot about seven million," he said.
"Domestically they can produce 2.5 million a year. They have eaten sizeably into their warstocks, so what they need are those factories in North Korea that produce lots of old fashioned artillery ammo."
Kim and Putin have also recently exchanged letters discussing potential arms deals, and the strengthening of their alliance serves their shared strategic interests.
China has also sent delegations to North Korea in recent months, with North Korean state media reporting that Kim had received a letter from China's leader Xi Jinping.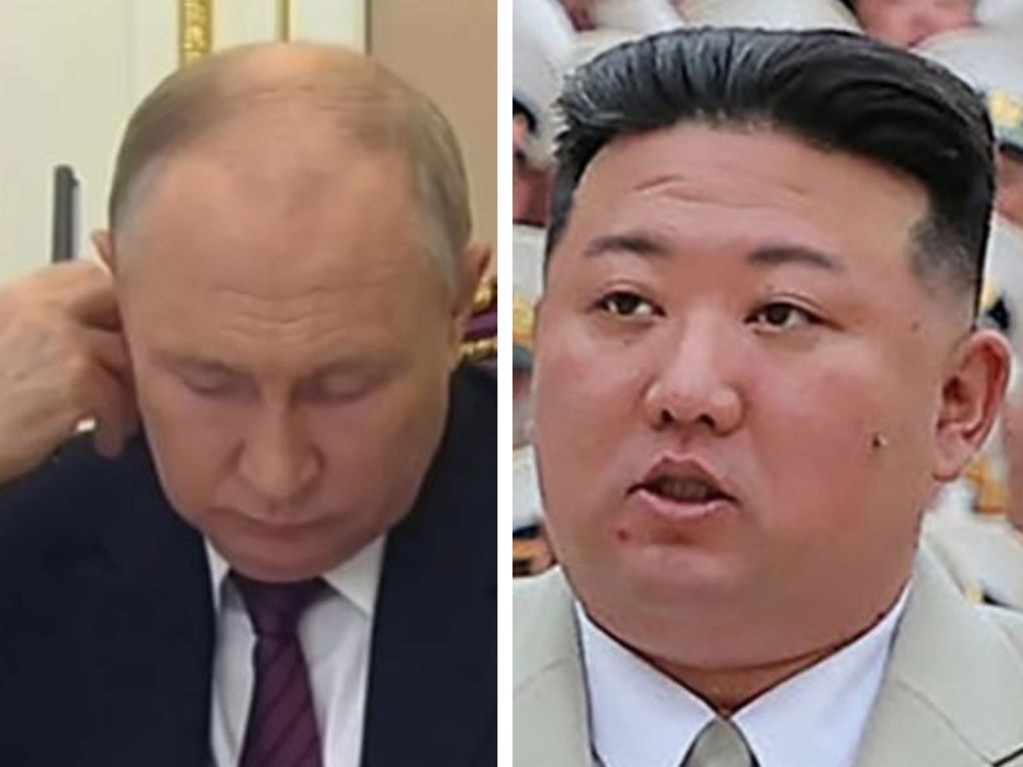 "The meeting also shows there is an increasing alignment of countries with one another, it's almost a 'coming out party' for Kim Jong-un coming out of the shadows," Dr Sussex continued.
"There have been suggestions Russia, China and North Korea will do joint naval drills, so this is quite significant."
Dr Sussex said despite ongoing fears, there was a "long way to go" before partnerships like BRICS (a grouping of the large developing economies of Brazil, Russia, India, China, and South Africa) become a formal military alliance, "let alone a formal club".
"At the moment, it's just a loose ad hoc, a bunch of meetings. But, that said, it is certainly Russia's strategy to court the areas of the world where the West is weakest," he said.
The US is now urging North Korea "to cease its arms negotiations with Russia and abide by the public commitments that Pyongyang has made to not provide or sell arms to Russia".
As such, analysts are wary it is another step in Russia's grand plan to create an alternative global superpower.
"Kim and Putin to meet in Russia. Ukraine can't win is a reality that can no longer be denied," one time SBS journalist Mary Kostakidis noted on Twitter.
"Africa is kicking out rapacious colonisers, and BRICS is set to change the flow on money in the world. The US is blindsided. What happened?"