It is now being transformed and presented as a showcase for rule from Moscow - and some Russians are even hoping to buy homes there.
Russia claimed to have annexed Mariupol, along with all other occupied areas, following a series of referendums that have been widely condemned as sham exercises.
About 90% of the city's buildings were damaged or destroyed by Russian shelling during a gruelling two-month siege. Thousands of civilians were killed and about 350,000 people left, out of the pre-war population of 430,000, according to the UN.
Now, the occupation authorities seem intent on "Russifying" the city, changing Ukrainian-language road signs to Russian ones, introducing the Russian curriculum in schools and pushing the remaining residents to acquire Russian passports.
BBC Verify has used satellite footage to map how Russia is reshaping the fabric of the city.
It has also found that while new development is ongoing, extensive destruction remains - and it has heard from remaining pre-war residents who fear an uncertain future.
'House with a sea view'
"I have found a property. Mariupol will be a beautiful city," Vladimir, from the Arctic Russian city of Murmansk, told the BBC.
He, along with others the BBC spoke to, did not want his full name published.
He is among dozens of Russians who've been looking for property in the occupied city on VKontakte, Russia's most popular social network, in the past months.
Vladimir says he has already sold his flat in his home city and will soon move into his Mariupol home with the entire family.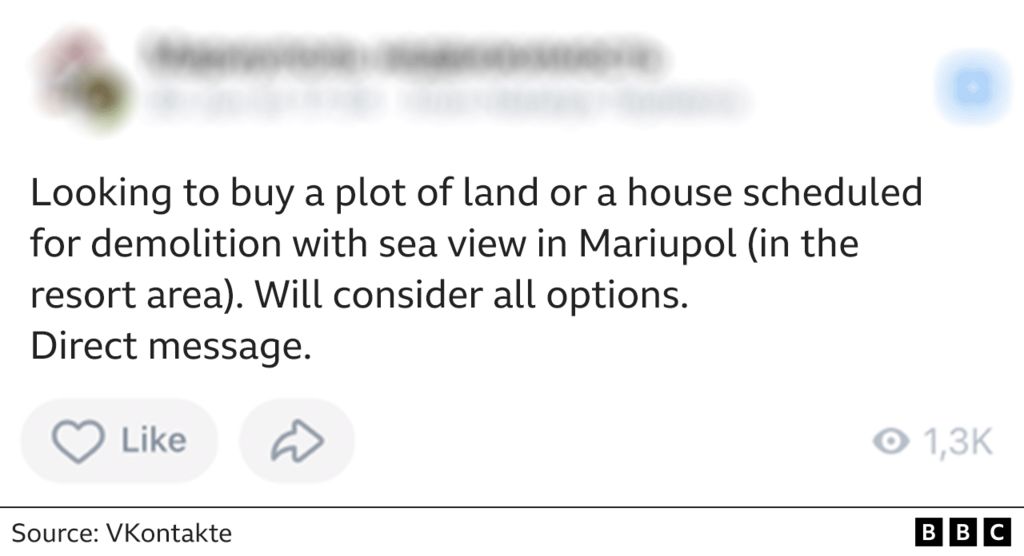 "The main thing is that it's on the sea," he told the BBC, adding that he is going for it now because prices are low.
Vladimir's remarks echo what millions of Russians have been hearing in Kremlin-controlled media over the past year.
There's been a steady stream of glowing reports on state TV portraying the reconstruction of Mariupol as proceeding at a "record-breaking" pace and life returning to normal.
"In the place of ruins, there are now new blocks of flats, nurseries, schools - everything's being restored with the most modern of technologies," says a report on state TV station Rossiya 1.

Satellite images analysed by the BBC indeed show multiple high-rise estates appearing in existing neighbourhoods across the city over the past year, mostly near the outskirts.
There is also a vast new area of newbuild high-rise flats on the north-western edge of the city, called Nevsky.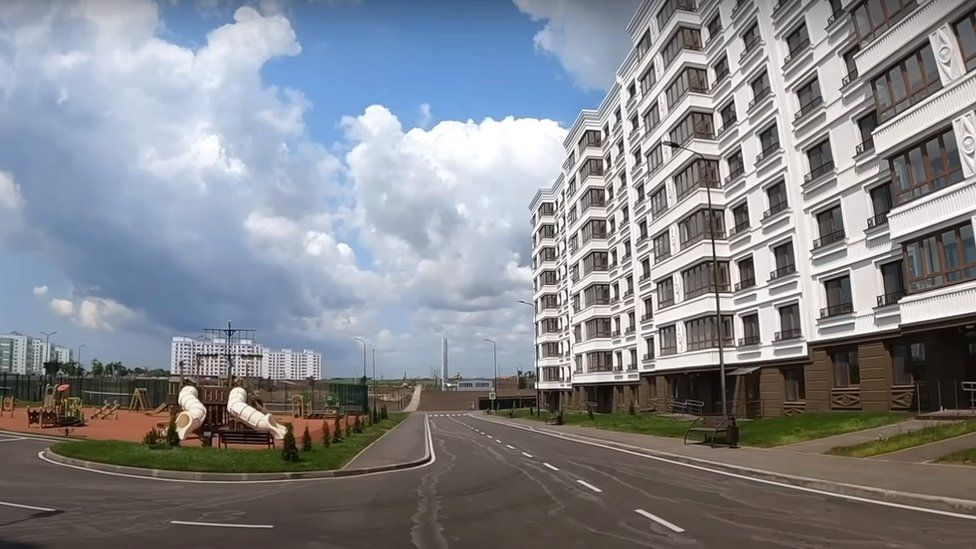 But images captured by satellite also reveal that the extent of devastation in the city is still massive.
This is especially true in parts of the city centre, where most of the buildings can still be seen missing their roofs.
Alexander (not his real name), an employee of the city's vast Azovstal steel plant who has stayed in the city, says what is being shown on Russian TV is "rubbish".
The plant is where Ukrainian troops made a last stand during the Russian siege.
He estimates that so far, only about 10% of homes damaged in the fighting have been restored.
At the same time as new flats are going up, many blocks of flats have been pulled down, reportedly after being judged beyond restoration.
These include an entire neighbourhood - with an area of about 315,000 sqm, according to satellite footage - in the city's east, another part of Mariupol badly hit by the fighting.
But Alexander says little or nothing is being put in their place.
"So they knock down a block of flats and now there's a just hole in the ground, no foundations are being laid down, nothing is being done," he told the BBC.
Delays and restrictions
Officially, those whose houses have been destroyed or demolished can apply to get a flat in the newbuild estates going up.
Both Russian state TV and pro-Kremlin YouTube channels routinely show apparently happy families moving into their new homes.
Yet many locals, including the ones we spoke to, report that the process is agonisingly slow, and there are many restrictions in practice, resulting in the new buildings standing half-empty.


Svetlana (not her real name) says her grandmother is still waiting for a flat to replace the one she lost when her building was pulled down, months after being notified that she would get her new flat in March.
"People are put on some kind of waiting list and don't know where they'll get a flat," Svetlana, who left to live abroad after the war, told the BBC.
Alexander told the BBC that he believes flats are being given out "very sparingly and very selectively" to people who are "clearly of pro-Russian views".
A common reason for refusal - widely reported by Mariupol residents online - is if someone owns property other than their demolished flat, even a plot of land, a share in a flat or holiday cottage in the country.
One woman whose block was demolished, Anna, told local pro-Russian TV station Mariupol 24 she was denied a replacement flat because she owns an 8 sqm shed in a village 40km outside the city.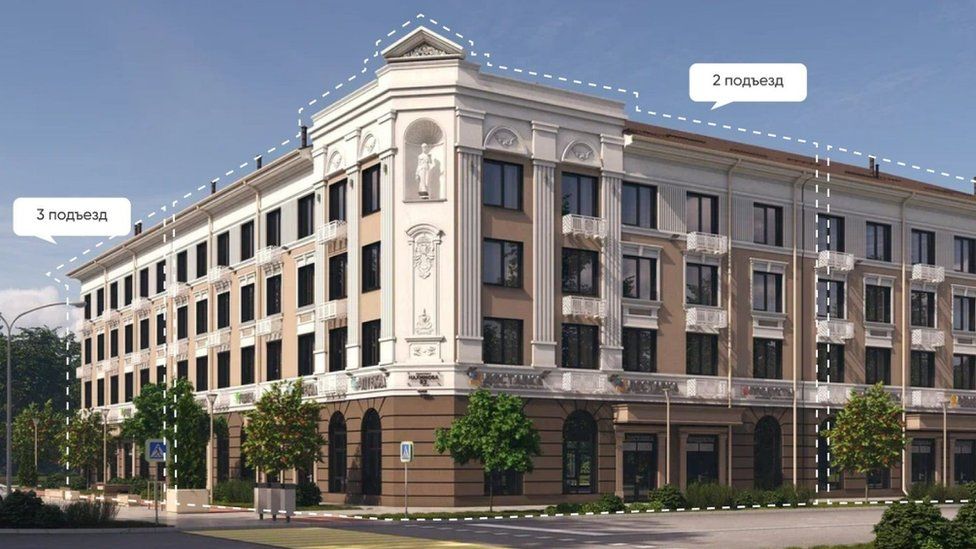 Her building, on Nakhimov Avenue, to the west of the city centre, is being replaced by a new block of flats, called Dom Na Nakhimova.
Built by a private Russian construction company, its website creates the impression of a luxury development, and it will be sold on the free market to mortgage holders.
"Right now, we don't have the means to buy a home with a mortgage," Anna told Mariupol 24. "How could we do that?"
Contacted by the BBC, the Dom Na Nakhimova developers said most of the flats were already booked, and gave the price for a 35 sqm flat as 3.55m roubles (about $37,500).
'The enemy does not want to calm down'
The Russians we spoke to seem undeterred by the scale of destruction in the city or reported issues residents experience on the ground.
"Ukraine destroyed the city of course," Vladimir says, ignoring the fact that it was Russia that invaded Ukraine, causing mass destruction.
"Russia will raise the city up from the ground... and will be even better than it was as part of Ukraine," he adds.

Oxana, from Tatarstan, a mother of several children who says she "always dreamt of living by the sea", expressed concern about the prospect of Ukrainians returning. Ukraine is trying to drive south towards the city as part of its counter-offensive, according to its deputy defence minister.
And if it recaptures the city, property rights given during occupation will likely be declared void, Oona Hathaway, a professor of law at Yale University, told the BBC.
But that hasn't put off people like Oxana: "I haven't given up on the dream yet," she says. "My aim is to have my own house of no less than 180 sqm."
Graphic design by Filipa Silverio