Russian authorities say a Ukrainian drone heading for Moscow was shot down by defence forces on Saturday.
The defence ministry said the un-crewed aircraft was intercepted over the Bogorodsky District on the north-eastern outskirts of the capital.
Moscow mayor Sergei Sobyanin said there was no damage or casualties.
It comes after Ukraine said it had shot down 29 out of 38 Iranian-made Shahed drones launched by Russia the previous night.
On Saturday, Ukrainian president Volodymyr Zelenskiy praised his air force for shooting down the drones - the highest number reported to have been launched by Russia in more than six weeks.
In his nightly address, President Zelensky said: "Your accuracy, guys, is literally life for Ukraine" - but he warned that as winter approaches Russia would try to make their attacks more powerful.
Mr Zelensky said Russia could be stockpiling missiles for a winter assault on Ukraine's energy infrastructure.
Friday night's drone strikes caused power cuts in more than 400 towns and villages across Ukraine and also damaged an oil depot in Odesa in the south - leaving more than 1,500 residents without power.
Ukraine said nearly 21,000 people in the Donetsk region have no electricity, and 63 settlements are cut off in the Zaporizhzhia region.

Last winter, Russian attacks left millions of Ukrainians without power for hours in freezing temperatures.
Meanwhile, Ukraine's general staff said on Saturday that its forces "continue to hold positions on the left (eastern) bank of the Dnipro river".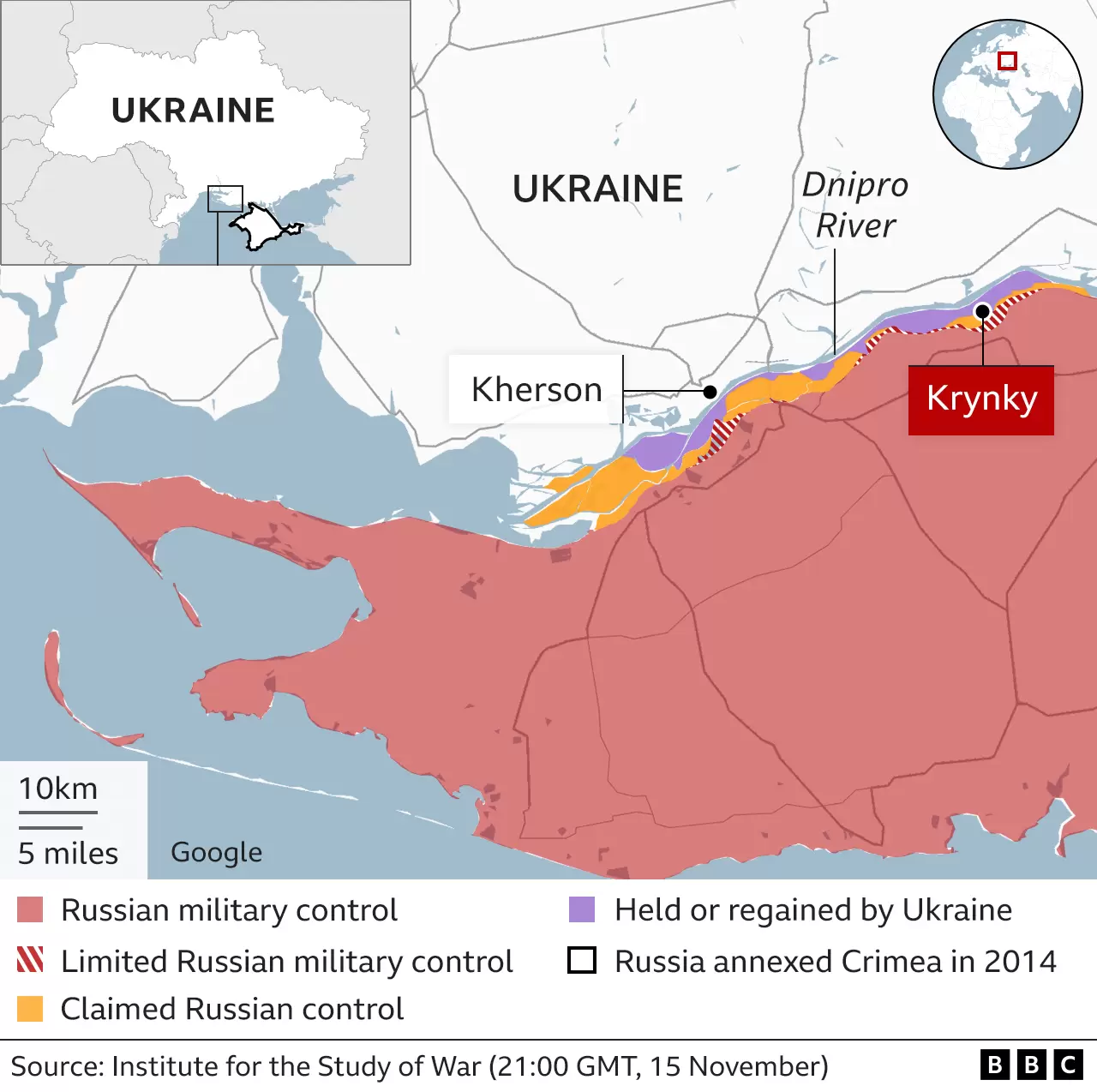 Ukrainian forces said this week they had gained a foothold on the eastern bank of the Dnipro about 30km (19 miles) from the city of Kherson.
The river has separated Ukrainian and Russian forces since Moscow's troops withdrew from Kherson a year ago.
"Our defenders are consolidating their positions and firing on the occupiers," the general staff said on Saturday, updating on its operations on the eastern side of the river.
Russia conceded on 15 November that "small groups" of Ukrainian forces had set up positions in the village but insisted they had sustained heavy losses and had no chance of breaking through.
On Thursday, Mr Zelensky said Russia was "accumulating" missiles and that while Ukraine did not have "100% protection" from Russian strikes, the country's air defences were better than last year.