A method has gone viral on TikTok which involves pressing down on your belly during sex for more intense orgasms. Here is everything you need to know to make it work for you.
Women notoriously find it difficult to orgasm during sex, with only 65 per cent claiming to reach the "big O", compared to 95 per cent of men. So it's no surprise that Nurse Ria's TikTok video about a belly press sex thing which could "stimulate the G-spot from the outside" and amplify your orgasms went insanely viral. And, as with any viral phenomenon, it quickly became divisive.
The video, which has since been removed, reached over 1.2 million likes and thousands of comments from both staunch supporters and more hesitant adopters who explicitly stated "no thanks." Consider this your crash course in the 'belly press' method, how to get started, and why it might or might not work for you.
Like what you see? Sign up to our
bodyandsoul.com.au newsletter
for more stories
What is the belly press technique?
During sex, the 'belly press' technique involves applying pressure to your lower abdomen or pelvis in order to externally stimulate the infamous "g-spot." Definitely steer clear of pushing directly on your stomach itself.
While the existence of the g-spot is still being debated in 2023, the general consensus is that engaging and massaging the lower abdomen area will engage pelvic floor muscles as well, as your clitoral nerves, which extend beyond the head of the clitoris and deep into your pelvis. As a result, the belly press technique can intensify your climax and orgasm.
Putting pressure on your belly puts pressure on your bladder, which may feel good because it stimulates your upper vaginal walls. As a result, it should be noted that going to the bathroom prior to belly play is advised.


@nurse.ria11

♬ original sound - Indyrica
How to do the belly press technique during sex
Solo play is the first and safest way to determine whether the technique is right for you. Experiment with internal stimulation using your hand or a sex toy, while applying external pressure to your abdomen with your other hand, a heat pack, or a water bottle. You might want to try moving your hand to different areas and adjusting the pressure as you go to find out what works best for you.
If you want to explore further with your partner, consider telling them about this new technique you've heard about, and experimented with, and getting their permission to try it in the bedroom. Then you or your partner can start by gently applying pressure to your lower abdomen, in your upcoming sex sesh.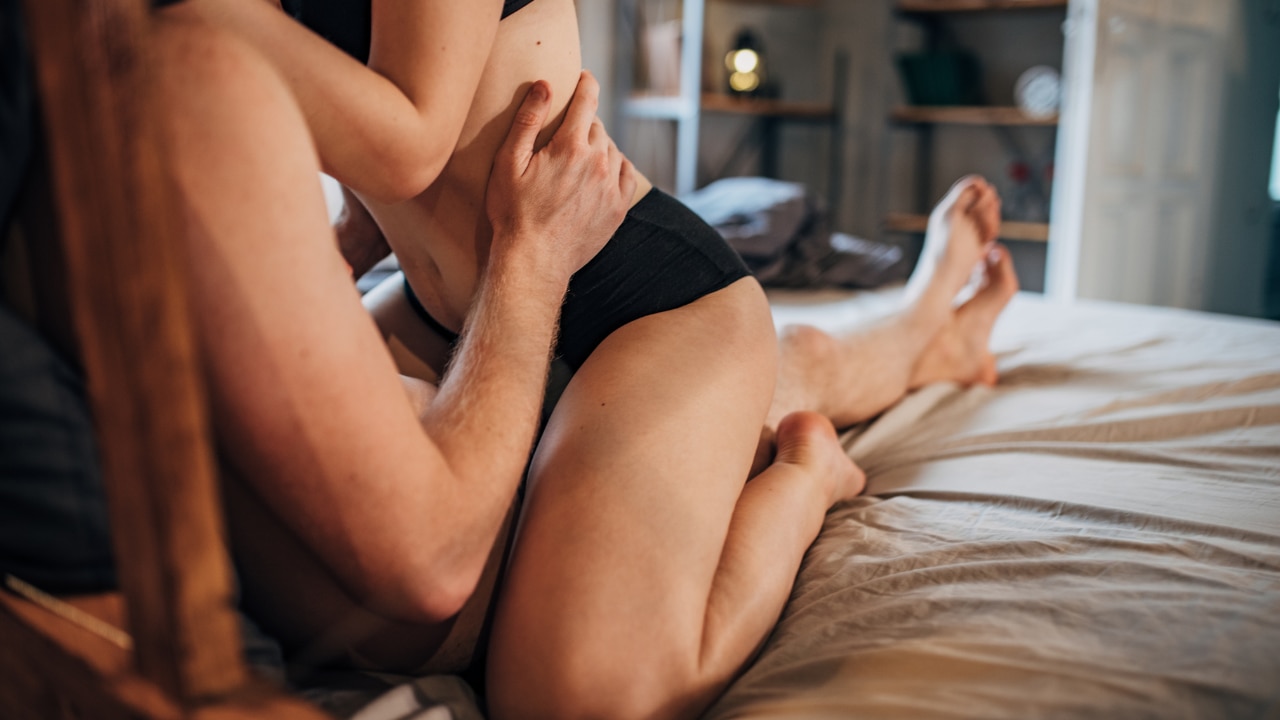 What the belly press should feel like
For some, the extra pressure on certain parts of the abdomen may cause increased physical pleasure, or it may be more of a mental or emotional stimulation. And it may feel good throughout the whole of intercourse, only during oral sex, or as a teasing technique as you approach orgasm. But if it ever causes you any pain you should immediately stop.
However, based on the polarising reaction to the video, the technique doesn't work for everyone. Many people find pressing down on our organs and abdomen unpleasant, and because it is a sensitive part of the body, it may feel better or worse depending on the day, influenced by your bladder, menstrual cycle, or diet.
The impact of the increased pressure on people with IBS and abdominal problems, as well as those with endometriosis or ovarian cysts, was mentioned several times in the comments, and rightly so. If you notice any of these, you should avoid them or begin by experimenting very gently during solo play. Everyone is different and will react differently, so the formula of starting slowly and prioritising safety and consent at all times is a good one to follow.