The couple said they would remain "a close family with deep love and respect" in an Instagram post.
They were married in Montreal in 2005 and have three children together.
In a statement, Mr Trudeau's office said that while the couple had signed separation agreement they will still make public appearances.
"They have worked to ensure that all legal and ethical steps with regards to their decision to separate have been taken, and will continue to do so moving forward," the statement said, adding they would be on holiday as a family next week.
The couple have asked for privacy for the "well-being" of their children, Xavier, 15, Ella-Grace 14, and Hadrien, nine.
"We remain a close family with deep love and respect for each other and for everything we have built and will continue to build," Mr Trudeau, 51, and Sophie Grégoire Trudeau, 48, said.
They have been seen together publicly less frequently in recent years, though they attended the coronation of King Charles III together in May and hosted US President Joe Biden in Canada in March.
When Mr Trudeau was first elected prime minister in 2015, the couple appeared in a high-profile Vogue spread where she told the magazine that at the end of dinner after their first date he said, "I'm 31 years old, and I've been waiting for you for 31 years".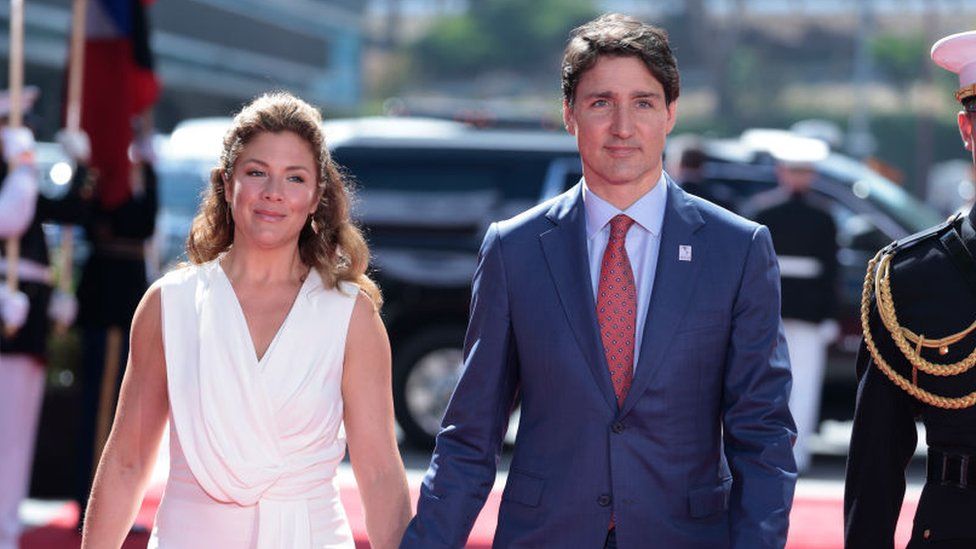 In a wedding anniversary post on Instagram in May 2022, Ms Grégoire Trudeau wrote about the challenges of long-term relationships, saying "we have navigated through sunny days, heavy storms, and everything in between".
Mr Trudeau has also spoken about the challenges in their marriage, writing in his 2014 autobiography: "Our marriage isn't perfect, and we have had difficult ups and downs, yet Sophie remains my best friend, my partner, my love. We are honest with each other, even when it hurts."
The two began dating in 2003, when Ms Grégoire Trudeau was working as a TV personality. She is also known for her charity work around mental health and eating disorders.
Mr Trudeau is the second Canadian prime minister to announce separation while in office. The first was his father, the late Pierre Elliott Trudeau, and mother Margaret Trudeau, who announced their split in 1977 after six years together. They later divorced.