The massive production not only provided a jolt of money to sold-out stadiums — it also infused the American economy with a trickle-down flow of cash.
Call it a gold rush: Taylor Swift is adding billions to the U.S. economy.
Swift's record-shattering Eras Tour is set to be the most lucrative concert run in American history. But the massive production not only provided a jolt of money to sold-out stadiums — it also infused the American economy with a trickle-down flow of cash.
Now, as the show heads to movie theaters this weekend, millions more will experience — and shell out cold, hard cash for — a moment with Swift.
As she hits the silver screen, here's a look at The Economy (Taylor's Version).
The biggest windfall is headed straight to Swift, who stands to make as much as $4.1 billion from the Eras Tour, according to estimates from Peter Cohan, an associate professor of management at Babson College.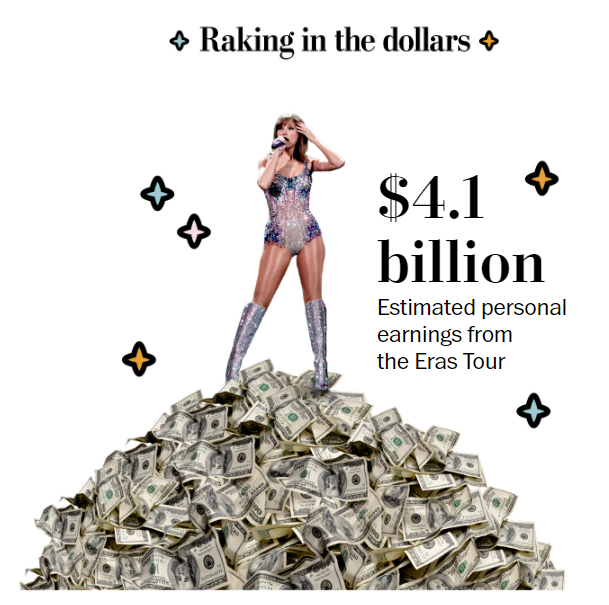 That's assuming the pop star ends up keeping the standard artist's share of roughly 85 percent of her tour's revenue, with average ticket prices of $456. Swift's earnings would be the most from a single tour for any musical act to date — and more than the yearly economic output of 42 countries, including Liberia, which has more than 5 million people.
But the impact of the Eras Tour extends far beyond what Swift takes home. In one of the few efforts to assess spending by concertgoers, software company QuestionPro quizzed 592 Swifties who responded to an opt-in online survey. Based on their answers and average concert attendance, the company estimates that Swift's fans spent about $93 million per show — yes, on tickets, but also on merchandise, travel, hotels, food and outfits.
Add all that up, and by the end of the U.S. tour, you've got a $5.7 billion boost to the country's economy. That's enough to give $440 to each person in Swift's home state of Pennsylvania. Or almost enough to send every American a $20 bill.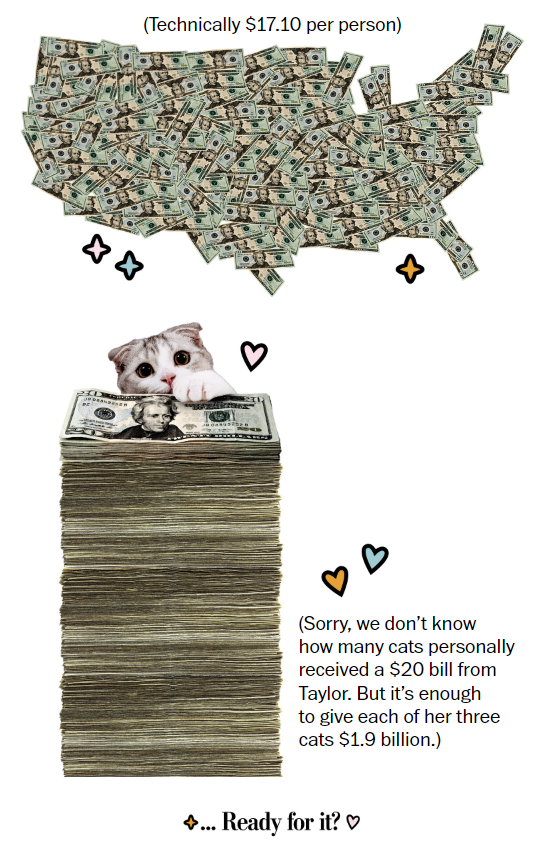 The mania began months before the March kickoff of the Eras Tour. Presale tickets went on sale in November — sending millions of fans into a frenzy and causing Ticketmaster to crash. A class-action lawsuit and a congressional inquiry followed, as did the ire of many Swifties.
Tickets, which started at $49, sold for many multiples of their face value on resale sites like SeatGeek.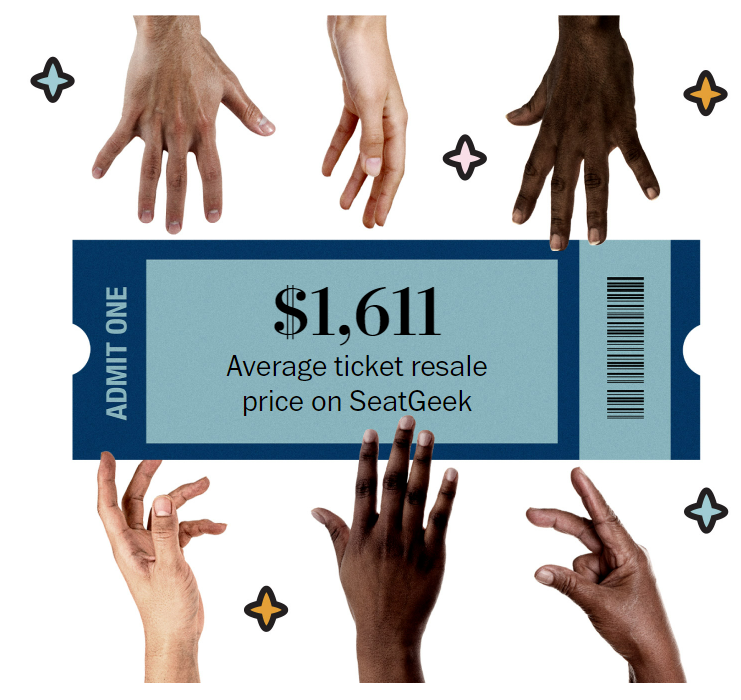 That burst of spending has revived the entertainment industry after a years-long pandemic slump.
"Swift and her 'Eras' tour have redefined entertainment economics," said Chris Leyden, director of growth marketing at SeatGeek.
The tour's economic boost spread far past the walls of Swift's stadium venues, as fans traveled from near and far to any show they could get their hands on. The Federal Reserve Bank of Philadelphia even put the Swift effect in a report — saying concertgoers provided a sizable boost to hotel revenue in May.
Hotels, restaurants and shops around the country felt the upswing, with millions of dollars flowing into the 20 U.S. cities Swift visited this summer. Cincinnati estimated that it would see about $48 million in additional economic impact, according to Visit Cincy and the Cincinnati Regional Chamber's Center for Research and Data.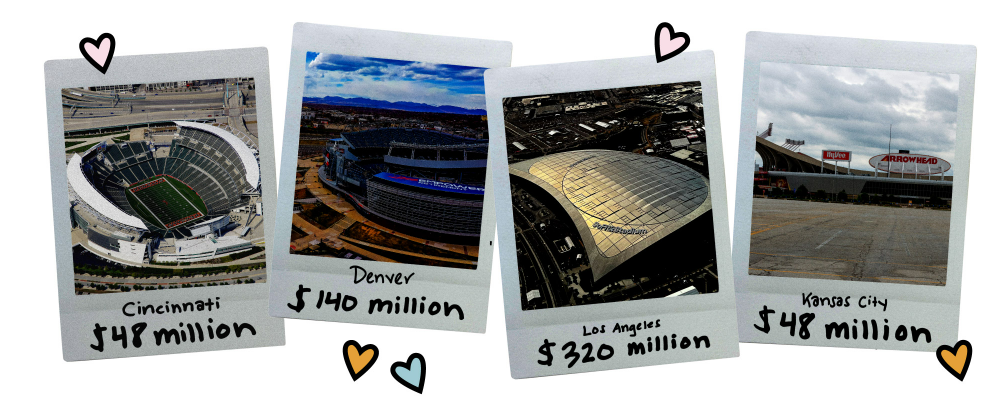 In Los Angeles, where Swift performed six shows, the California Center for Jobs and the Economy predicted a $320 million boost to the county. Kansas City tourism organization Visit KC said the region got an estimated $48 million impact from the tour's July stop. The Common Sense Institute, which studies the state of Colorado's economy, predicted the boom from Swift's Denver performances would add up to $140 million statewide.
"The [Eras Tour] was a shot in the arm to a part of the regional economy that's really been lagging," said Mike Kahoe, chief economist for the California center. "It brought some much-needed dollars to the tourism industry."
Hotel analytics group STR calculated tour cities produced a $208 million bump in hotel room revenue, over and above normal seasonal levels.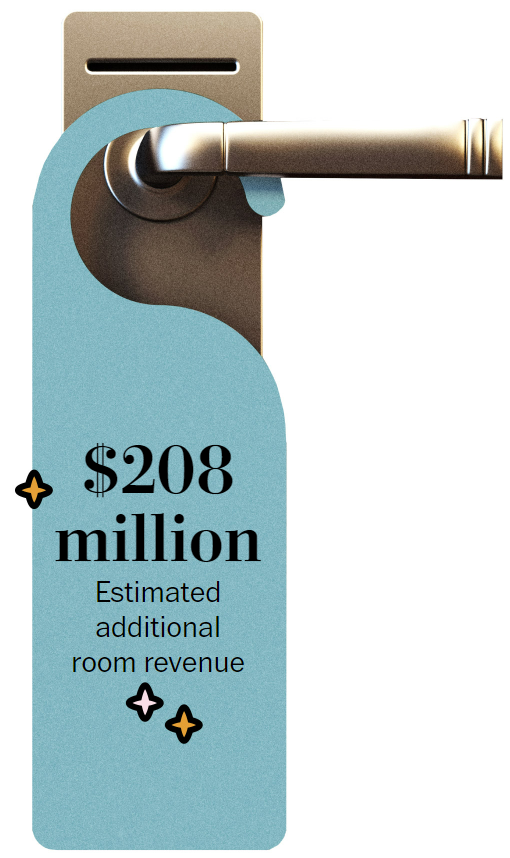 In Seattle, Swift set a record for single-day revenue for downtown hotels — notching $7.4 million, about $2 million more than the record set during a Major League Baseball All-Star Game earlier the same month, according to Visit Seattle and STR.
"To put the impact into context, $208 million is basically the combined room revenue generated in New York City and Philadelphia in one week," STR senior research analyst M. Brian Riley wrote. And that's just for the actual nights of the tour, not including fans who arrived early or stayed longer.
Swift's fans want to embody their favorite Era — and that means splurging on elaborate outfits and costumes.
"Is there anyone here who put a lot of work, thought and preparation into lyric memorization and/or what you were going to wear?" Swift asked the crowd to loud cheers at a Los Angeles show in August.
A core accessory for any Swiftie is a few — or a few dozen — friendship bracelets to grace their wrists and to trade at shows. The jewelry, inspired by a lyric in Swift's song "You're On Your Own Kid," is often handmade or bought online and boasts popular Swift lyrics.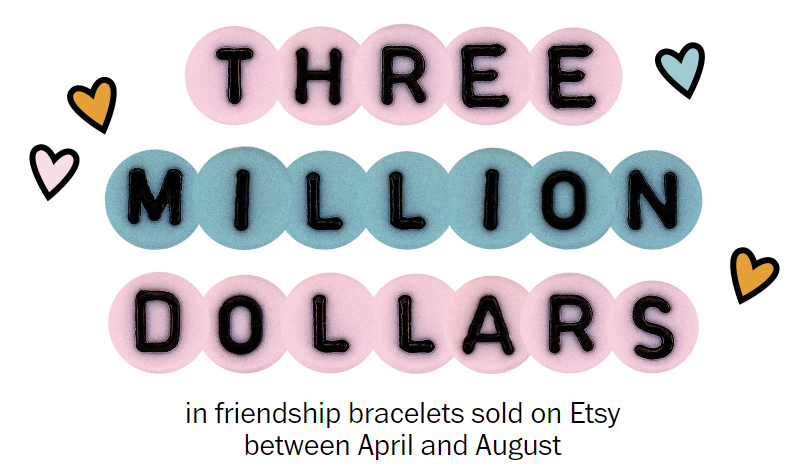 One Etsy seller, Kara White, started making the bracelets with her mom earlier this year, when the tour began. They got orders for 1,500 bracelets in a single day as fans prepared for the Los Angeles shows. White and her mom have made about $15,000 this year selling bracelets.
"It just shows how much she makes her fans go crazy," White said.
Coveted tour merchandise that were hard to nab had fans turning to internet resale sites. One of the most popular items: a $65 blue crewneck with the Eras Tour logo.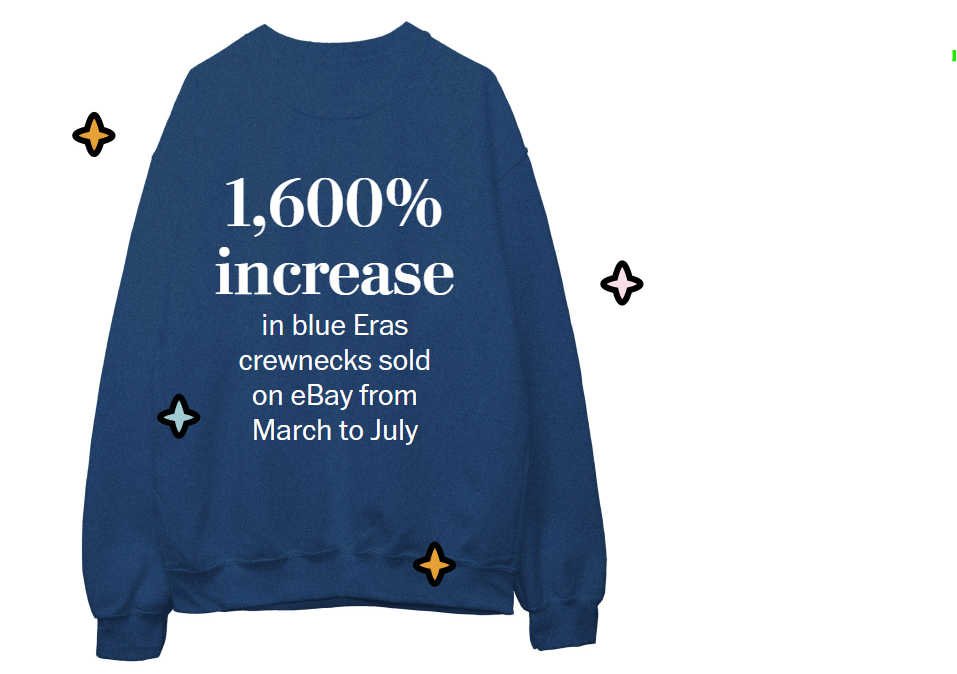 At the venues, merch lines were long — inside and at trucks parked outside. Justin Paul, a DJ, producer and creative director who teaches music business courses at UCLA Extension, came up with a conservative estimate — $864,000 for each show — for Swift's merch sales inside venues by using the number of people at each show and an average of how much concertgoers typically spend on merch. Still, Swift is a special case.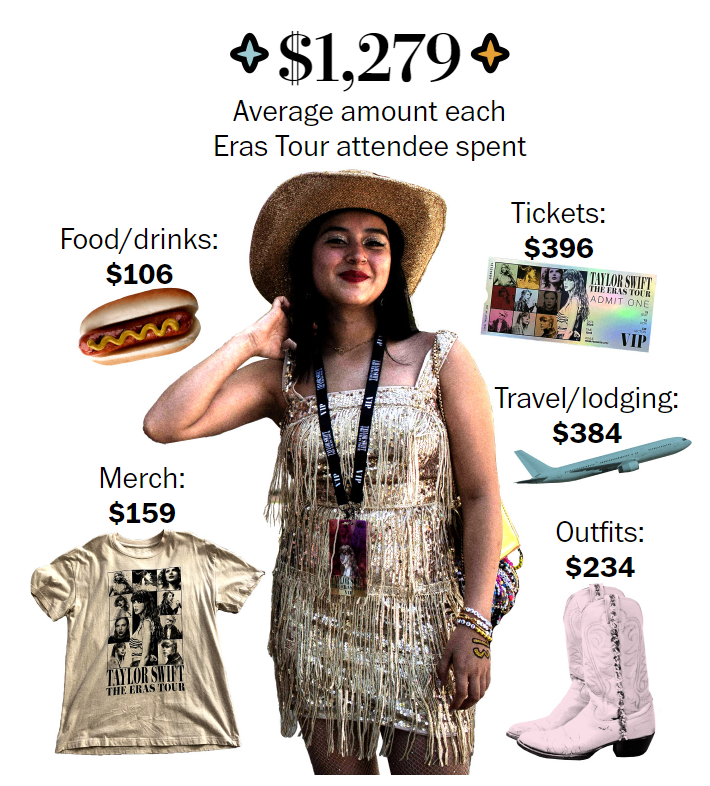 "You look at how much consumers are spending to see Taylor Swift, and it is quite an astonishing amount," said Dan Fleetwood, president of research and insights at QuestionPro. "And not only are they spending this money, but in a lot of cases, they're saying they would gladly do it again."
Judging by the QuestionPro survey respondents, the average fan spent nearly $1,300 on outfits, travel, tickets and extras for the concert.




All of that Swiftie spending meant restaurants, shops and security firms had to keep up. One solution: hiring temporary workers while the tour is in town.
"When Taylor Swift comes to town, she brings a surge of economic activity," said Daniel Altman, chief economist at Instawork, which allows businesses to employ workers by the hour.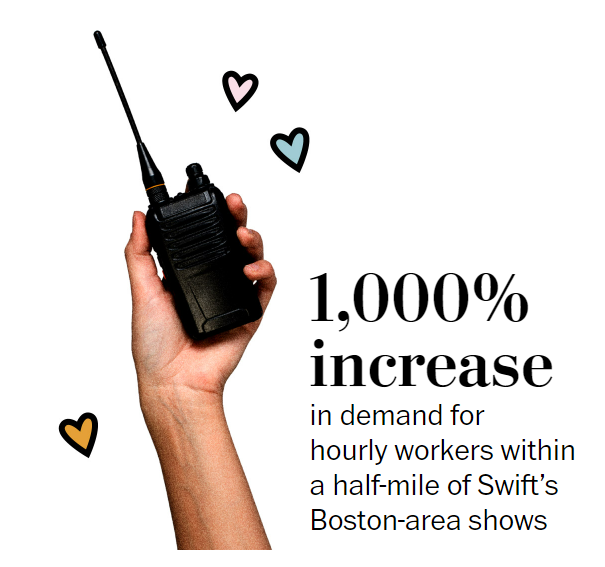 Not only are there more jobs in and around Eras stadiums, but they pay better, too: The average hourly rate offered on Instawork within a five-mile radius of Swift's May 13 show in Philadelphia was $20.57, $2 higher than usual.
There have been longer-term lifts in employment, too. In Los Angeles, Swift's six-day stop was estimated to generate enough revenue to fund 3,300 new jobs, according to the California Center for Jobs and the Economy. That would be enough to staff every bookstore and news stand in the L.A. area.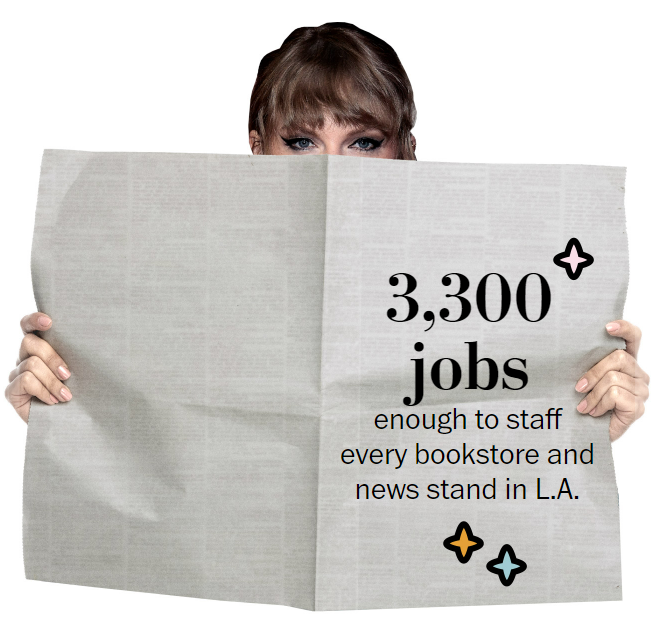 Swift also passed on some of that karma — and cash — to her employees.
She gave every truck driver on the tour an extra $100,000 this summer, and she gifted bonuses to sound technicians, caterers, dancers and other staff, People magazine reported in August.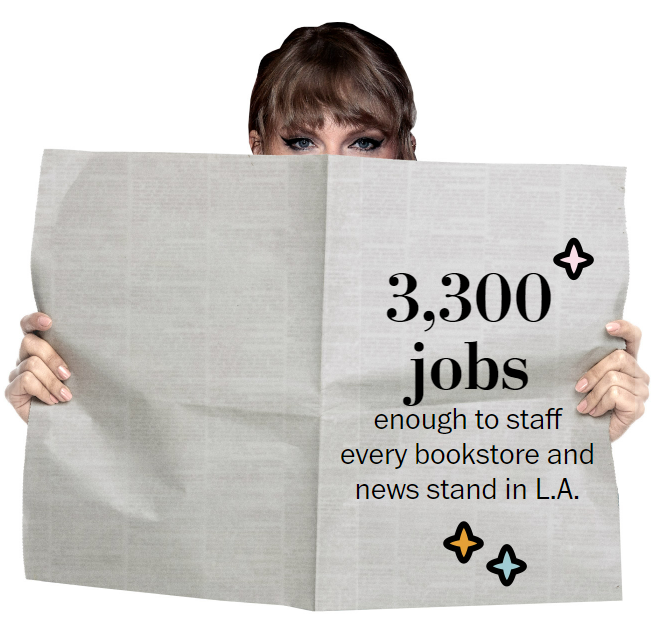 Swift may have been the main event, but fans shelled out for days of related festivities, with plenty of small businesses happy to bask in her afterglow. There were tour-inspired ice cream flavors in Pennsylvania, bonbons in Colorado and lattes in New Hampshire.
In Washington state, Neko Cat Cafe hosted feline-friendly "Taylor listening parties" at its two locations to commemorate the tour's arrival. The small business made over $3,000 from the event, with ticket sales at its Bellingham location — almost 90 miles north of Seattle — 140 percent higher than on a typical Friday night.
Forty cats, all available for adoption, wore Swift-themed bandanas while humans drank glittery wine and ate "Lover"-themed cookies. Tickets, at $40 a pop, promptly sold out.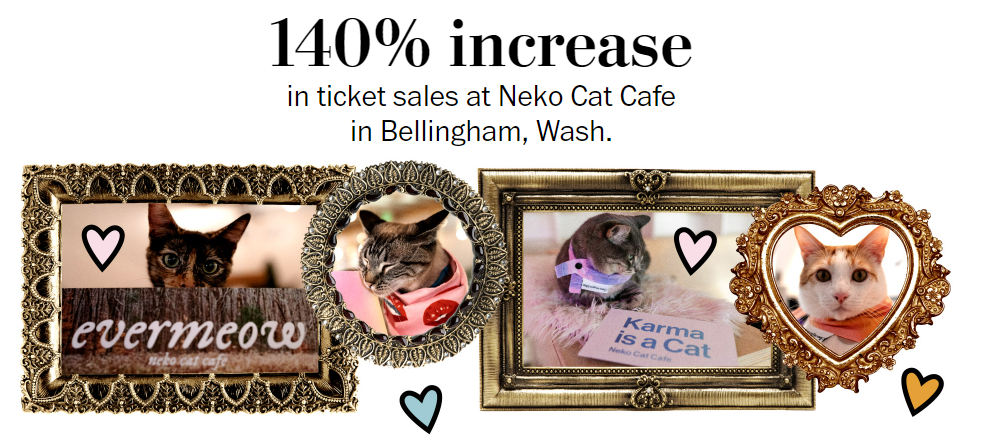 That Midas touch extended around the country: In California, Susie Cakes sold $50,000 worth of Swift-themed cupcakes. Seattle's Japonessa Sushi Cocina dished out $10,000 in "Reputation" sushi rolls and glitter-filled cocktails. And in Kansas City, Donutology filled orders for 20,000 Eras-themed donuts, which became a staple at "Tayl-gating" parties in the parking lot before Swift hit the stage.
In Minneapolis, Inbound Brew Co. racked up twice as much money than on a normal weekend when it hosted three nights of Eras-related festivities this summer, including trivia games, live-band karaoke and a dance party, according to general manager Emily Elmer.
"This was bigger for us than when the Super Bowl came to town in 2018," she said.
The first leg of her North American tour may be over, but Swift can't stop, won't stop moving … this time into movie theaters and football stadiums (when athletes are actually on the field). She has become a recognizable figure at Kansas City Chiefs games to watch her rumored paramour, tight end Travis Kelce. Her appearances have caused sales of Kelce's jersey to jump and, in at least one case, NFL ticket prices to rise after rumors Swift would be in attendance, according to NPR.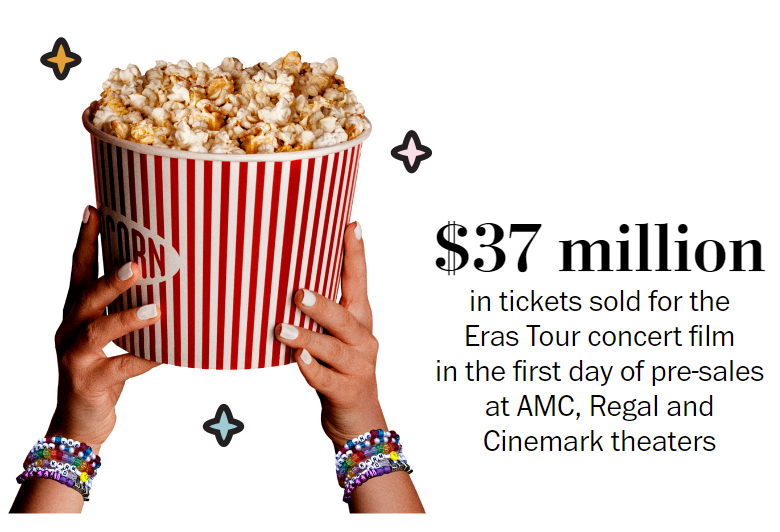 Eras, too, is onto its next phase. In November, the pop star will take her 146-show tour international, with stops in South America, Asia, Australia and Europe. But first, Swift heads to the movies — where global pre-sales have already surpassed $100 million, according to AMC. Fans, the movie chain said, are turning up "from the largest cities to the smallest towns."
Long story short: Swift's economic dominance is about to begin again.
About this story:
The following songs are referenced in this story:
---
Abha Bhattarai became a Swiftie during the pandemic, when she listened to "Evermore" and "Folklore" on repeat.
Rachel Lerman managed to get tickets for Swift's Munich show, where she will be embracing her "1989" era.
Emily Sabens became a Swiftie at age 10 while performing songs from the debut album in her basement with her cousin. She was blessed with "Haunted" as a surprise song at the Eras Tour in Detroit.
Editing by Karly Domb Sadof (who is still trying to get her Eras Tour tickets), Betty Chavarria (who has a song named after her), Jennifer Liberto (mom of a Swiftie), Mike Madden (who is not a Swiftie — yet), Paola Ruano (who is going to the Eras Tour for a second time in London) and Haley Hamblin (who promises to finally listen to 1989 soon).