Biden said of Hamas: 'They've committed evils that atrocities that make ISIS somewhat more rational'
President Biden arrived in Israel on Wednesday, where he held a brief press conference with Israeli Prime Minister Benjamin Netanyahu.
In their remarks, both leaders highlighted the death toll, the atrocities committed by Hamas, and the impact on children in Israel.
Biden also said Israel was not to blame for a rocket attack on a hospital in Gaza, which left at least 500 people dead.
"I was outraged by the bombing of the hospital yesterday. Based on what I've seen, it was done by the other team. Not you," Biden said to Netanyahu. "But there's a lot of people out there who are not sure."
HUNDREDS KILLED IN BLAST AT GAZA STRIP HOSPITAL; ISRAEL SAYS ISLAMIC JIHAD'S 'FAILED ROCKET LAUNCH' TO BLAME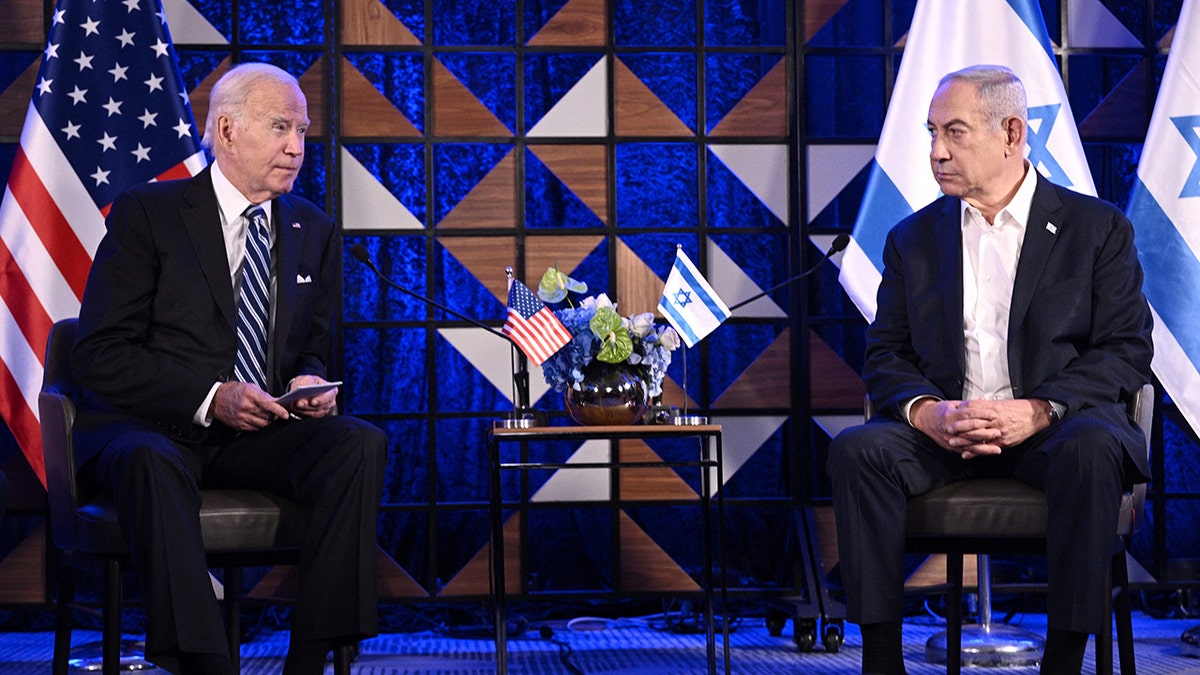 Biden added: "The world is looking. Israel has a value set like the United States does and other democracies and they're looking to see what we're going to do."
Netanyahu spoke first during the presser, applauding Biden for being the first U.S. president to visit Israel during a wartime.
"On October 7th, Hamas murdered 1400 Israelis, maybe more. This is in a country of fewer than 10 million people. This would be equivalent to over 50,000 Americans murdered in a single day. That's 20 9/11s. That is why October 7th is another day that we live in infamy," he said.
Netanyahu continued: "I want to thank you for coming here today and for the unequivocal support you've given during these trying times. A support that reflects the overwhelming will of the American people. I've seen your support every day and the depth and breadth of cooperation that we have had since the beginning of this war, a level of cooperation that is truly unprecedented in the history of the great alliance between our two nations."
He added: "We see that support and your steadfast commitment to provide Israel with the tools we need to defend ourselves. We see that support and the clear message you send our enemies not to test our resolve. And in the two American carrier battle groups that you send to the region. To back up those words with action."
"Above all, Mr. President, the world sees that support and the moral clarity that you have demonstrated from the moment Israel was attacked. You've rightly drawn a clear line between the forces of civilization and the forces of barbarism," Netanyahu said. "You describe what Hamas did as sheer evil. It is exactly that."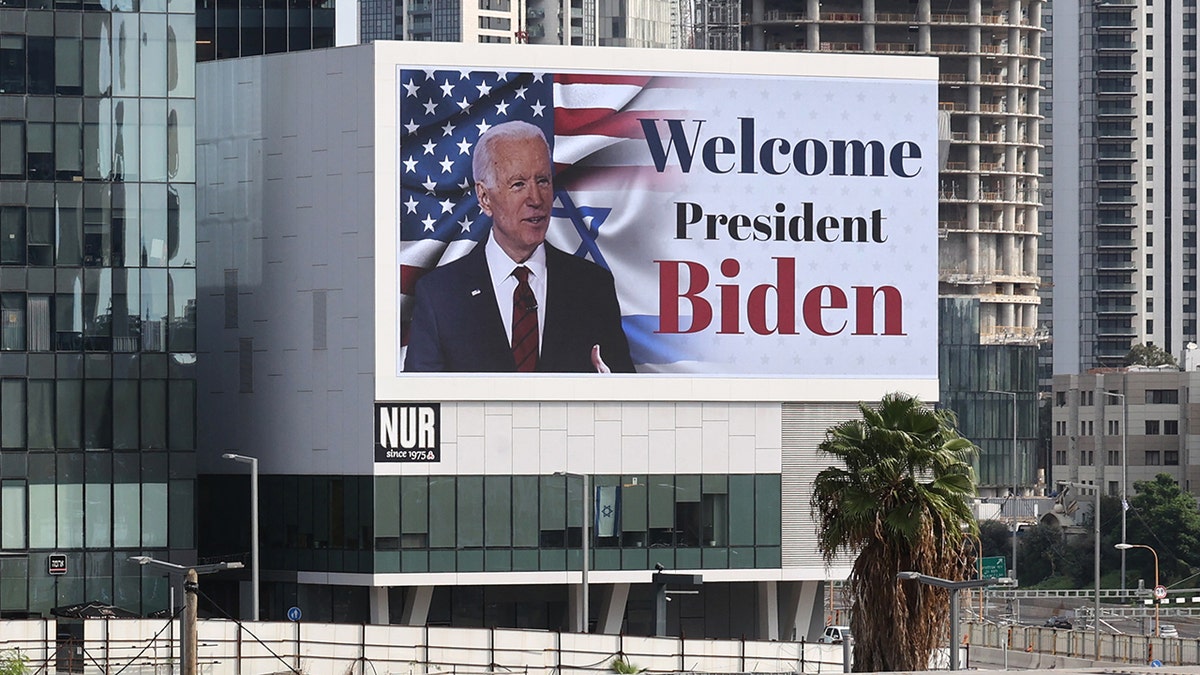 The Israeli prime minister also urged the president to imagine what the Israeli children were imagining when Hamas fighters broke into their homes and found their hiding spots.
"Hamas murdered children in front of their parents and parents in front of their children. They burned people alive. They raped and murdered women. They beheaded soldiers that they search for the secret hiding places where parents had their children," he said. "And just imagine, Mr. President, the fear and the panic of those little children in their last moments as the monsters discovered find out their hiding places. Hamas kidnapped women, children, elderly, Holocaust survivors. I know you share outrage on this and I know you share our determination to bring these people back."
Biden responded. "It's beyond my comprehension." He also said Hamas was guilty of slaughtering Israelis: "They've committed evils that atrocities that make ISIS somewhat more rational."
The two left the conference without answering any questions. Biden will meet privately with the Israeli leaders.
The president's comments about the hospital came after a Hamas-run hospital that was treating wounded Palestinians and sheltering many others in the Gaza Strip was hit and exploded Tuesday, killing hundreds of people.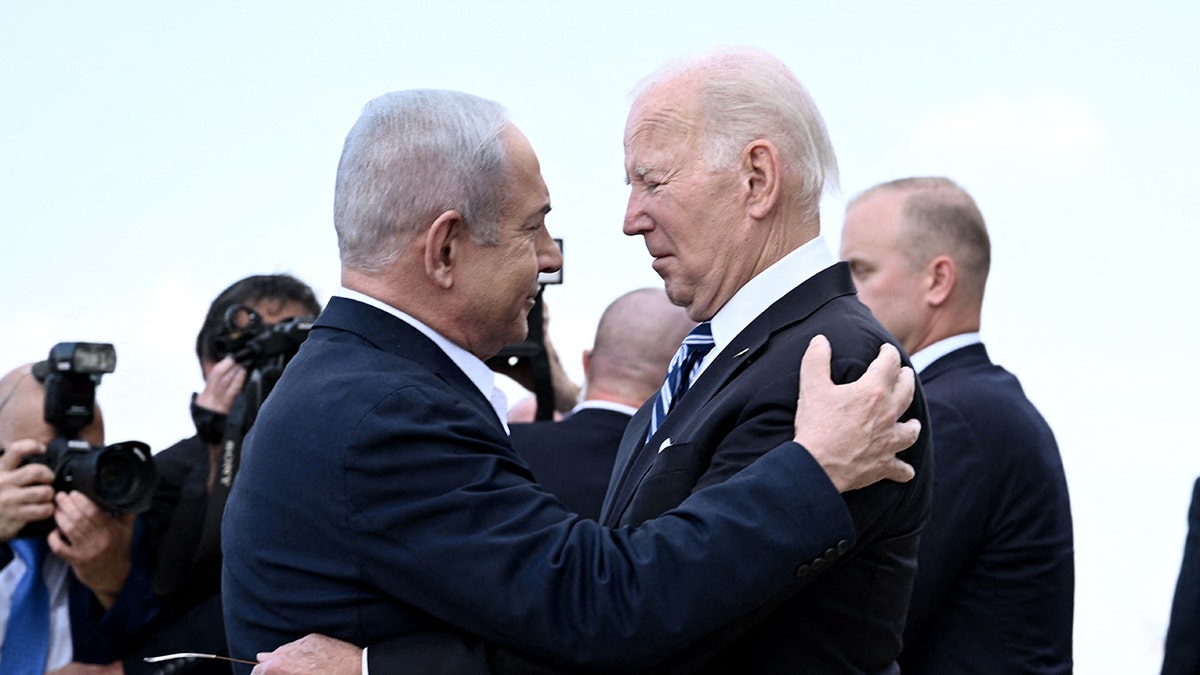 The Gaza Health Ministry said at least 500 people were killed at al-Ahli Baptist Hospital in Gaza City with many people still stuck under the rubble.
The cause of the explosion is disputed by Hamas, who said it was the result of an Israeli airstrike. The Israel Defense Forces (IDF) blamed the strike on the Islamic Jihad.
When asked earlier in the day, the IDF said it was investigating the source of the explosion, noting that the hospital is a "highly sensitive building" and is "not an IDF target."
Following an investigation, the IDF provided its findings with regard to the source of the airstrike.
"An analysis of IDF operational systems indicates that a barrage of rockets was fired by terrorists in Gaza, passing in close proximity to the al-Ahli [Baptist] hospital in Gaza at the time it was hit," IDF officials said. "Intelligence from multiple sources we have in our hands indicates that Islamic Jihad is responsible for the failed rocket launch which hit the hospital in Gaza."
CLICK HERE TO GET THE FOX NEWS APP
The attack caused an international summit that was initially set for Wednesday to be canceled. It was going to feature Biden, Jordan's Abdullah, Egypt's Abdel-Fattah el-Sissi, and Palestinian Authority President Mahmoud Abbas.
The international community continues to press for information on what caused the explosion as attacks on hospitals, schools and other civilian targets are widely criticized.
Fox News' Greg Wehner and Trey Yingst contributed to this report.