Rishi Sunak fired Home Secretary Suella Braverman after she defied his authority over handling of a pro-Palestinian march and was accused of emboldening a far-right counter-protest which turned violent on Saturday.
The premier appointed James Cleverly to replace her, moving from the foreign office. An official familiar with the matter said the move is part of a broader Cabinet reshuffle. In an unexpected move, former Prime Minister David Cameron was confirmed as the new foreign secretary shortly after being filmed entering 10 Downing Street.
Sunak had appointed the pugilistic Braverman to his government to mollify the right fringe of his party when he became prime minister just over a year ago. But an awkward political alliance was increasingly a liability as Braverman's language became more strident. Her remark that homeless people sleep on streets as a "lifestyle choice" also angered Tories in recent days.
But the breaking point appeared to come after Braverman accused London's Metropolitan Police of bias in a newspaper commentary last week. That came just hours after Sunak had appeared to resolve an escalating political row with the force's commissioner about pro-Palestinian protests overlapping with annual events to commemorate Britain's war dead.
Her intervention was blamed for drawing out far-right groups that clashed with officers during counter-protests in London and led to 145 arrests. Two Cabinet members on Sunday described the challenge to the prime minister's authority as untenable, while the Labour Party accused her of inflaming tensions.
Ousting her is likely to lead to Braverman becoming a fierce critic of the administration at a crucial time. The UK Supreme Court is due to rule on Wednesday on the legality of the government's plan to deport asylum-seekers to Rwanda, a plan championed by both Braverman and Sunak.
If it rules against the government, politicians on the Tory right are likely to ramp up demands for Britain to leave the European Convention on Human Rights. Braverman is among those who have voiced her support for doing so, and the risk for Sunak is that he has now created martyr for the cause.
"It has been the greatest privilege of my life to serve as Home Secretary," Braverman said in a statement. "I will have more to say in due course."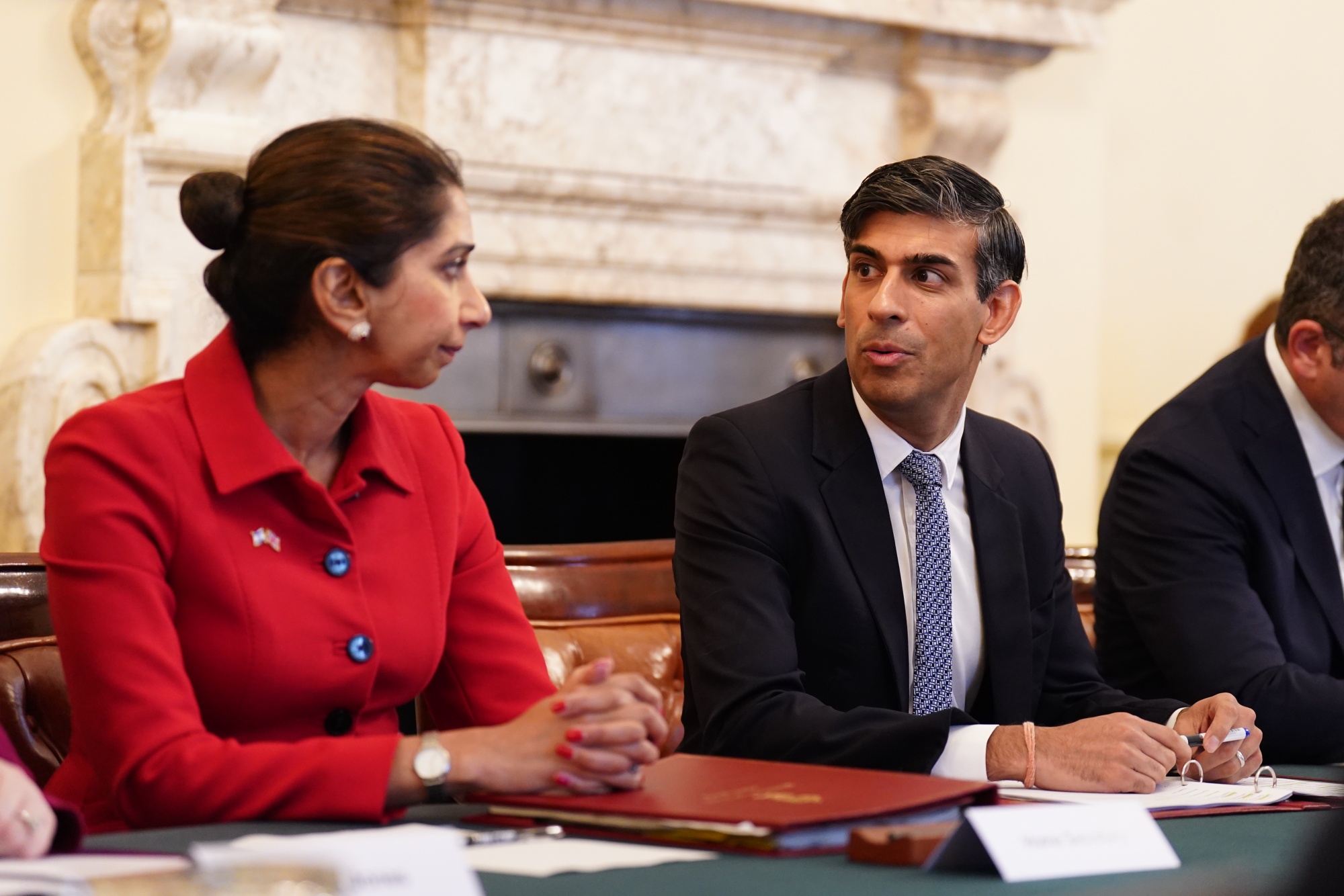 But had Sunak kept her, he would have fed efforts by opposition Labour Party leader Keir Starmer to paint the prime minister as weak, while risking a revolt from more moderate members of his party who he needs to try to win over centrist voters ahead of a general election expected in 2024.
A reshuffle also gives Sunak the chance to move on from the first phase of his administration spent trying to stabilize the UK economy after his predecessor Liz Truss's disastrous tenure. Cleverly was a survivor of Truss's Cabinet, but has proved loyal to Sunak. Ahead of fiscal statement next week, there is little expectation that Chancellor of the Exchequer Jeremy Hunt, who was installed after Truss's catastrophic budget to calm the markets, will be moved on.
Trailing Starmer's Labour by about 20 points in national polls, the prime minister is running out of time to persuade voters to give the Tory party — in power since 2010 — another stint in office.
(Updates with confirmation of David Cameron's appointment.)
Follow all new stories by Kitty Donaldson