The uncle of suspended Spanish football boss Luis Rubiales has labelled his nephew "a boy", as well as levelling accusations of troubling interactions with women.
Rubiales is refusing to quit his posts as president of the Spanish football federation and vice-president of European football body UEFA, despite international pressure after he grabbed the face and kissed Spanish World Cup player Jenni Hermoso.
He also grabbed his genitals after Spain completed their 1-0 win over England to claim the trophy.
Rubiales has claimed the interaction with Hermoso was consensual and that she lifted him in the air.
However, Hermoso has denied claims it was consensual and video has emerged showing it was Rubiales who jumped into the player's arms before planting the kiss.
After days of denials from the Spanish football federation, FIFA then stepped in to suspend Rubiales for 90 days while it looks into the claims.
While Rubiales family has come out in support of the football official including his mother who said she was prepared to die after starting a hunger strike until his name was cleared, his uncle Juan Rubiales has told a different story.


Juan, who was Luis' former Chief of Staff, has condemned his nephew's actions.
Speaking with Spanish publication El Confidencial, Juan, whose time as chief of staff ended on bad terms after two years, accused Luis of "being obsessed with power, money, women".
"He is a man obsessed with power, obsessed with luxury, obsessed with money, even with women," Juan said.
"I think he is a boy … I ask for generosity from Spanish society, which has been very forceful with him … A certain generosity to him, to the human being. Because I believe that this boy needs a program of social re-education and re-education in his relationship with the woman.
"Because when he had been in the Federation for a year, he insisted on buying a two million euro penthouse with a pool in the centre of Madrid, for example.
"He needed to put on the suit of an important person, who handled money, who had contacts. He's obsessed with it. Also with women, with big meals."
He also accused Luis of using federation money to travel to New York to meet a woman he had been dating.
While Juan claimed he was told they were going to New York for negotiations, he soon realised it was not the case.
"When I get there I realise that no negotiations, no meetings, no nothing," he said.
"There is a car waiting for us, a van rented by the Royal Federation, it takes us to a hotel in the center, and there is this girl, and they have an affair the entire time we were there.
"There was only one meal that I had with a former League worker with whom I had a good relationship and Luis joined the meal. Then he sold it as if it had been a work meeting, but it wasn't true.
"The five or six days of the trip he was exclusively with her. It was a holiday trip with her."
The leader assured his entourage that he had flown to the other side of the Atlantic to hold working meetings with representatives of the United Nations and Major League Soccer.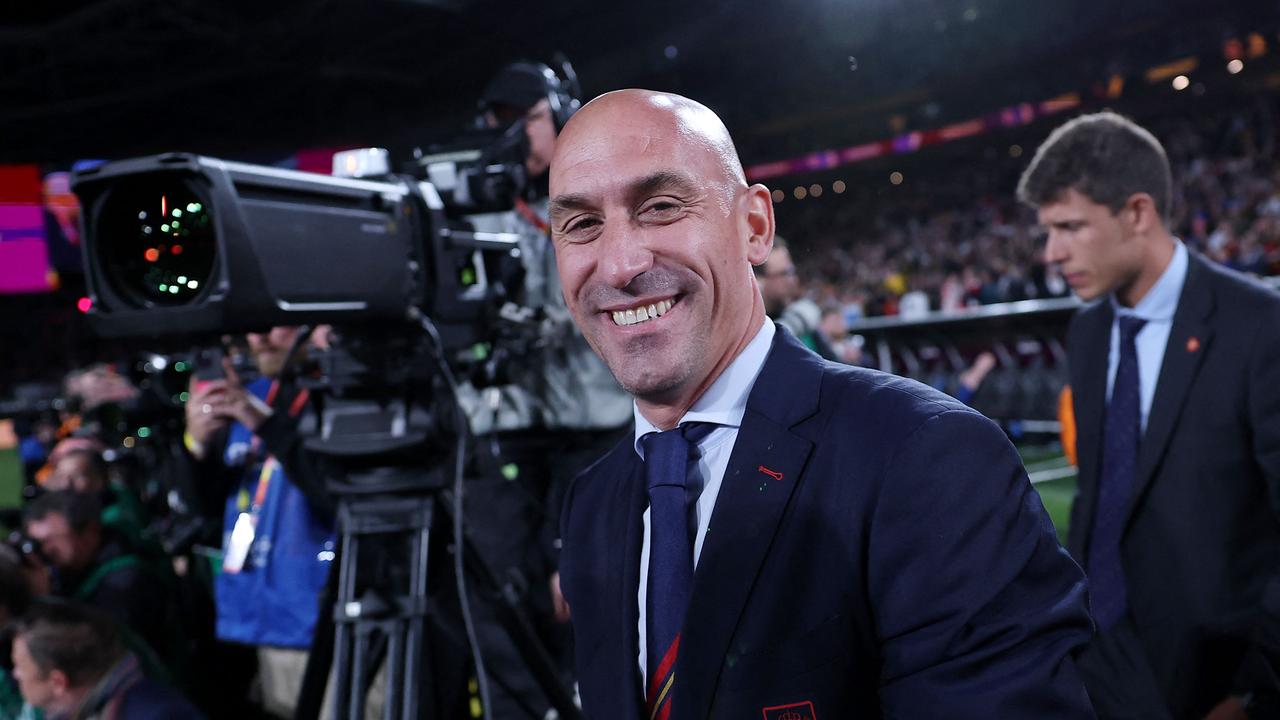 El Confidencial published a bombshell story earlier this month that Rubiales spent that week sightseeing in Manhattan in the company of a Mexican painter with whom he had a romantic relationship.
It suggests that Rubiales actions could constitute a crime of unfair administration, which has a punishment of up to three years in prison.
It comes as the mother of Luis was taken to hospital after three days of a hunger strike.
Angeles Bejar, who began her protest against her son's treatment inside the Divina Pastora church in the southern seaside town of Motril, was evacuated and taken to hospital by the emergency services, parish priest Antonio Rodriguez told reporters.
"I have to tell you that she had a seizure and had to be rushed to hospital," the priest said. She is no longer here." He adding that Bejar was "tired, with many (health) problems, and not just anaemia".
Rubiales' mother had promised to stay locked up in the church until Jenni Hermoso, the player who was kissed on the mouth by her son, "tells the truth" about what happened, a family member explained.
"This harassment is not fair. His mother, who is very religious, found refuge with God. She has started a hunger strike and does not want to leave the church", her niece Vanessa Ruiz Bejar said on Monday.
With AFP