Company introduces M3 lineup with 3-nanometer technology at unusual evening event
Apple Inc. announced a new iMac, MacBook Pros and the third generation of its in-house Mac processor line, rolling out a first-of-its-kind M3 chip that boosts performance and graphics horsepower.
The new chip lineup relies on advanced 3-nanometer manufacturing technology and more efficiently handles graphics processing, Apple said in a presentation Monday. The base model has eight main cores — the processing engines on a chip — in addition to 10 cores for graphics. The company also announced higher-end M3 Pro and M3 Max chips as part of a "Scary Fast"-branded product unveiling, an unusually timed event that kicked off at 5 p.m. California time.
New MacBook Pro models, also unveiled at the half-hour event, will run the new processors. The company announced a low-end model at $1,599 with the standard M3 chip, as well as high-end versions that run M3 Pro and M3 Max configurations. The chip technology will make the new laptops more powerful while retaining their 22 hours of battery life, Apple said. The tech giant also debuted a version of its 24-inch all-in-one iMac desktop computer that runs the M3.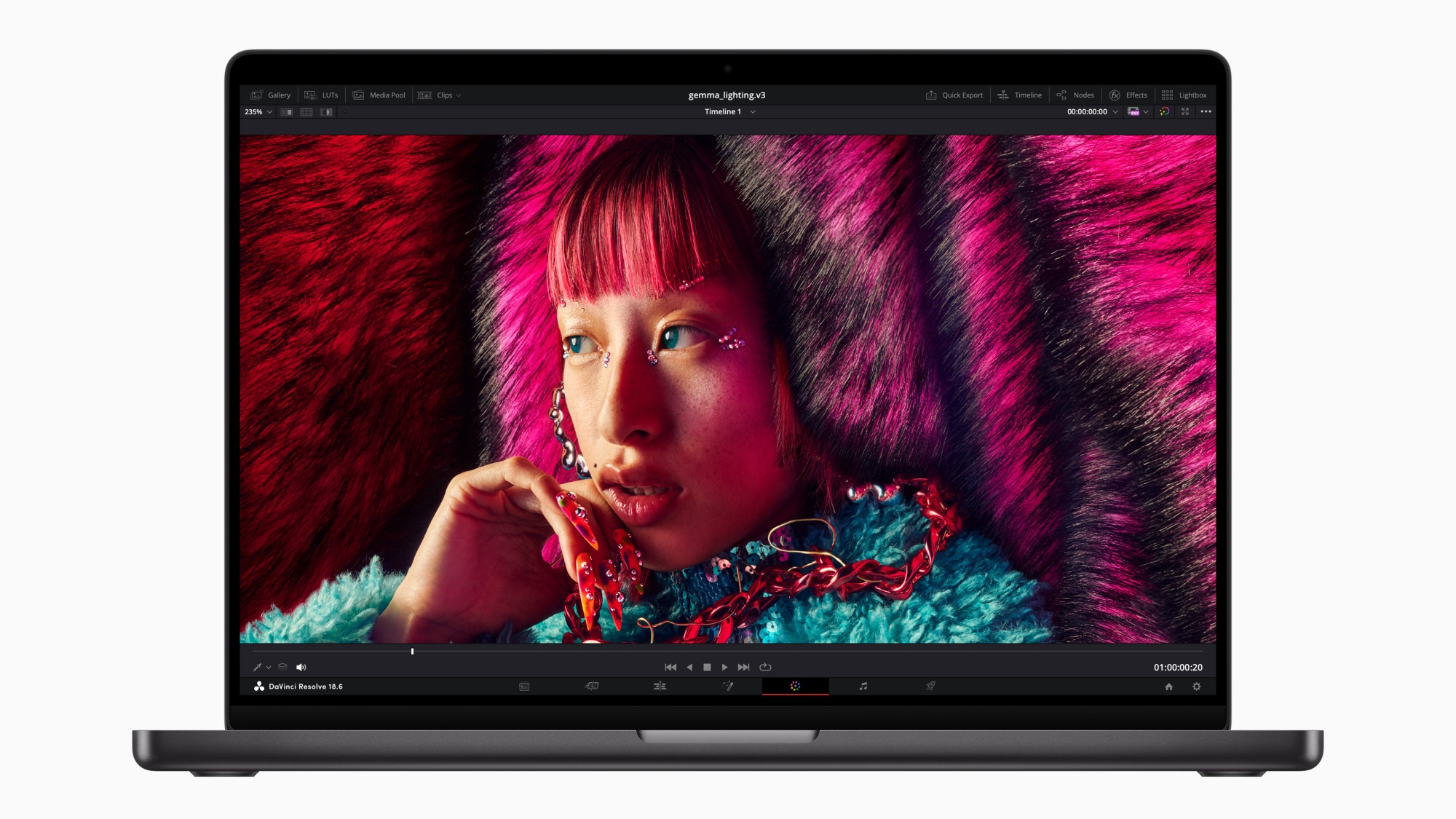 The company's homegrown semiconductor business — known as Apple Silicon — has become a prized asset. Since switching to its own chips from Intel Corp. components in 2020, Apple has seen sales of its Mac computers grow sharply, helped by a broader run-up in tech spending during the pandemic.
But in recent quarters, Mac revenue began to slide again and competition has intensified. The M3 launch is meant to help restore Apple's advantage in the industry and get the Mac business back on track. Sales of the computers are forecast to climb about 5% in the holiday quarter, with revenue growing 5.5% in the fiscal year that began this month, according to data compiled by Bloomberg.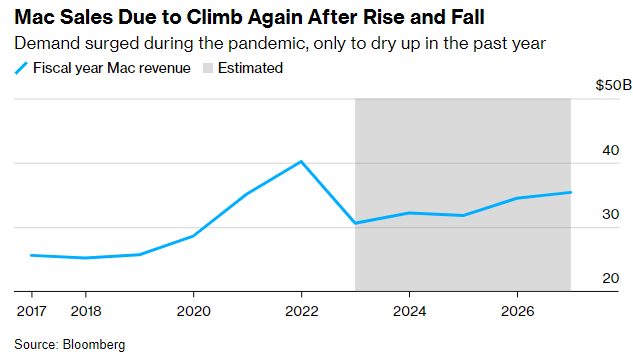 The switch to the M3 marks the first time Apple — or any other high-volume computer manufacturer — has moved to the 3-nanometer technology. The process squeezes in more transistors, getting more technology into a tighter space. Such chips are designed to amp up performance while still saving battery life.
By using in-house chips, Apple can tailor its hardware and software together to create a better overall user experience. The Cupertino, California-based company said that its top MacBook Pro is now 11 times faster than the speediest Intel laptop.
The M3 chip is 35% faster than the M1 chip for standard computing tasks and 65% better at graphics. The M3 Pro has four more main processing cores, including a 12-core design. It also comes with up to 18 graphics cores. The M3 Max increases both the main processing and graphics cores, resulting in a design with 16 main cores and up to 40 graphics cores.
Apple's new iMac represents the first update to the all-in-one desktop computer since it was redesigned in April 2021. The iMac was the only Mac to skip the M2 generation, leaping directly from the M1 to the M3 chip. The company said the new version is twice as fast as the prior one and has better graphics performance. The latest model comes in several colors, including pink, green and silver.
The new Macs lack any other major new features beyond the new chips. But the MacBook Pro does offer 20% more brightness — for content without high-dynamic-range colors — as well as a new "space black" color option. Bloomberg News earlier reported on the new Macs and processors.
Other than the new low-end MacBook Pro, Apple has kept pricing mostly in line with prior models. The iMac continues to start at $1,299, the M3 Pro MacBook Pro is $1,999, and the M3 Max MacBook Pro begins at $2,499. A fully loaded high-end MacBook Pro with a 16-inch screen, 40 graphics cores, eight terabytes of storage and 128 gigabytes of memory comes in at $7,199, according to Apple's online store.
Apple's announcement follows other signs that the computer processor business is heating up. Intel, its former partner, gave an upbeat forecast last week that sent shares soaring. Nvidia Corp. and Advanced Micro Devices Inc. are working on new processors based on technology from Arm Holdings Plc. And Qualcomm Inc. unveiled a laptop processor last week that it touted as faster than Apple's M2.
(Updates with more from event starting in third paragraph.)
Follow all new stories by Mark Gurman