Lucy Bronze may have lost the battle, but the England defender has been lauded for winning one major war after her snub of FIFA boss Gianni Infantino.
Bronze and her English teammates fell one victory short of a maiden Women's World Cup title, succumbing 1-0 to Spain in an entertaining, bruising final in Sydney.
But Bronze managed a victory of sorts when she refused to shake Infantino's hand during the medal ceremony after the match.
It is widely believed Bronze's snub was in response to Infantino's misogynistic comments earlier in the week that women need to "pick the right battles".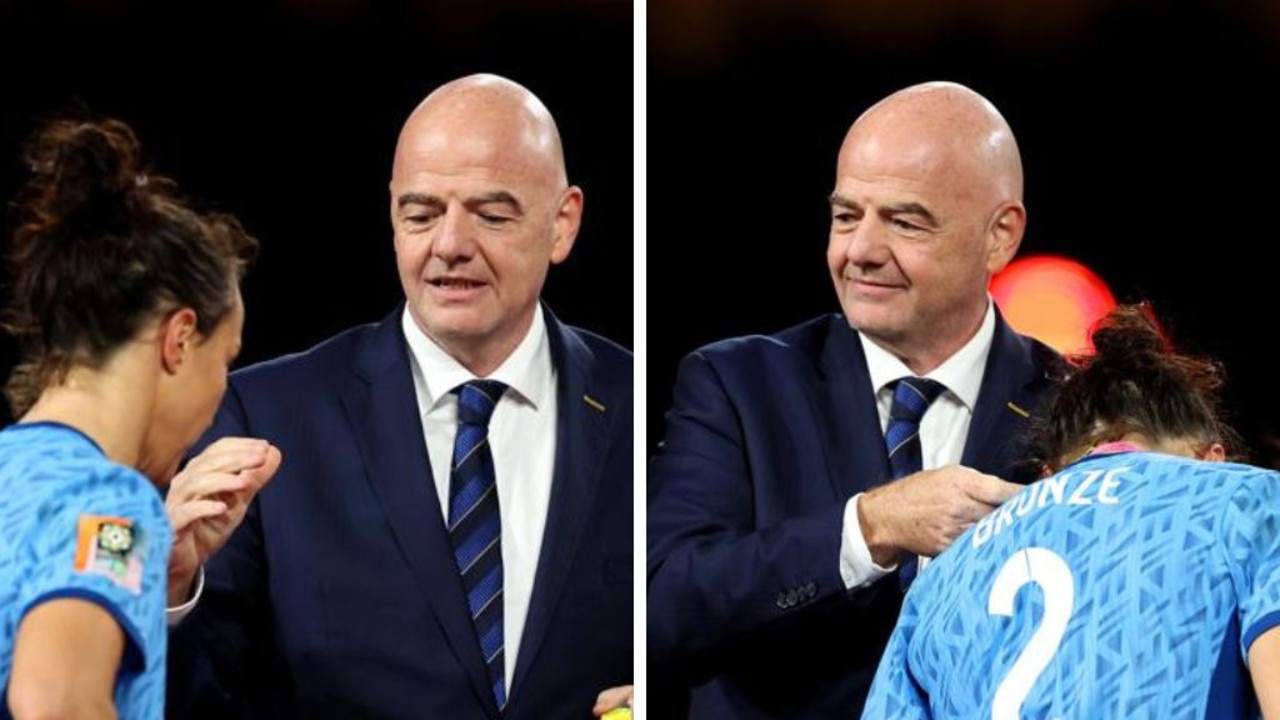 The comments, which might be criticised if they came from an infant, let alone the boss of a global football organisation, included: "You have the power to convince us men what we have to do and what we don't have to do.
"With men, with FIFA, you will find open doors. Just push the doors. They are open."
Patronising, much?
Bronze's move was widely supported on social media.

Bronze was involved in a heartwarming moment after the presentation, when Spaniard and Bronze's Barcelona teammate Ona Batlle tried to comfort her vanquished opponent.
That was one of a number of inspirational moments in this hugely successful tournament that has taken women's football to new heights.
Bronze even went into the crowd to give a young England fan her boots after the match in a classy move considering her intense disappointment at the result.
Sadly, though, Infantino's comments were just one in a series of totally unacceptable moments from this World Cup, co-hosted by Australia and New Zealand.
Among them, South Australian football club Murray Bridge Imperial published a newsletter that included a so-called opinion piece lashing the "carry on around women's soccer" and stating "who is meant to clean the kitchen".
Bravo on that one jerk.
A Muslim preacher in Melbourne also reminded his "Muslim brothers" it is forbidden to look at women such as the Matildas before leaning heavily into homophobic territory by criticising "people of the alphabets" in a reference to the LGBTQIA+ community.

Perhaps the most alarming incident occurred with the Spanish team as they were celebrating their triumph.
There have been immediate and widespread calls for Spanish football federation president Luis Robales to step down after he kissed Spain midfielder Jenni Hermoso during the presentation.
Vision of Rubiales grabbing the back of Hermoso's head and kissing her on the lips during the post-match trophy ceremonies has sparked outrage.
He was also seen lifting the 33-year-old off her feet during a bear hug.
"I didn't like it," Hermoso said on an Instagram live stream after the game, although she was smiling as she spoke.
Rubiales also spoke about the incident during a radio interview and poured scorn on anyone that had taken issue with it.
"Two people showing each other a minor show of affection." Rubiales said. "This idiocy should be ignored."
Spanish TV presenter Claudya Carolina though described Rubiales' actions as "unpresentable" and "excessive".
Journalist Colin Millar also wrote on a tweet "attempts to normalise this behaviour from the head of the FA is deeply unsettling".