Leaders in hard-hit communities say that the city remains unprepared for sudden deluges.
When Shekar Krishnan walked his young children to school in a downpour Sept. 29, confronted by flooded streets, his mind went to worrying about the estimated 100,000 residents of illegal basement apartments across New York City. During tropical rains in 2021, 11 people in the city councilman's home borough of Queens drowned in their homes, and now, nearly as much water was falling, and nearly as quickly.
But this time, no one died. Firefighters rescued residents trapped in half a dozen basements, but otherwise, the storm's toll was limited to buildings and property, as well as the city's dense transportation network, once again brought to a waterlogged standstill.

What made the difference?
"Sheer luck," if you ask Krishnan, a Democrat who represents the Elmhurst and Jackson Heights neighborhoods of Queens.
A week after New Yorkers endured paralyzing floods for the second time in three years, leaders in some of the hardest-hit communities aren't taking comfort in the fact that no one died. They say there are signs that, despite lessons learned from hurricanes Ida and Sandy, the city remains unprepared to manage such sudden deluges and protect the public — especially those in vulnerable and unregulated basement apartments.
This time, residents say they were caught off guard by the intensity and impact of a rainstorm that prompted little more than a travel advisory from city emergency officials less than 12 hours in advance. Meteorologists said the forecast for what was an unusual weather pattern allowed precious little time to warn of flooding risks.
Community leaders say that the storm is yet another admonition the city needs to adapt to extreme weather and do more to reach vulnerable residents in an emergency, despite the challenges. City emergency management officials did not respond to multiple requests for comment.
"The city should be reevaluating, are they getting to the right people in the right time?" said Sadia Rahman, deputy director of policy for Chhaya Community Development Corp., a group that works in South Asian and Indo-Caribbean communities.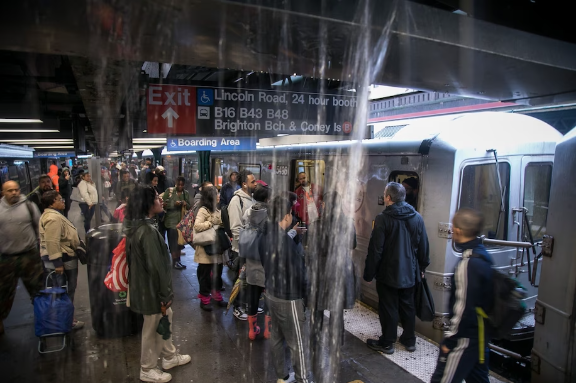 An unusual forecast meant a short window to warn
The first sign that floods could be imminent arrived late Sept. 27, only about 36 hours before the downpour's arrival. While other past floods had come from tropical systems and with many days' notice, the forecast for this one materialized differently — and much more quickly.
For a few days, weather forecasting models had shown the potential for a soaking rain, but that night, detailed rainfall projections were eye-popping: A bull's eye of half a foot of rain, if not more, over the tri-state region. Stalled offshore moisture from the remnants of Tropical Storm Ophelia was forecast to stream toward the coast and meet a high-altitude disturbance moving in slowly from the west.
Nicholas Bassill, a University of Albany meteorologist affiliated with the New York State Mesonet, a weather observation network, fired off an urgent email to New York state emergency management officials just before midnight.
"New York City was at the center," Bassill recalled. It was, he said, "the worst spot for that much heavy rain to fall."
The next day, state and city officials began sharing social media posts about the potential for heavy rain, and Gov. Kathy Hochul (D) spoke about the risks on a talk radio station during the evening commute. New York City officials shared a travel advisory warning of widespread rainfall of 2 to 4 inches, with some amounts surpassing 5 inches and enough to inundate low-lying and flood-prone areas.
"Potential street flooding may also occur. Widespread travel impacts are possible, particularly during the morning commute," the advisory said.
But many residents said they didn't receive that message — or didn't take it to suggest the scale of what unfolded. A widespread 7 to 8 inches of rain fell across Brooklyn and Queens, much of it within a few morning hours, setting a record for daily rainfall at John F. Kennedy International Airport.
Mayor Eric Adams (D) faced criticism for not speaking in public until close to noon Friday, hours after the heaviest rain fell.
"I was only aware of messaging that came out the day of" the storms, said Crystal Hudson (D), a city council member who represents the Prospect Heights, Fort Greene and Clinton Hill sections of Brooklyn. "I think overall, the city wasn't really prepared."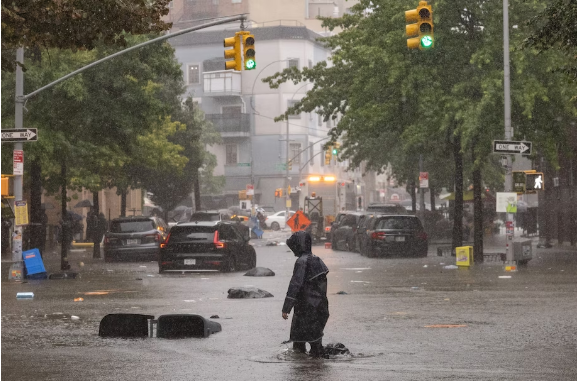 Storm exposes lessons not learned
It brought déjà vu for many communities that had faced the same sudden severe flooding during Ida, which killed nearly 50 people across the Northeast in September 2021, including 13 people in New York City. Though there had been significant study and resources put toward preventing a repeat of that disaster, last Friday's floods brought some of the same problems, if not the same death toll.
After Ida, for example, Mayor Bill de Blasio's administration said it would hire an "extreme weather coordinator" to ensure the city had a better, and earlier, handle on forecasts for storms and other disasters. But city officials did not respond to questions about whether the Adams administration had filled such a position. A recent search of a city payroll database showed no positions with "weather" in their title.
The New York Daily News reported Wednesday that the job is unfilled.
After Ida, the city also embarked on an effort to better prepare residents of basement apartments for floods. Though such dwellings are technically illegal under state law, the city's surging cost of living means they are the only affordable, if unsafe, option for many immigrants and low-income families.
The effort included adding notifications about basement flooding risks to the city's Notify NYC app. Adams stressed they were a key line of communication the city used before and during the floods Sept. 29. But the Adams administration did not answer questions from The Post about when any such alerts were sent out or how many people subscribe to them.
Community leaders who work with basement apartment residents expressed doubt such an alert would have reached many of them. Most face language barriers, have limited access to technology and work nontraditional hours, said Sylvia Morse, program manager for policy at the Pratt Center for Community Development in Brooklyn.
Instead, she said many of those people were so traumatized during the Ida floods that they have heightened anxiety and risk awareness anytime rain starts falling.
Those residents survived last week's flood, but still experienced yet another loss, Rahman said. The torrential rains wrought "an enormous amount of damage" in Queens neighborhoods such as Woodside and Elmhurst, which also saw some of the most intense floods during Ida, she said.
"Losing your home is the second-worst thing that can happen to people, and it happened again," she said.
A campaign to legalize basement apartments began long before Ida and has intensified in the past two years. Along with efforts to improve storm water infrastructure so the city can withstand heavier rain, advocates say reforms to New York's housing law could have the biggest impact on flood preparedness.
"Basement apartment living is a reality of the New York City housing stock … and will continue to be, given our ongoing housing crisis," Morse said. Legalizing the dwellings, so they can be regulated for safety, "is the first step to reducing the risk" from flooding, she said.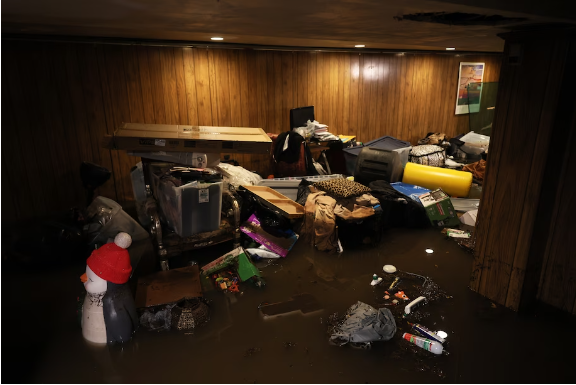 'So far from where we need to be'
Going forward, city and state leaders stressed that the floods are the latest sign of the threats that New Yorkers face from climate change.
Warming global temperatures mean the air can hold more moisture and produce heavier downpours. Climate scientists have long predicted that more precipitation would fall in fewer storm events in the Northeast, including New York, in a warmer world.
Jackie Bray, commissioner of New York state's Division of Homeland Security and Emergency Services, said that means a need to prepare "for the storms of tomorrow," not just those of the past.
"There are some storms where you're going to have a day's notice or a day and a half's notice. There are some storms where you're going to have a week's notice," she said. "We have to be prepared for events that have a day's notice or 12 hours notice or no notice."
Krishnan said the storm's strength and damage underscore how New York City needs to do more to confront extreme weather. He toured flooding damage as the rain fell and said some of the worst flooding he saw was inside Elmhurst Hospital, a public facility in Queens.
"This storm affected everyone — every single aspect of our public infrastructure," he said. "If that's the case, then we are so far from where we need to be to really addressing and protecting ourselves from the climate emergency that we face."
"That there was no loss of life is a stroke of luck," he added. "It is also a wake-up call."