Some public and private employers are returning to mask mandates amid a recent spike in COVID-19 cases nationwide due to new variants of the virus, according to the Associated Press.
As students returned Sunday to Morris Brown College, a small Atlanta-based historically Black college, the university announced it would be imposing a two-week mask requirement as well as a ban on large gatherings following "reports of positive cases among students in the Atlanta University Center," Fox 5 News Atlanta reported earlier this week.
California-based hospitals owned by Kaiser Permanente in California and two Upstate Medical University facilities in Syracuse, New York, have also reimposed mask mandates. And in Kentucky, the Lee County School District canceled classes for two days this week and switched to remote learning amid a recent outbreak of COVID, strep throat, and the flu, the AP reported.
Hollywood studio Lionsgate also imposed a mask mandate for employees on certain floors of its Santa Monica office building after several employees there tested positive for the virus, The Hollywood Reporter reported on Monday.
SUBSCRIBE NOW FROM JUST $1 PER MONTH >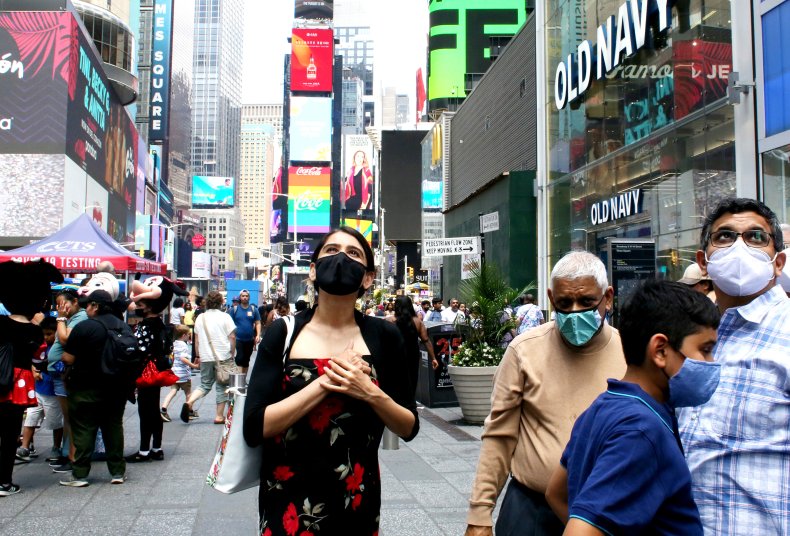 According to the AP, one of the new COVID-19 strains—Eris—recently became the dominant strain in the United States, accounting for more than a fifth of all new COVID-19 cases in the country in last week's reporting by the Centers for Disease Control and Prevention (CDC). Meanwhile, cases of the new Fornax variant currently account for approximately 13.3 percent of all new U.S. cases, nearly double from where it was two weeks earlier.
While case numbers are nowhere near where they were at the virus's peak—due to the country's roughly 70 percent vaccination rate—deaths have fallen by nearly 4 percentage points since its summer 2020 peak of 5.7 percent. In the past week, the number of deaths from the virus have increased by more than 21 percent, according to CDC data, while hospital admissions in some states have seen a similarly sharp spike.
The return of masking policies follows current CDC guidance for individual and community actions around COVID-19, which are tied to hospital admission levels. And at this point, those rates are currently low for more than 97 percent of the country, a CDC spokesperson told Newsweek on Friday.
SIGN UP FOR NEWSWEEK'S DAILY HEADLINES >
According to different studies, face masks, despite its politically polarizing symbolism, have been proven as an effective means of reducing transmission of the virus.
On Thursday, the Royal Society in the United Kingdom published a study that showed the use of non-pharmaceutical safety measures during the onset of the pandemic like masking, social distancing and travel restrictions, and more were effective at reducing transmission rates in several countries.
In addition, prior large-scale studies of populations in Bangladesh also determined lower risk of COVID-19 transmission in communities that had higher rates of mask usage.
Vaccinations remain the best defense of stalling serious cases of the virus, according to the CDC.
"Vaccination remains the safest strategy for avoiding hospitalizations, long-term health outcomes, and death," a CDC spokesperson told Newsweek. "COVID 19-vaccines are effective at protecting people from getting seriously ill, being hospitalized and dying. COVID-19 vaccines also reduce the chance of having Long COVID."