The legal action includes accusations of sexual, religious and racial harassment, discrimination, assault, false imprisonment.
The singer is also accused of fat-shaming and pressuring a dancer to touch a performer's breasts.
Lizzo and others who are accused have been approached for comment.
The singer has not yet responded publicly to the allegations made in the case, which remain to be tested in court.
Arianna Davis, Crystal Williams and Noelle Rodriguez are the former dancers bringing the case against the singer, her dance captain and her production company Big Grrrl Big Touring (BGBT).
The legal action, filed in Los Angeles on Tuesday, includes allegations the dancers were "forced to endure sexually denigrating behaviour" and were "pressured into participating in disturbing sex shows" between 2021 and 2023.
Among the claims against Lizzo - whose real name is Melissa Viviane Jefferson - are that she "pressured Ms Davis to touch the breasts" of a performer in a nightclub in Amsterdam, and Ms Davis - after resisting - eventually acquiesced "fearing it may harm her future on the team" if she didn't do so.
Lizzo - who is known for celebrating her body and self-love - is also accused, along with dance choreographer Tanisha Scott, of weight-shaming Ms Davis on tour.
Ms Davis alleges the two questioned whether she was "struggling with something as she seemed less committed to her role on the dance cast", the case details.
"In professional dance, a dancer's weight gain is often seen as that dancer getting lazy or worse off as a performer. Lizzo's and Ms. Scott's questions about Ms. Davis's commitment to the tour were thinly veiled concerns about Ms Davis's weight gain," the documents allege.
The case also alleges that staff working for BGBT scolded dancers for "unacceptable and disrespectful" behaviour while working on the tour, without specifying what that behaviour was.
The dancers allege that "only the dance cast - comprised of full-figured women of colour - were ever spoken to in this manner, giving [the dancers] the impression that these comments were charged with racial and fat-phobic animus".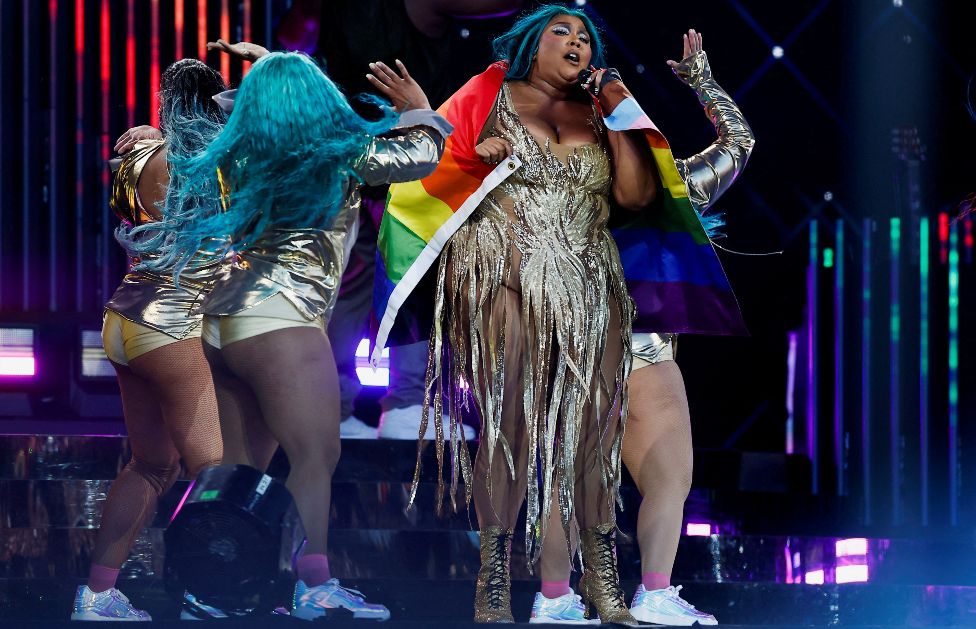 Though never explicitly stated, the questions "gave Ms Davis the impression that she needed to explain her weight gain and disclose intimate personal details about her life in order to keep her job", the legal action says.
Additionally, it alleges the dance team's captain, Shirlene Quigley, pushed her Christian beliefs on performers and derided those who engaged in premarital sex.
She is also accused of openly discussing one of the former dancers' virginity, and posting about it on social media.
Accusations including racial discrimination are also levelled at BGBT's management team.
It alleges black members of the dance troupe were "treated differently" to other members of the team.
They were accused of being "lazy, unprofessional, and having bad attitudes" - the case claimed these are tropes often used "to disparage and discourage" black women and that other dancers were not treated like this.
Both Quigley and Scott have been contacted for comment by the BBC.
The plaintiffs also allege Lizzo and the production company team did not pay them fairly while on parts of Lizzo's European tour.
They claim they were offered only 25% of their weekly compensatory pay during their time not performing on the tour, while other performers received 50% and they also claim they were told not to work on other projects while on tour.
Two of the three dancers involved in the legal action, Ms Davis and Ms Williams, met Lizzo in March 2021 while preparing to compete on the reality TV show Lizzo's Watch Out for the Big Grrrls, the legal action says.
The third, Ms Rodriguez, was hired later in May 2021 to perform in Lizzo's Rumours music video. She then remained part of the dance troop, it adds.
Ms Davis and Ms Williams were fired from the dance team, while Ms Rodriguez later resigned over the alleged treatment of her fellow colleagues.
Lizzo is best known for hits such as Truth Hurts, About Damn Time, Juice, Good As Hell and 2 Be Loved.