Fresh pics have emerged of Justin Bieber and they reveal an unsettling reality that we can't ignore for a second longer.
COMMENT
Death, taxes and Justin Bieber dressing way worse than Hailey are the only things certain in this life.
The Generation Z power couple have stepped out for Halloween. She was dressed like a cat burglar, and he was dressed like a furry.
Hailey was wearing a skin-tight mini-dress paired with a leather trench and balaclava with cat ears and Justin was wearing an animal onesie.
It is unclear if Justin is a giraffe or a deer or another random orange animal – perhaps an overfed ginger house cat? It is giving Garfield as a teenage delinquent energy.
Justin's animal costume might always be a mystery, like the secret to Richard Wilkins's perfect hair. In both cases it is likely better not to know.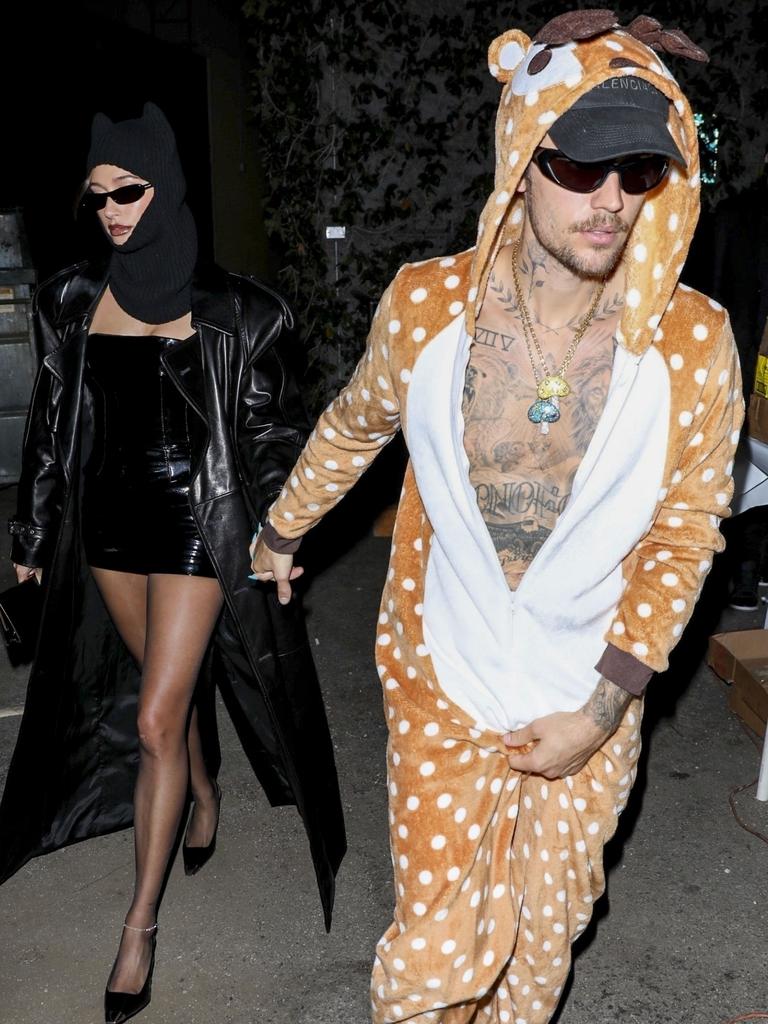 Justin had also unbuttoned the onesie to show off his tattoos and mushroom necklace collection. Yes, he wanted to draw attention to the fact he was wearing a mushroom necklace set.
The costume in itself is confronting, but the fact he has unbuttoned the onesie, which seems like an attempt to sex up the look, is upsetting.
The only thing worse than seeing a grown man in a Giraffe costume is seeing a grown man in a Giraffe costume trying to look sexy.
To top the look off, he added a hat AND a hood, along with some sunglasses. Plus, in some candid photos, he appears to be groping his crotch.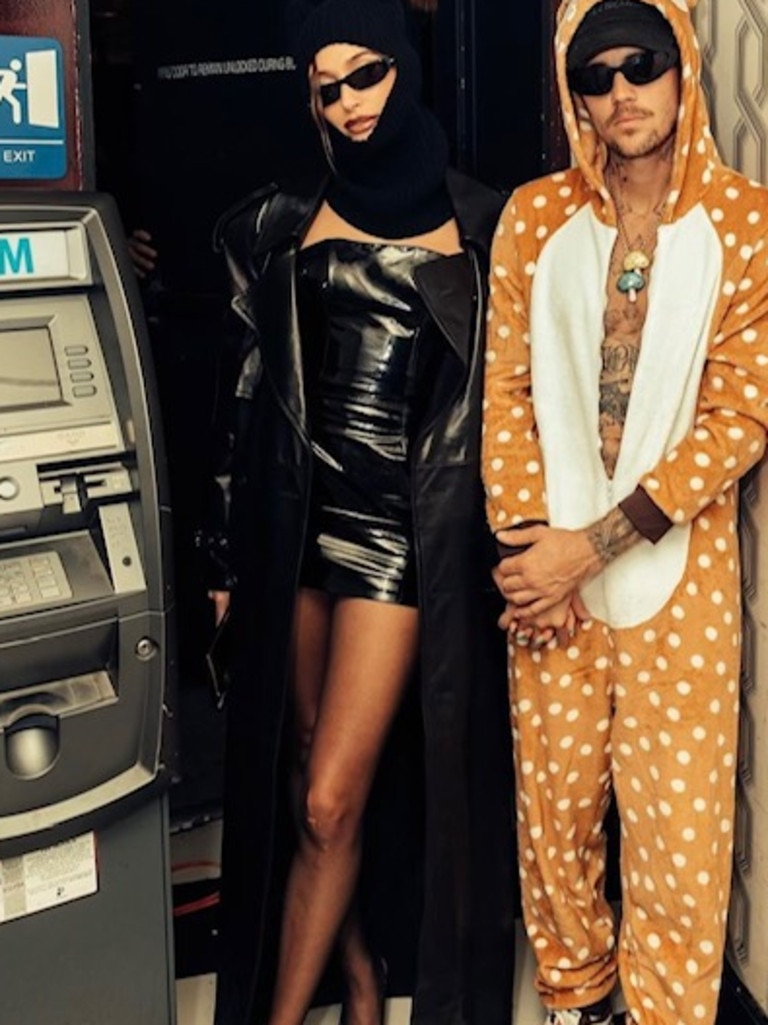 It is unclear if he thought the sunglasses and extra hat would make him look unrecognisable, but nothing screams "look at me I'm famous" like multiple head coverings and sunglasses at night.
The whole outfit is terrifying, not because it is scary, but because it is bone-chilling to think that he thinks he looks good.
If you didn't know Justin was underneath that outfit and you ran into him in the street you'd cross the road and avert your eyes.
One of the most hilarious parts about this is that Justin and Hailey have made zero attempt to do a couple's costume.
No, she's gone complete sex symbol and he looks like someone you wouldn't want lining up behind you at Kmart.
People online need clarification on the looks.
"He needs a stylist," someone commented.
"Can they look any more miserable together? I'm so confused," another shared.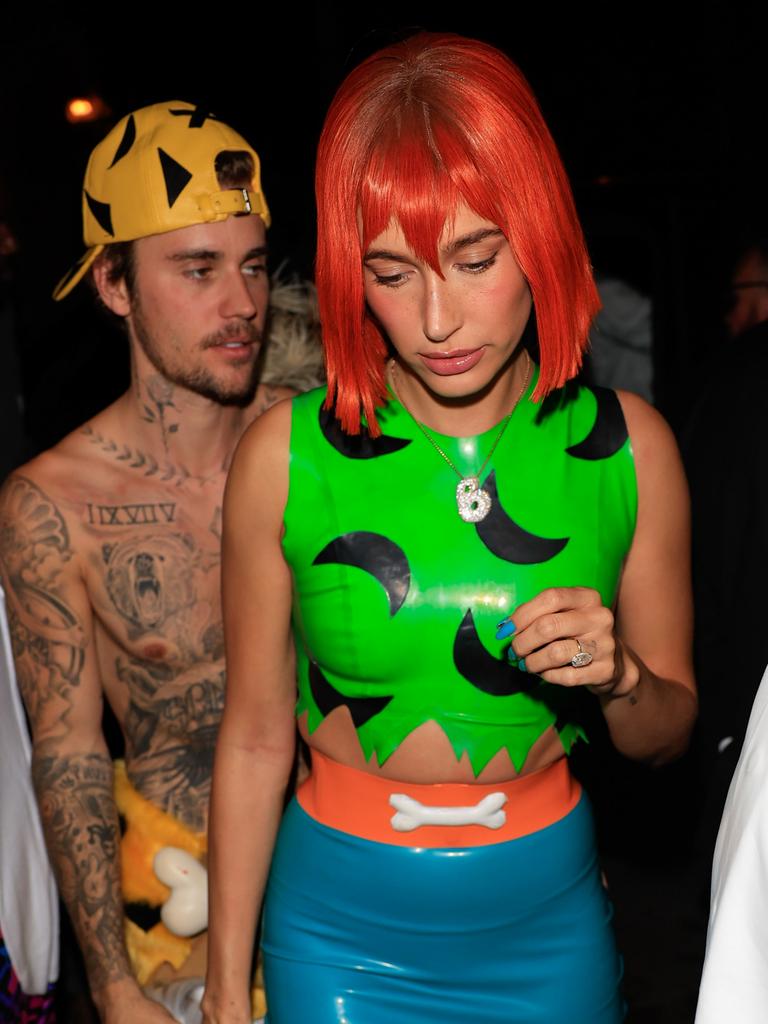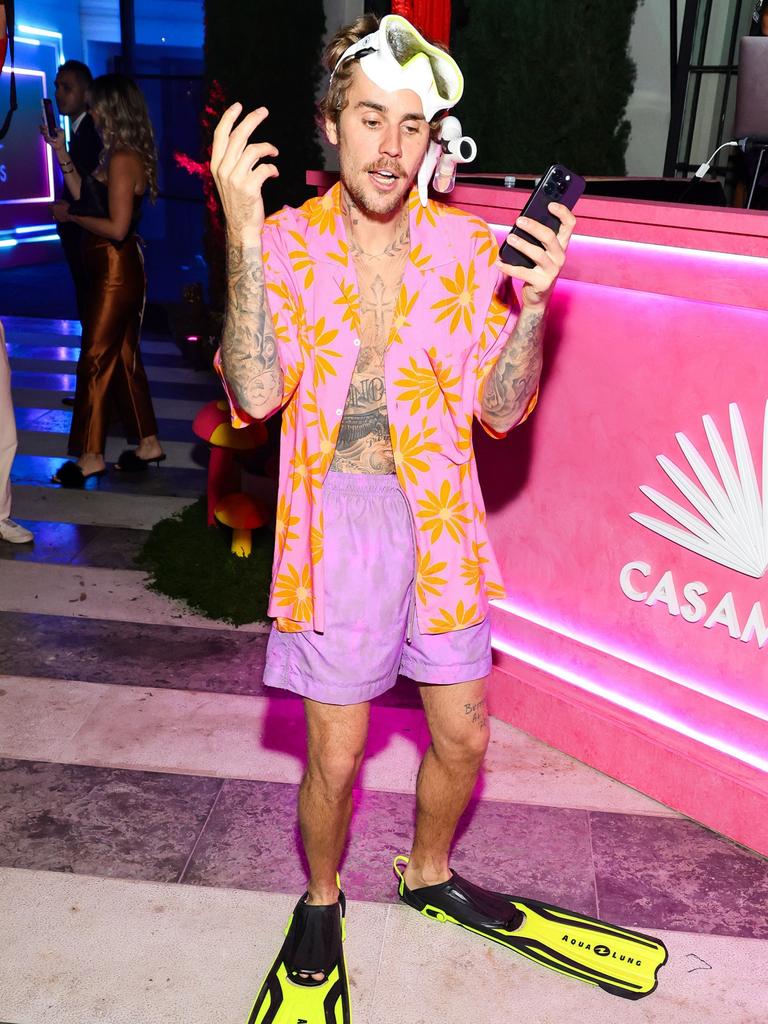 He has also dressed up as a scuba driver by wearing giant flippers and a Hawaiian shirt. Basically, he wore a normal summer outfit and popped on some flippers and headed out for the night.
Yes, there are photos of him trying to walk in the giant flippers.
The scuba diving outfit was met with confusion online.
"He is hilarious, but it must be exhausting being his wife," someone commented.
"It is Justin's world. We are just living in it," another observed.
"He just doesn't care what people think." one person noted.
He also went as one of The Flintstones, which just involved him wearing a pair of pattern shorts and not wearing a shirt.
Hailey matched with him this time and went as the character Pebbles. She wore a latex mini dress and a neon red wig.
Similarly, his lack of effort for The Flintstones outfit was also noted.
More Coverage

Pics confirm Bieber has 'overcorrected'

Truth behind 'confronting' Bieber pics
"He looks so happy to be there," someone joked.
"Him being shoeless is amazing," another wrote.
"Craziest couple in the world," someone remarked.