It is the biggest mystery in Hollywood — where is Jamie Foxx?
The 55-year-old Oscar winner — who is known as the consummate entertainer — has been MIA since he suffered a "medical complication" while filming Netflix action comedy Back in Action in Atlanta, Georgia, on April 11, reports Page Six.
There has been vanishingly little news since his older daughter, Corinne Foxx, shared a statement on her Instagram the next day.
"We wanted to share that my father, Jamie Foxx, experienced a medical complication yesterday," the statement said. "Luckily, due to quick action and great care, he is already on his way to recovery.
"We know how beloved he is and appreciate your prayers. The family asks for privacy during this time."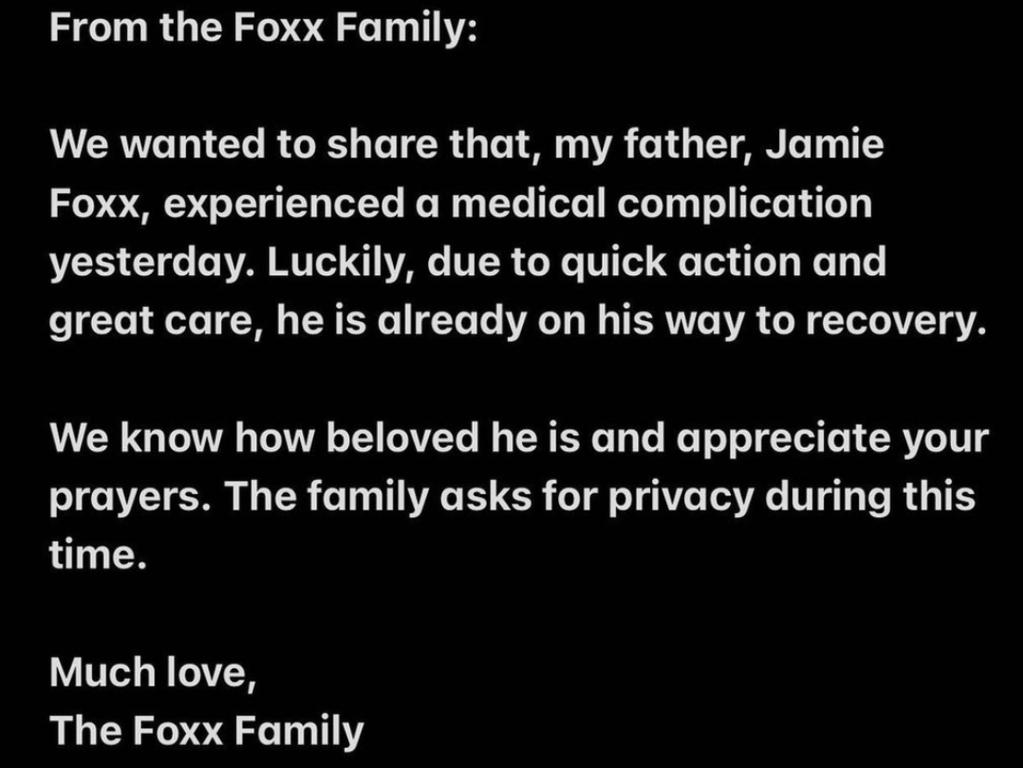 Page Six can reveal that a family member said Foxx is "recovering well," but also discloses mounting concern inside Hollywood that the silence surrounding Foxx could affect his future career.
The fate of his new Netflix movie Back in Action is also up in the air.
Foxx has not been seen since before the emergency.
At the start of May, Foxx's Instagram account posted simply: "Appreciate all the love!!! Feeling blessed."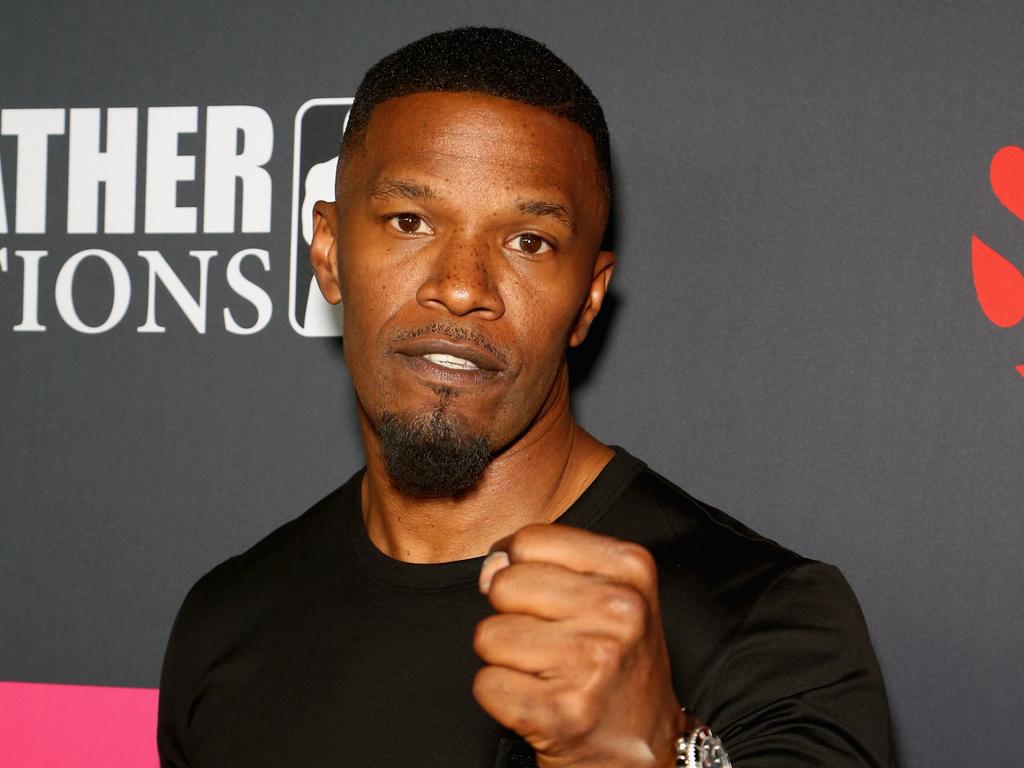 On May 12, a month after she revealed her father's medical emergency, Corinne, 29, said that her father had been well enough to play pickle ball.
Foxx is known to have been recuperating at a clinic in Chicago that specialises in stroke recovery, traumatic brain injury rehab, spinal cord injury rehab and cancer rehabilitation.
Mike Tyson claimed the star had suffered a stroke, although this has not been confirmed.
His daughters Corinne and Annalise, as well as Annalise's mother, Kristin Grannis, have all been seen at the clinic.
Corinne Foxx's mum told Page Six she could not comment on his recovery.
His reps are not providing any new information at this time, they told Page Six on Friday.
However Bruce Heckhard, whose brother Talley was raised alongside Foxx, told us: "So far, from what I'm hearing, he's recovering pretty good, but I've not witnessed that myself."
Poignantly, Heckard told us, Foxx's recovery meant he had been unable to open the basketball court which he gifted to his home town of Terrell, Texas.
The court in Breezy Hill Park is emblazoned with his name.
"They dedicated a park to Jamie, they did a marvellous job, but he couldn't make it down there," Heckard said.
The park opening is far from the only public appearance Foxx would have been expected to make this spring and summer; in fact he should have had a packed promotional calendar, with three upcoming movies.
This week his latest movie, God Is a Bullet, in which he plays The Ferryman, was quietly released in a small number of cinemas, with no red carpet premiere.


In August, he will voice a dog named Bug along with Will Ferrell in the R-rated comedy Strays, in theatres August 18.
And also this week, a trailer for Foxx's new Netflix movie They Cloned Tyrone was posted to his Instagram, with the message: "It's about to go down. #TheyClonedTyrone coming July 21, only on @netflix."
Foxx had been absent from its red carpet premier last week, and the Instagram post prompted accusations that his daughter Corinne, who had replied to it with a "prayer hands" emoji, was intentionally keeping fans in the dark.
"Hey we the fans are very concerned about your dad. We don't care about your next project can you please update us on his health it's disturbing to keep fans in the dark and then send a whole thing on a new episode is he OK ?????" wrote one follower.
Another follower said: "A lot of his fans would love some health update. Bro are you good?"
The movie, on which Foxx also served as a producer, also stars John Bodega and Teyonah Parris.
At the movie's premiere in Florida last week, Boyega said that "no one has heard from" the actor ever since he was hospitalised.
"No one has heard from Jamie," Boyega told Entertainment Tonight. "I wanted him to show up here, but you know, I know he's dealing with what he's dealing with. I just wish him all the best," he said.
"I've been calling, I am just going to keep on calling."
The mystery extends to the exact state of the movie he was filming when he was taken ill, Back in Action, which had reunited him with Cameron Diaz.
The pair had first shared the screen in 1999's Any Given Sunday and 2014's Annie, and it was her first role since stepping away from acting in 2014 to focus on starting a family — she's now a mum to 3-year-old daughter Raddix with her husband Benji Madden.
"@iamjamiefoxx only you could get me back in action! I can't frickin wait it's gonna be a blast!" Diaz wrote on Instagram in June 2022 when her casting was announced.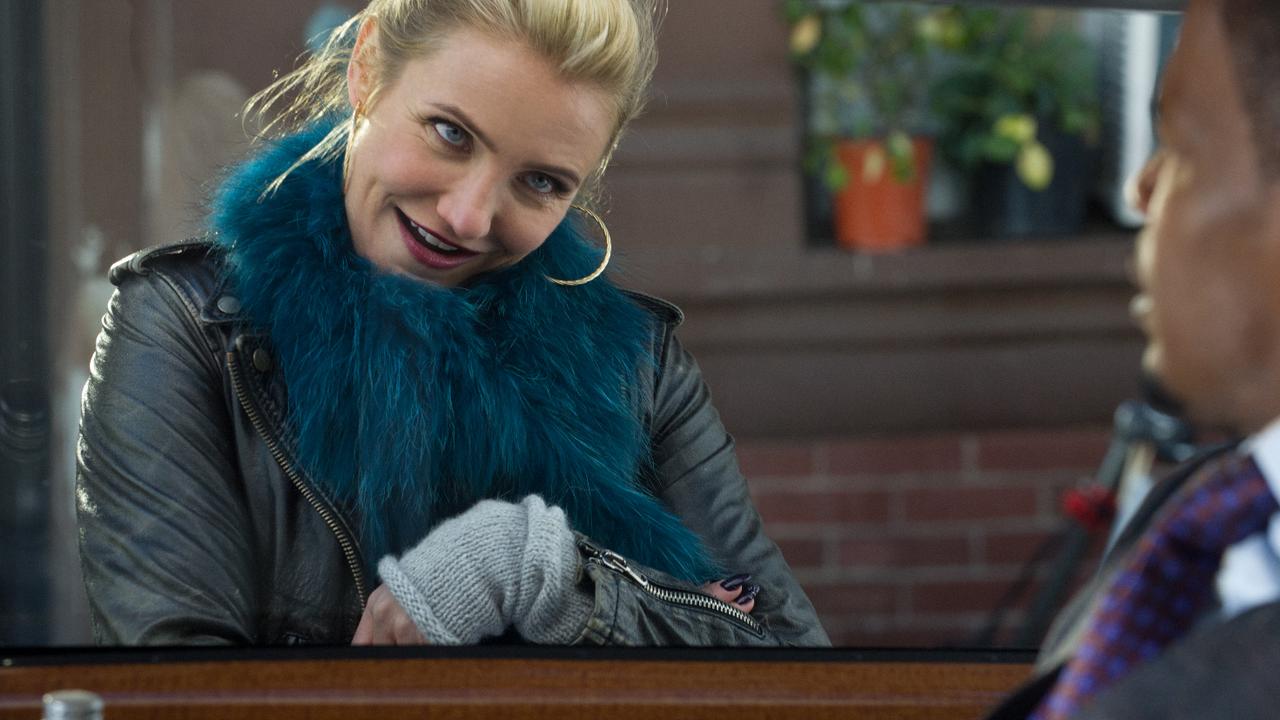 But The Sun newspaper reported the movie has been plagued by problems, with Foxx allegedly axing ­several crew members amid various delays and difficulties during their shoot in London, before it moved to Atlanta.
Netflix insiders told Page Six there it no release date yet for Back in Action, for which Foxx's stand-ins had to be used on some scenes.
It's not even known if the film is fully finished.
The Daily Mail alleged this week that Diaz, 50, had not spoken at all to Foxx — and felt "guilt" that they had fallen out during the making of the movie.
If she has spoken to Foxx, she is not sharing. One Hollywood insider told Page Six of Foxx's condition: "It is the best-kept secret in Hollywood."
That has only fuelled speculation about the severity of the problem.
Amid that speculation, boxing legend Mike Tyson, who has been planning a biopic starring Foxx, said: "He's not feeling well. They said a stroke. I have no idea what happened to him."
Foxx's reps declined to confirm or deny that.
But his representatives did speak out to call "completely inaccurate" claims from gossip columnist AJ Benza on Dr. Drew Pinsky's show that Foxx had been harmed by the COVID-19 vaccine.
Pinsky also disowned the comments.
Another well-placed industry source told us: "I think the people around him are afraid to say how sick he really is – it could affect how people in Hollywood perceive him in the future."
Foxx has made a habit of keeping his private life from public view.
The Ray Charles Oscar winner has never married, but was most recently in was in a long-term relationship with Katie Holmes.
They'd been together since 2013 — about a year after Holmes divorced Tom Cruise. The pair were highly secretive about their early trysts, meeting up late at night at hotels and sneaking out back entrances to avoid tattletales.
They finally appeared together in public for the first time at Clive Davis' Pre-Grammys Gala in New York in 2018, and they walked a red carpet together for the first time at the Met Gala in 2019, but split that August.
A Hollywood source told Page Six that the secrecy around his condition was ultimately harmful.
"I know that people realise this is a private matter, but people are concerned — Jamie's friends and fans — and they just want to know what is going on," the well-placed industry source said.
"I don't think that is too much to ask."
This article originally appeared in Page Six and was reproduced with permission