Tights and... a cushion? Kanye West's Australian 'wife' Bianca Censroi is wearing some truly weird outfits during their Italian holiday.
Another day, another bizarre outfit from Kanye West's Aussie "wife", Bianca Censori.
The Melbourne-born architectural designer continues to rock the most out-there fashion during her Italian vacation with the rapper.
In her wildest look yet, the 28-year-old was pictured exiting their hotel in Florence wearing a flesh-coloured bra while bizarrely clutching a lone purple cushion over her chest.
She paired her look with beige heels and a pair of flesh-coloured leggings, which made her appear completely nude from afar.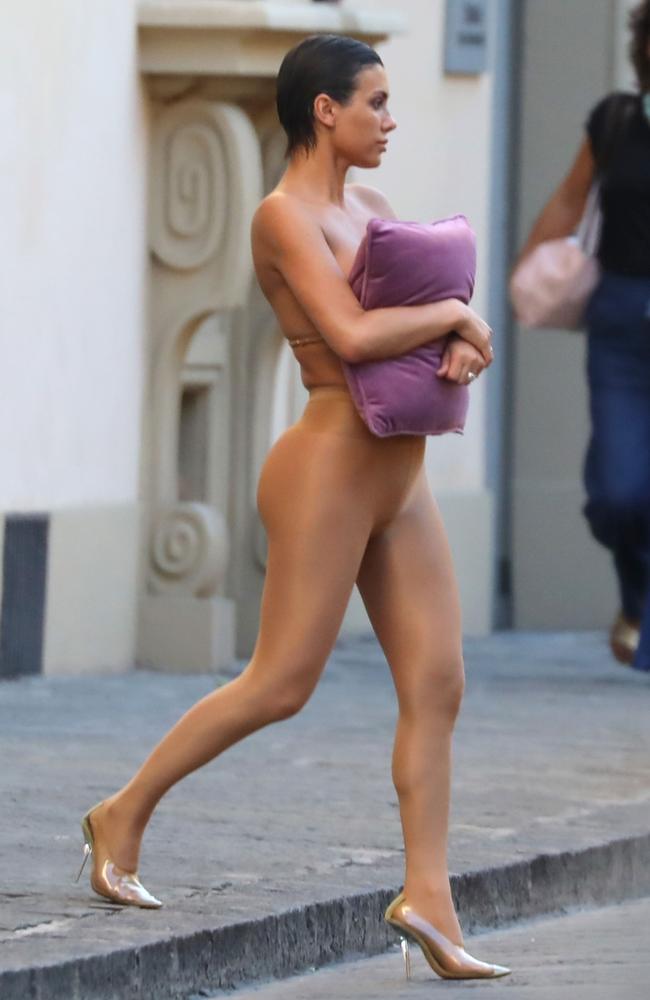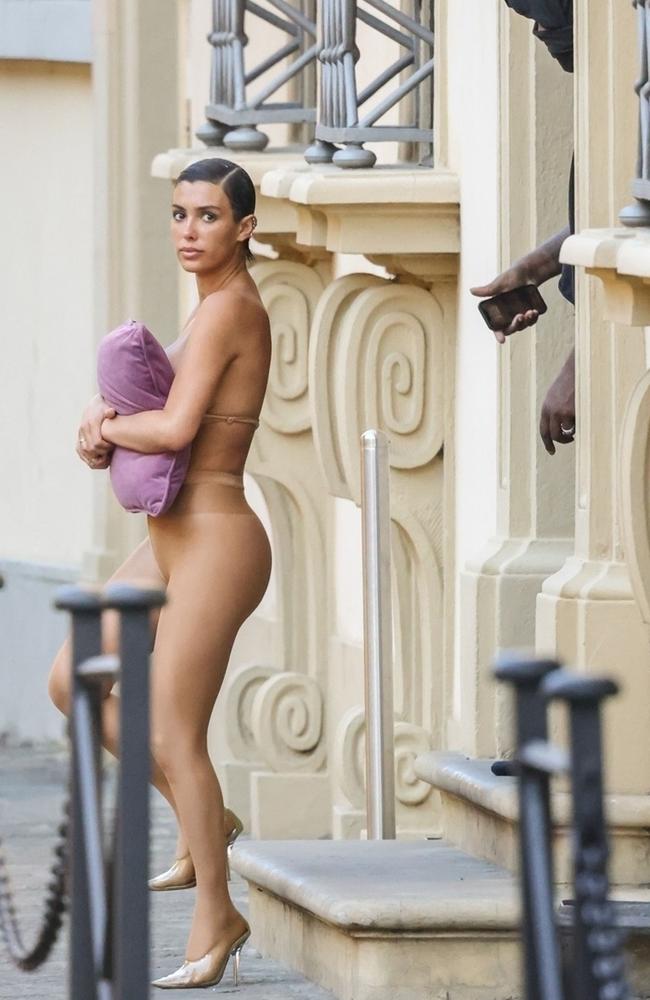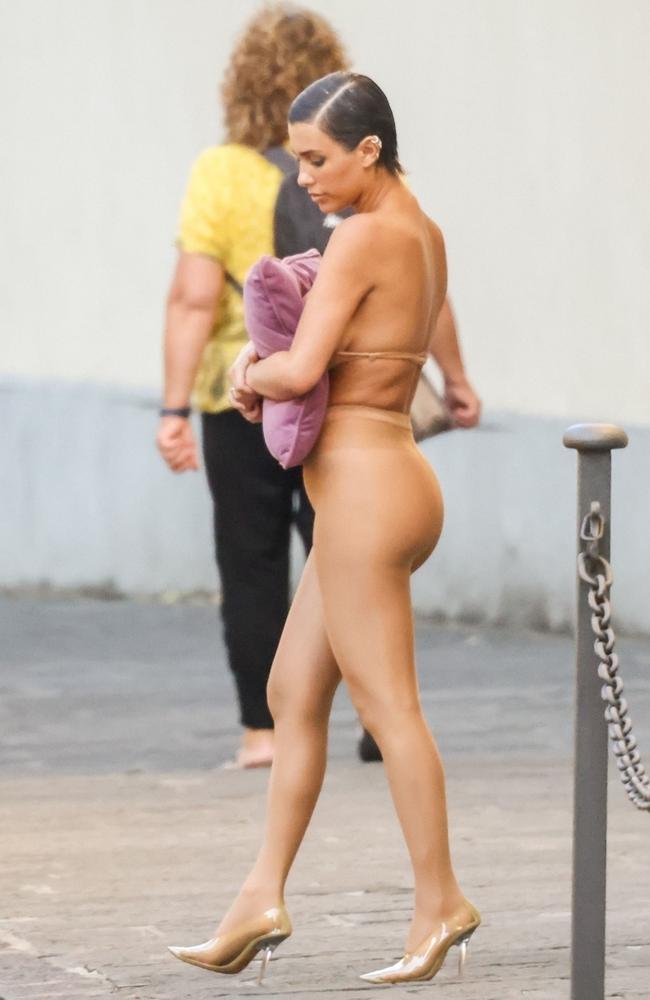 The couple – who were unofficially married in January this year – were then seen heading to designer clothing store Marni on foot for some retail therapy before enjoying dinner at a posh local restaurant.
According to the Daily Mail, eyewitnesses at the eatery said Censori kept the cushion tightly pressed against her chest the entire time.
Meanwhile, Kanye, 46, kept his outfit simple, wearing top-to-toe black as he kept his face hidden with a scarf.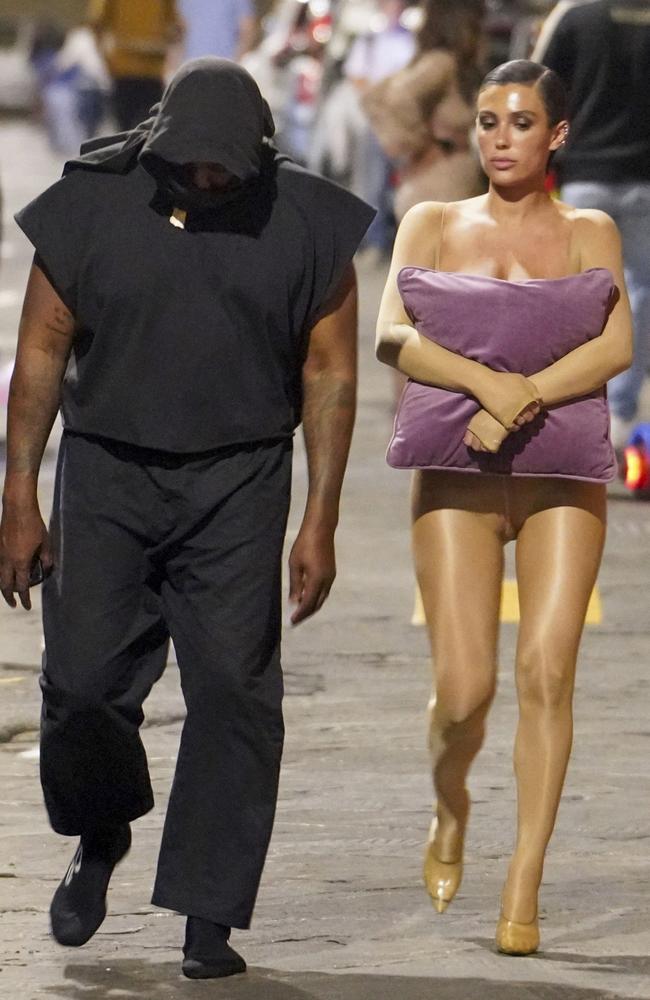 The rapper – who is the subject of BINGE's new documentary The Truth About KanYe – also wore no shoes on their outing, just a pair of black socks.
The Daily Mail reports that the couple are staying at Royal Suite della Gherardesca – a palazzo located within the Four Seasons Hotel Firenze that is hailed on of Europe's most extravagant suites.
It's believed Censori may have plucked the purple cushion from the hotel as previous social media posts from guests show the velvet cushion among the decor of the suite.
The Royal Suite is said to be worth $18,000 per night.
Stream The Truth About KanYe on BINGE. New BINGE customers get a 14-day free trial. Sign up at binge.com.au


Censori's latest head-turner is just part of a series of questionable outfits she has worn holidaying in Italy this past month.

During the trip, the designer has gone braless in a plunging bodycon nude top and leggings combo and rocked a nipple-bearing thong bodysuit in white while wearing a pair of translucent stockings around her head.
As they continue to offend with their outfits which have been labelled by some locals as disrespectful, both West and Censori have come under fire from an Italian boat company for the display of public indecency they put on aboard a water taxi in Venice weeks ago.
In shock photographs, Kanye had his trousers down and bum exposed on a boat while his "wife" crouched down in between his legs in front of tourists.
The couple have since been banned for life by the Venetian boat company following the indecent exposure.