Reports are swirling Meghan Markle is on the cusp of signing a lucrative contract with one of the biggest companies in the US.
Meghan Markle is reportedly on the cusp of signing a multimillion-dollar deal with Amazon's audio company, Audible.
According to multiple international media outlets, the Duchess of Sussex, 42, is said to be in final talks with the US-based podcast giant in a lucrative contract that could "make or break" her Hollywood career.
A source told Closer UK the Audible offer was greater than Meghan's $29 million deal with Spotify, which came to an unceremonious end in June.
"Word of mouth is spreading that it will lead to a huge pay out – even bigger than the millions Spotify splashed out – and Meghan is thrilled that she'll be in the company of Michelle and Barack Obama (who signed with Audible last year)," an insider told the publication.
"Meghan seems very confident at the moment but the reality is that she's been in a pretty desperate spot. Losing the Spotify deal was a massive blow. She's been pretty lost since but this deal could turn everything around."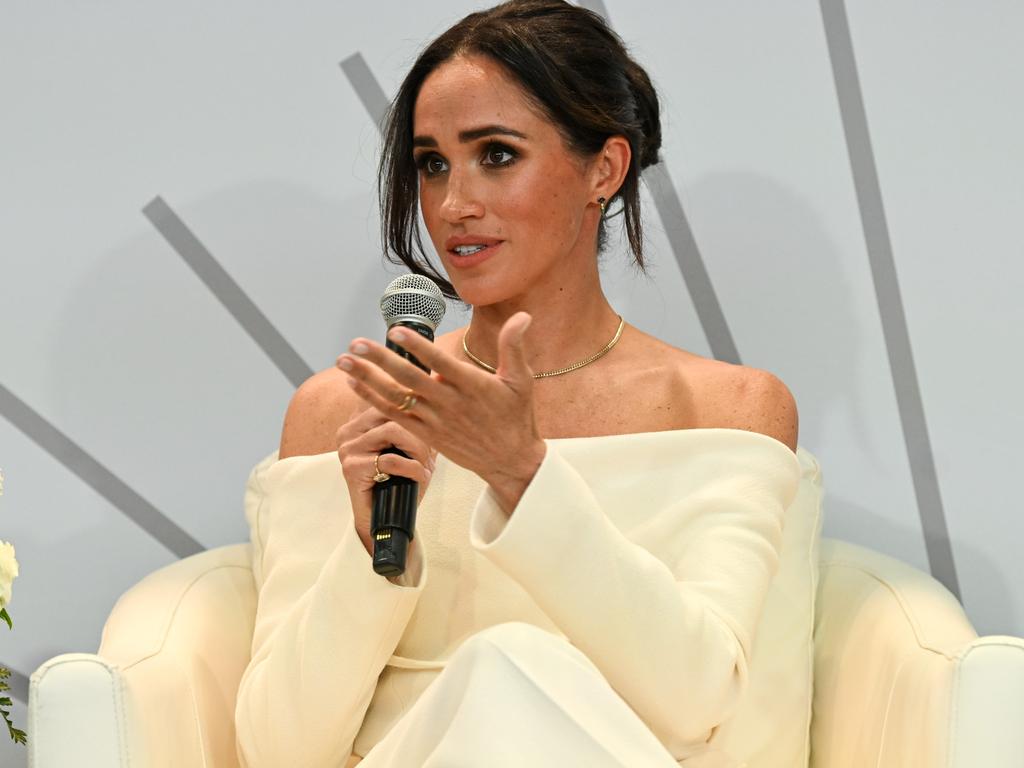 Meghan and husband Prince Harry, 39, parted ways with Spotify in a cloud of controversy.
After signing with the audio company in late 2020 to much buzz following their departure from royal life, Meghan produced just one, 12-episode podcast series Archetypes.
While the former royals claimed in a statement it was a "mutual agreement" not to renew their contract, Spotify executive Bill Simmons would later describe the Sussexes as "f**king grifters".
Speaking on his podcast shortly after news of their parting ways, Simmons said: "'The F**king Grifters', that's the podcast we should have launched with them.
"I gotta get drunk one night and tell the story of the Zoom I had with Harry, trying to help him with a podcast idea. It's one of my best stories."

Despite the negative attention that engulfed Meghan's debut podcast, the insider added the former actress is "ready" to start afresh with Audible, but is "daunted" by the pressure to succeed.
"She hardly sleeps thanks to the pressure of it all, but knows that the pressure will only get worse if she lands the deal — it will be make or break," the source added.
"Hollywood's powerbrokers will be aware of just how [the Sussexes] fumbled on the Spotify deal, so they fear that getting dropped twice would be the end of their brand, as nobody would trust they could deliver the content. The stakes are extremely high."

Meghan's representative is yet to comment.
It comes after Meghan signed with powerhouse Hollywood agency WME in April, with royal watchers eagerly awaiting her first major deal to emerge from the partnership.
While there's been rumours bubbling for some time surrounding Meghan's impending career revival, including reports of a deal with French fashion house Dior and a social media relaunch, so far, nothing has come to fruition.

Meghan and Harry's deal with Netflix, which they also signed in late 2020 for an eye-watering $150 million, has been more successful than their other ventures.
They sat down for their headline-making debut series, Harry & Meghan, which debuted in December, while Harry's Heart of Invictus hit the platform last month.
The pair announced in August they'd be producing a romance film based on the New York Times bestselling novel Meet Me at the Lake.