Five Republican candidates for president took to the stage for the party's third debate in Miami on Wednesday.
But Donald Trump, the consistent frontrunner in the race, once again opted to skip the event and instead held a rally a short drive away.
All of the contenders are trailing the former president by a wide margin and are running out of opportunities to win over voters, with the first real contest in the nomination process, the Iowa caucus, just two months away.
While the candidates jabbed at one another in their answers, they were mostly prevented from responding directly to attacks by the strict format.
Here's what we learned.
1) Trump still looms large
The first two words of the very first question? Donald Trump.
The candidates were asked why voters should support them and not the former president. It was a sign of just how strong a grip Mr Trump has on this race.
Florida Governor Ron DeSantis said Mr Trump was "a very different guy from 2016" and had failed to explain what he said were broken campaign promises.
He then referenced Tuesday night's elections, which saw some major victories for Democrats. "Donald Trump said we'd get tired of winning," Mr DeSantis said. "I'm sick of Republicans losing."
Former UN Ambassador Nikki Haley, meanwhile, said that Mr Trump was "the right president at the right time" but was no longer the right candidate.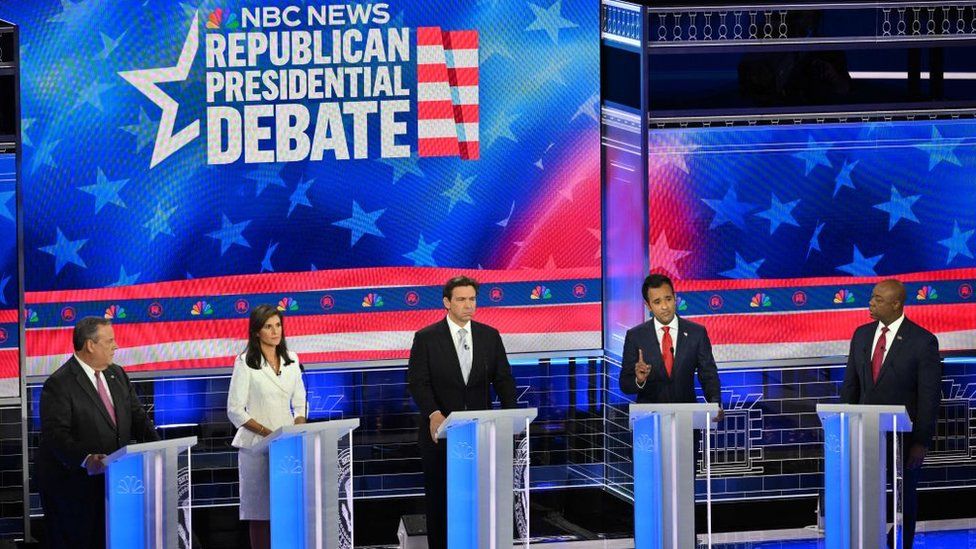 Former New Jersey Governor Chris Christie pointed to Mr Trump's ongoing legal problems, telling viewers that he should not be the nominee because he will be "spending the next year and a half of his life keeping himself out of prison".
It was notable that South Carolina Senator Tim Scott and biotech entrepreneur Vivek Ramaswamy did not mention the president at all in their answer, with the latter instead railing against "the establishment" and "the corrupt media".

2) There was a united front on Israel
Each of the five rivals were united in standing with Israel in its ongoing war with Hamas.
Mr DeSantis and Ms Haley called on Israeli Prime Minister Benjamin Netanyahu to "finish" the Palestinian militant group, while Mr Christie and Mr Scott claimed that a policy of appeasement by President Joe Biden was to blame for the crisis.
Mr Ramaswamy backed what he called Israel's "right and responsibility" to "smoke the terrorists" on its southern border, comparing it to his pledge to use military force against drug traffickers on the US-Mexico border.
But he also took a shot at Ms Haley, who he has often tangled with, labelling her foreign policy approach equivalent to "Dick Cheney in three-inch heels".
That comment appeared to split the audience and triggered one of the more animated responses of the night.
"I'd first like to say they're five-inch heels," Ms Haley responded. "They're not for a fashion statement, they're for ammunition."

3) Nikki Haley came under attack
That clash with Mr Ramaswamy became something of a theme, with Ms Haley finding herself at the centre of the most heated exchanges on the night.
With Mr Trump leading the rest of the field by a big margin, his rivals have tussled over, but so far failed to, consolidate the non-Trump vote.
However, Ms Haley, the lone woman in the race, has been rising in the polls in recent weeks and she took repeated jabs from both Mr Ramaswamy and Mr DeSantis.


More on the US election


Mr Ramaswamy, who vowed ahead of the debate to be more "unconstrained", repeatedly mentioned his rival's name in his answers and slammed her as "the sharpest of the war hawks".
When he noted that Ms Haley criticized his use of TikTok while her own daughter was also on the platform, she shot back: "Leave my daughter's name out of your voice. You're just scum."


Smirking in his direction, Ms Haley told the crowd that Russia and China were "salivating about the idea someone like [Mr Ramaswamy] could be president".
Ms Haley and Mr DeSantis also tangled on several occasions, taking aim at one another over who has a tougher record on issues such as China and energy independence.

4) They remain divided on abortion
In the year since the nationwide right to an abortion was rescinded by the Supreme Court, Republicans in favour of new restrictions have faced a voter backlash in various settings.
The latest example came on Tuesday, when voters in conservative-leaning Ohio decisively backed a measure to add abortion rights to the state's constitution.
Ms Haley said the result showed the Republican Party must find consensus between its anti-abortion convictions and those who do not support imposing stricter limits.
Mr Scott struck a very different tone, however, and directly challenged his rivals to support a national 15-week limit on the procedure.
But his proposal was roundly ignored and no other candidate endorsed it.
Ms Haley said Republicans needed to "stop the judgment" of those who were not anti-abortion, and suggested Mr Scott's proposal would not gain majority support. Mr Christie sided with her, saying he trusted individual states to decide their own limits on abortion.
Mr DeSantis echoed that sentiment and said he understood different states had different views on the issue.
Their responses reflected the careful ground some of the candidates are trying to tread on an issue that has hurt Republican candidates at the ballot box.