As a Democratic stalwart in deep-red West Virginia, Senator Joe Manchin ranked among his party's most valuable politicians, helping deliver large parts of Joe Biden agenda in a narrowly divided Senate.
But his announcement Thursday that he won't seek reelection next year, and will travel the country to create "a movement to mobilize the middle," has raised Democratic alarm that he could mount an independent presidential run — and move from vital Biden ally to a potential threat to the president's reelection.
Manchin's decision could be a double blow to Democrats. He was likely the only electable candidate from West Virginia willing to caucus with Democrats, and could also soon be poised to add to Biden's mounting difficulties if he launches an independent or third-party campaign for the White House.
"Anybody running from the center would be dangerous for" Biden, says Jim Kessler, an executive vice president of Third Way, a centrist Democratic group of which Manchin was once an honorary co-chair. "Biden is relying on people from the center to get reelected."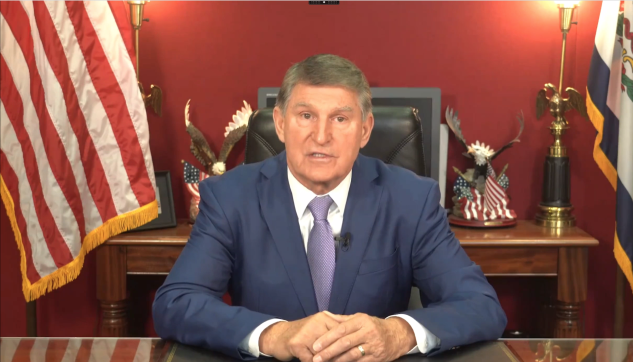 A Manchin candidacy could capitalize on the growing number of "double haters" — voters who are dissatisfied with both Biden and Donald Trump — which now stands at 19% of the electorate in swing states, according to the Bloomberg News/Morning Consult poll released Thursday.
Right now, that void is being filled by Robert F. Kennedy Jr. The poll shows that Kennedy's independent campaign attracts supporters about equally from Trump and Biden supporters, owing to his family's Democratic pedigree combined with anti-vaccine rhetoric that many Republicans find appealing. However, an independent bid by Manchin, an ex-Democrat, could damage Biden much more than Trump.
Read More: Swing-State Voters Put Border Before Mideast, Ukraine Conflict

'Listening Tour'
If he does decide to run for president, Manchin would have a head start when it comes to resources. His campaign committee boasts $11.3 million on hand.
"That's a huge campaign war chest if you're running in West Virginia, but a minuscule campaign war chest if you're running nationally," Kessler said.
Manchin has said he wants to travel the country on a "listening tour" to get a sense of Americans' concerns, and he's expected to do so through his daughter's recently launched organization called "Americans Together."
Even so, mounting a 2024 presidential run at this stage could be tricky. Without party backing, the process to get an independent candidate on 50 state ballots — or even enough to plausibly compete in the Electoral College — can be expensive and time-consuming. And Manchin, at 76, would suffer from the same questions about age that dog Trump and Biden, the oldest presidential candidates on record.

No Labels
Manchin is an original honorary co-chairman of No Labels, a group that started as a centrist policy group but is now laying the groundwork for a possible third-party presidential campaign. He participated in a No Labels event in New Hampshire in July, declining to rule out a presidential run as he complained that "there's no voice for the middle" in US politics.
A spokesperson for Manchin declined to comment on Thursday night.
No Labels spokeswoman Maryanne Martini in a statement applauded Manchin "for stepping up to lead a long overdue national conversation about solving America's biggest challenges" and said the organization would make a decision by early 2024 on whether to nominate a presidential candidate. Larry Hogan, the former governor of Maryland and a Republican, has also come up as a possible No Labels candidate.
Earlier: Hogan Says He's Not Closing Door on 2024 Presidential Bid
During the first two years of the Biden presidency, Manchin often frustrated the White House with his shifting policy demands for Democrats' sweeping legislative packages, but he also appeared to relish the attention of fellow Democrats who had the narrowest of majorities and sought his essential deciding vote.
Before he posted a video on Thursday stating his intentions, Manchin was widely seen as the only realistic chance for Democrats to keep the Senate seat in Republican-trending West Virginia, which Trump won by 39 percentage points in 2020.
An Oct. 13 Emerson College poll of West Virginians found Manchin trailing by 13 points in a hypothetical matchup with Governor Jim Justice, a Democrat turned Republican who's running for the Senate.
Manchin's conservative politics and ties to the fossil fuel industry have drawn attacks from liberal reformers throughout his career. Several Democratic strategists, including liberal critics, doubt that he'll follow through on his presidential dalliance.
"He'll flirt, but I doubt he'll be actively running next fall," says Jeff Hauser, who runs the progressive watchdog group, the Revolving Door Project. "Losing badly would hinder his brand for corporations considering his services as a K Street fixer and potential board member."
Democratic Senator John Fetterman of Pennsylvania, who differed with Manchin on issues ranging from the Senate's dress code to extending Biden's supersized child tax credit, said he wasn't surprised he's leaving. "I saw this coming. In my opinion it was just built into the stock price."
— With assistance from Steven T. Dennis