Gaza residents flee south after Israel drops leaflets telling them to leave.
Palestinians under threat of a looming Israeli ground invasion hunkered down in Gaza or tried to flee on Friday as airstrikes pounded the region, and Americans trapped in the turmoil pleaded for U.S. government help.
Yaser Betar, an American citizen and Texas native, was among those attempting to bring his family to safety across Gaza's southern border.
"Conditions are very bad," Betar told USA TODAY. "We're waiting here. Hundreds of thousands of people are walking to leave Gaza city to go to the south border because they are preparing for a big invasion."
"They say if you stay in the city you will be killed," Betar said in a brief phone call, as horns honked and voice yelled in the background. "Me and family, we're just 15, 16 people, are leaving right now."
Betar, a Texas native, returned to the area to visit his children shortly before a surprise invasion by Hamas on Saturday triggered the worst escalation in the conflict in at least 50 years.
"Nobody is helping us. Nobody. Even the U.S. consulate is not helping us," said Betar, his voice cracking.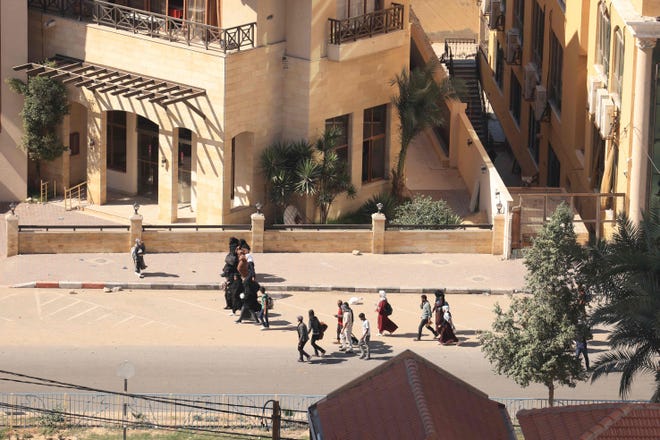 Palestinians undertake 'impossible' evacuation
The Israeli directive ordered more than one million to leave their homes within 24 hours, conditions the United Nations deemed "impossible" without "devastating humanitarian consequences," Stéphane Dujarric, the spokesperson for the UN secretary general told news outlets on Friday.
It came in response to a surprise attack by Hamas militants on Saturday that triggered the worst escalation in the crisis in at least 50 years.
Already, 423,000 people, more than 18% of Gaza's population, have fled their homes. They face the threat of ongoing airstrikes that have already killed more than 1,500.
"It's been terrifying, honestly, for them," said Mai Abushaaban, 22, of her mother and sister, two U.S. citizens in Gaza who are traveling south toward Rafah and Khan Yunis in an attempt to evacuate. "They don't know if they're going to live to see tomorrow, let alone the next hour."
"People are worried, people are essentially preparing to die," she said.
"Every voice note that I get from family members in Gaza, I can hear the bombing in the background," said Nour Joudah, Assistant Professor in the Department of Asian American Studies at UCLA, whose two maternal aunts and dozens of cousins are in Gaza.
Joudah said she saw a viral story online posted by a young local journalist who ran to cover a bombing before discovering it had struck his own house. She later discovered her cousin-in-laws lived in the same house.
"There is no neighborhood that has not been bombed. There is no family member that has not lost a neighbor or a friend or a relative."
Faced with the risks of evacuation and ongoing airstrikes, others have decided to shelter in their homes and brace for expected ground invasion.
"To get in a car right now or to walk is to expose yourself to the elements and they're already seeing people be killed in the process of evacuating," Joudah said. "If you're watching that, you're thinking to yourself, let me hunker down in my house and hope for the best."
"We do know a couple of people who said, this is my house, this is my land. If I'm going to die, I'm going to die here," Abushaaban said.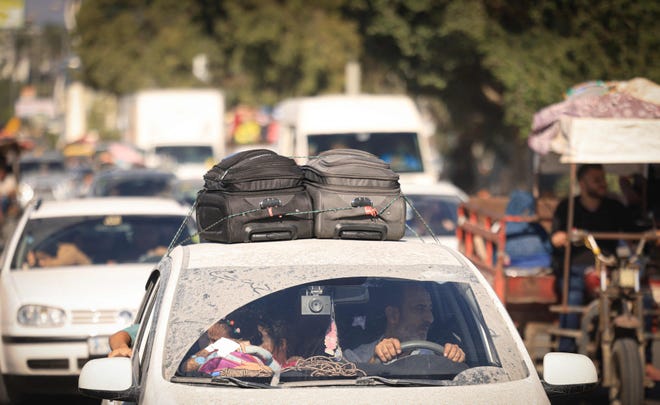 U.S. Citizens beg for government help
Betar and Abushaaban's family repeatedly requested help from the U.S. Consulate, but to no avail.
Abushabaan said emails from the U.S. Embassy requested her family's contact information - her mother and sister had sent it at least three times.
Given the Israeli government's announcement on Friday that internet service would be cut off, she wondered what good it would do. "We're hoping for the best and we're hoping that the US Embassy can do something before it's too late," she said.
In addition to an internet blackout, the Israeli government imposed a blockade on Gaza, cutting off its 2.3 million citizens from food, fuel, and electricity, which officials say won't be lifted until the 150 hostages taken by Hamas are released.
"Not a single electricity switch will be flipped on, not a single faucet will be turned on and not a single fuel truck will enter until the Israeli hostages are returned home," Israeli Energy Minister Israel Katz said via social media.
State Department spokesperson Matthew Miller re-directed a request for comment on U.S. efforts to evacuate Americans in Gaza to the Jerusalem Embassy, which did not immediately respond.
Miller said in a briefing that the State Department "it's likely that there may be hostages who are U.S. citizens who are held in Gaza.
The State Department on Wednesday raised its alert level for American travelers to Israel and the West Bank, urging them to reconsider their plans.