The artificial intelligence pioneer takes up a job with the tech giant days after he was fired by OpenAI.
Microsoft chief executive Satya Nadella wrote on X, formerly Twitter, that Mr Altman would be joining Microsoft to lead "a new advanced AI research team".
Meanwhile, ex-Twitch CEO Emmett Shear will become OpenAI's new boss.
Writing on X, he called the job a "once-in-a-lifetime opportunity".
But in his post on the platform formerly known as Twitter, he added the way Mr Altman had been sacked was "handled very badly" and "seriously damaged our trust".
The board dismissed Sam Altman, 38, on Friday, saying it had lost confidence in him, and named OpenAI's chief technology officer, Mira Murati, as its interim chief executive.
Mr Altman helped launch the firm, which created the popular ChatGPT bot, in 2015, and was the face of the firm's rise.
He is considered one of the most influential figures in the fast-growing generative artificial intelligence (AI) space, and his sacking sent shockwaves across the industry.
It sparked an outpouring of support from Silicon Valley bosses, including former Google chief executive Eric Schmidt who called Mr Altman "a hero of mine" and said that he had "changed our collective world forever".
There was a backlash from investors, which raised speculation that he might be reinstated - an idea that was further stoked when Mr Altman tweeted a photo of himself wearing a guest ID pass and writing: "First and last time I ever wear one of these".
There were also concerns within the tech industry that Mr Altman may set up a rival company and take OpenAI's top talent with him.
Instead, Mr Altman is joining Microsoft which has invested billions in the ChatGPT maker.
Responding to the post by Microsoft boss Mr Nadella confirming his new job, Mr Altman posted "the mission continues".
It's not clear how staff at OpenAI feel about the sudden, headline grabbing change in their company's leadership.
But a number - including senior executives - have posted the same message on X, which reads "OpenAI is nothing without its people".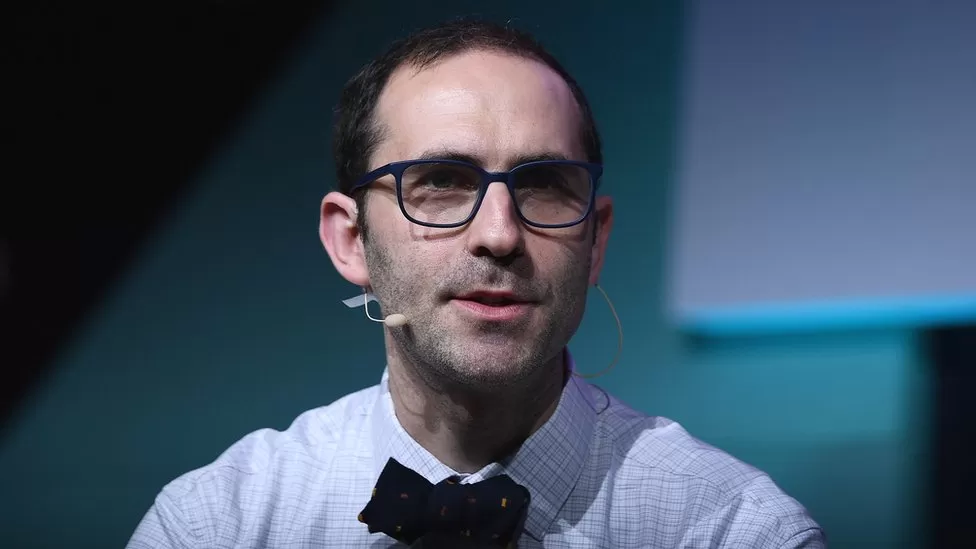 OpenAI's new boss Emmett Shear is the former head and co-founder of video streaming service Twitch. A memo to OpenAI's staff said he has a "unique mix of skills, expertise and relationships that will drive OpenAI forward".
On Friday, when OpenAI announced it was firing Mr Altman, it accused him of not being "consistently candid in his communications with the board, hindering its ability to exercise its responsibilities".
The board did not specify what he is alleged to have not been candid about.
On Sunday evening, the board said it "firmly stands by its decision as the only path to advance and defend the mission of OpenAI," according to an internal memo, seen by The New York Times.
Mr Shear said he had looked into the reasoning behind Mr Altman's departure before taking the role:
"The board did *not* remove Sam over any specific disagreement on safety, their reasoning
Reports this weekend suggested his sacking had angered current and former employees who were worried it might affect an upcoming $86bn (£69bn) share sale.
There was also believed to be unrest within OpenAI's major investors - which include Microsoft.
The company also uses OpenAI's technology in its applications, and Mr Nadella said: "We remain committed to our partnership with OpenAI."
OpenAI is widely seen to be a company at its peak, with lucrative investment pouring in, and ChatGPT - which was launched almost a year ago - is used by millions.
Mr Altman testified before a US Congressional hearing to discuss the opportunities and risks created by the new technology and also appeared at the world's first AI Safety Summit in the UK at the beginning of November.
was completely different from that. I'm not crazy enough to take this job without board support for commercializing our awesome models", he wrote on X.
But Mr Shear committed to hire an independent investigator "to dig into the entire process".
There would also be "reform the management and leadership team in light of recent departures", he wrote.