The "That '70s Show" star was found guilty in May of raping two women more than two decades ago.
By Angela Yang, Diana Dasrath and Corky Siemaszko
LOS ANGELES — "That '70s Show" star Danny Masterson was sentenced Thursday to 30 years to life in prison for raping two women more than two decades ago at his Hollywood Hills home.
Masterson, 47, displayed no visible emotion after Los Angeles County Superior Court Judge Charlaine Olmedo threw the book at him.
"Mr. Masterson, I know that you're sitting here steadfast in your claims of innocence, and thus no doubt feeling victimized by a justice system that has failed you," Olmedo said just before dispatching Masterson to prison. "But Mr. Masterson, you are not the victim here."
Masterson's wife, Bijou Phillips, a model and actress who was a constant presence at her husband's trials, quickly donned a pair of sunglasses after Olmedo announced the sentence and left the Los Angeles courtroom without a word.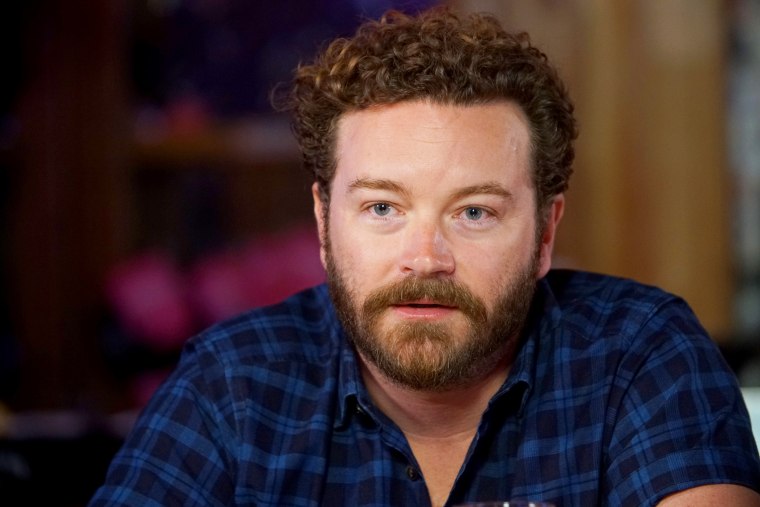 Masterson was hit with the staggering sentence four months after he was convicted on two of the three rape counts he faced at his retrial in Los Angeles. He had been charged with raping three women — identified at trial as Jane Doe #1, Jane Doe #2 and Jane Doe #3 — between 2001 to 2003.
A once popular sitcom star, Masterson did not take the stand at either of his trials and has, via his lawyers, repeatedly denied sexually assaulting the women.
Nor did Masterson make any statement at his sentencing. Instead, the actor sat silently as the two women he was convicted of raping, and a former girlfriend he was accused of sexually assaulting, took turns urging the judge to hit him with a harsh punishment.
"When you raped me, you stole from me," Jane Doe #2 told the court. "That's what rape is, a theft of the spirit."
"You are pathetic, disturbed and completely violent," she said. "The world is better off with you in prison."
Jane Doe #1 said Masterson "has not shown an ounce of remorse for the pain he caused."
"I knew he belonged behind bars for the safety of all the women he came into contact with," she said. "I am so sorry, and I'm so upset. I wish I'd reported him sooner to the police."
Jane Doe #3 said Masterson's actions sentenced her to "viewing my body as a crime scene my entire life."
In a post-sentencing statement, District Attorney George Gascón said he applauded the women for "coming forward and participating in this process."
"My hope is that this sentence will somehow bring them peace and that their bravery will be an example to others," Gascón said. "One of my top priorities is to ensure that Los Angeles will no longer be a hunting ground for Hollywood elite who feel entitled to prey on women."
But Shawn Holley, one of Masterson's lawyers, said in a statement the legal battle is not over.
"And though we have great respect for the jury in this case and for our system of justice overall, sometimes they get it wrong," Holley said. "And that's what happened here."
"Mr. Masterson did not commit the crimes for which he has been convicted and we--and the appellate lawyers — the best and the brightest in the country — are confident that these convictions will be overturned."
Masterson's first trial ended in November 2022 with a mistrial, with jurors leaning toward acquittal. His second trial ended with the actor being convicted of raping Jane Doe #1 and Jane Doe #2 but not Jane Doe #3.
All three accusers are former members of the Church of Scientology, to which Masterson still belongs.
Both trials focused unwanted attention on the controversial church, which the women have accused of trying to cover up the allegations.
At the retrial, Olmedo stressed that Scientology was not a defendant. But she allowed witnesses to testify that church officials pressured them not to talk to police about the rape allegations.
Scientology spokeswoman Karin Pouw repeatedly denied those allegations and insisted that church doctrine requires members to "abide by all the laws of the land."
After Masterson's sentencing, the church released a statement that did not mention Masterson by name but which called the prosecution's "introduction of religion into this trial was an unprecedented violation of the First Amendment."
"The Church was not a party to this case and religion did not belong in this proceeding as Supreme Court precedent has maintained for centuries," it said.
Angela Yang and Diana Dasrath reported from Los Angeles. Corky Siemaszko reported from New York City.