RAMSTEIN, Germany — Gen. Mark A. Milley's last overseas trip as chairman of the Joint Chiefs of Staff was all about the war in Ukraine — a cause he passionately supported even as he sought to prevent it from expanding into a direct conflict between the United States and Russia.
Milley had a farewell meeting last weekend with NATO allies in Oslo and then traveled here Tuesday to join Defense Secretary Lloyd Austin in meeting the Western "contact group" that is supplying an ever-expanding arsenal of weapons to Kyiv — "for as long as it takes," Milley said, to expel Russian troops from Ukraine or force Moscow to the bargaining table.
Adm. Rob Bauer, a Dutch officer who chairs NATO's military committee, told his colleagues in Oslo that Milley had led the alliance through the unparalleled stress of a pandemic, America's chaotic withdrawal from Afghanistan and the Russian assault on Ukraine. And he recalled what might be the most enduring moment of Milley's tenure: his opposition to what he saw as President Donald Trump's effort to politicize the military.
"At a time when your nation's constitutional values were shaken to their core, you made sure that the U.S. military continued to embody the values and ideals of the nation," Bauer said in remarks provided to me and other journalists traveling with Milley. "There were mornings when you didn't know if you would be fired by sunset, and yet you continued to fight for what you knew to be right."
Milley's stint as chairman of the Joint Chiefs, which ends this month, was as bold and sometimes as noisy as an artillery barrage. But the portrait that emerges from observing him over the past four years reveals a complex and sometimes surprising figure, in some ways the opposite of his public image.Milley seems at first glance a modern-day George Patton, barrel-chested and often profane in private, with an ex-hockey player's sense of leadership as a contact sport. But he is a Princeton graduate with an encyclopedic knowledge of military history and a familiarity with arcane nuclear theorists such as Thomas C. Schelling.
Despite Milley's bravado, "his constant concern as chairman was to avoid great-power conflict," said Col. David Butler, his spokesman. That meant carefully weighing risks of Russian escalation in Ukraine and avoiding needlessly provocative military exercises or saber-rattling in the South China Sea.
Milley's view of war was conditioned by seeing battle up close in Iraq. As a colonel commanding a combat brigade in Baghdad in 2005, he scrambled across a minefield to stop an Abrams tank that was about to detonate the explosives, according to an account published this spring by the military publication Task and Purpose.
He never forgot the grim warning given to him in 2019 by a World War II veteran at a commemoration of the D-Day assault. When Milley asked the paratrooper for advice, the veteran said with a tear in his eye: "Don't let it happen again." For all his outward bluster, Milly tried to follow that admonition.
Milley's time as chairman was jolted by his collision with Trump. It was a strange accident of history. Trump, who had avoided military service and knew nothing of war, was attracted to Milley's Patton-like demeanor. The relationship exploded on June 1, 2020, when Trump led Milley, in uniform, across a forcefully cleared Lafayette Square for a photo opportunity before which Trump denounced the racial-justice protests that came after the killing of George Floyd.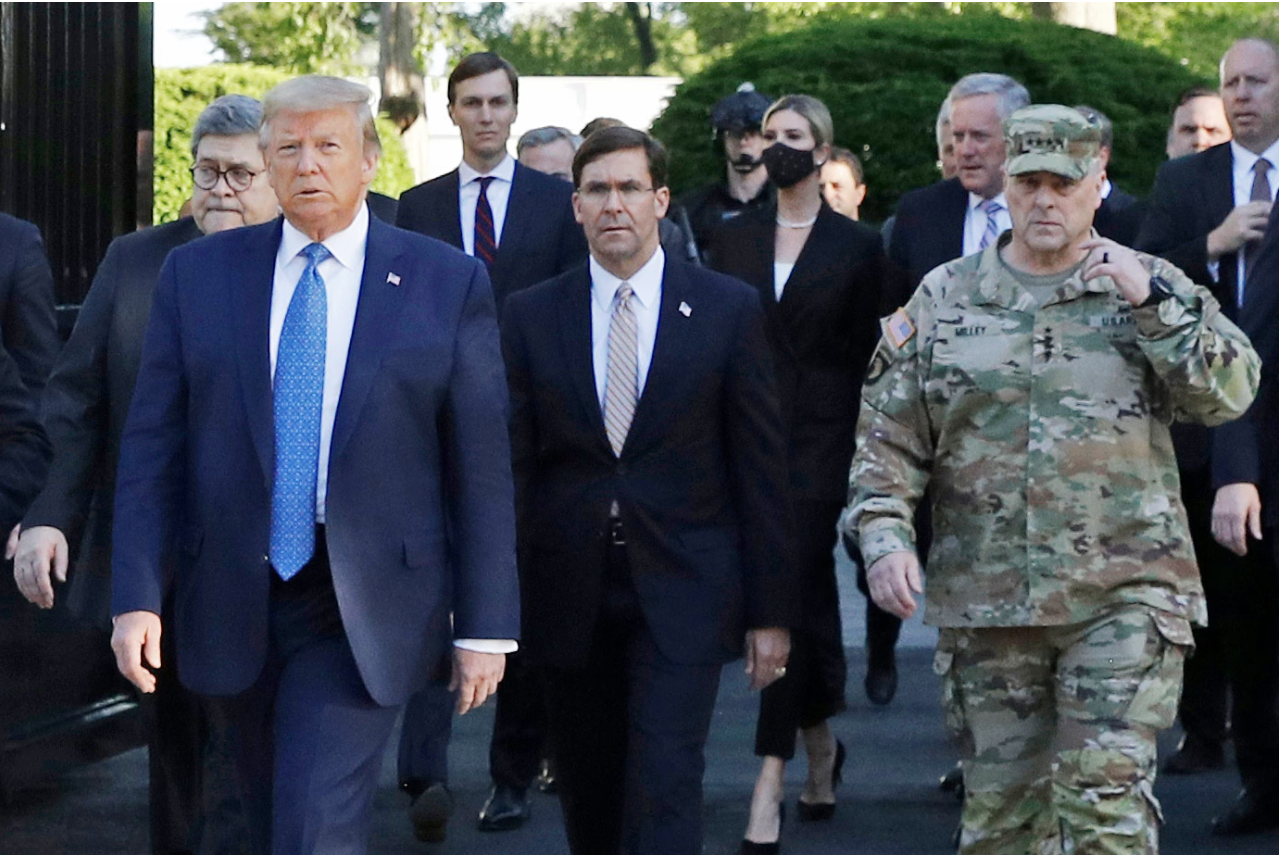 Milley was furious that he had let Trump use him as a prop and quickly apologized to his colleagues in uniform. From then on, he battled to defend the military from what he saw as Trump's assault on its independence and professionalism. If anything, Milley might have overcorrected. He was so worried about the military being used to quell a civil disturbance on Jan. 6, 2021, that he was wary of an aggressive response to the mob assault on the Capitol that he sensed was coming.
After Trump's departure, Milley became a close and trusted adviser to President Biden, reinforcing the White House's twin goals of supporting Ukraine and avoiding war with Russia. His baseline advice was that the United States should concentrate on what he described as "line-drive singles," rather than swing for flashier but higher-risk home runs. That middle course suited Biden.
When Russia invaded Ukraine in February 2022, Milley thought Kyiv would probably fall quickly. Fearing that President Volodymyr Zelensky would be arrested or killed, he urged Ukraine to prepare a continuity of government plan. From the beginning, he foresaw a long, bloody conflict. Before the invasion, he is said to have warned his Russian counterpart, Gen. Valery Gerasimov: "You may get into Ukraine in 14 days, but it will take you 14 years to get out."
Milley's twin poles in assessing Ukraine were captured in two quotations he shared with me early on. The brave defiance of Zelensky and the Ukrainian people reminded him of Napoleon's remark that, "In war, the moral is to the physical as three is to one." To support Zelensky's courageous defiance, he rushed weapons to Ukraine — though always weighing the danger that it might provoke Russian retaliation against NATO.
In assessing the danger of escalation, Milley recalled a phrase attributed to Chinese leader Deng Xiaoping: "We are crossing the river by feeling the stones" — meaning, one wrong step might bring disaster.
Critics argue that he was overly careful, and that the administration's response to requests for weapons such as HIMARS missiles or F-16 fighters amounted to "no, no, no, yes." But Milley's approach was calculated. Rather than jumping over Russian red lines, as some hawks wanted, Milley, in effect, wriggled through them — at first resisting and then supporting the provision of long-range missiles and other systems. As late as this week, he was cautioning NATO allies that sending ATACMS missiles or F-16 jets to Ukraine, while militarily useful, wasn't a "silver bullet." Milley has worked closely with Gen. Valery Zaluzhny, Ukraine's top commander. But when the Ukrainian military fired a drone at the Kremlin this year, Milley is said to have cautioned Zaluzhny: "Don't use American weapons" in such attacks inside Russia.
The tensest time for Milley in the Ukraine war might have been last fall, when Kyiv broke through Russian lines and seized Kharkiv and Kherson — and U.S. intelligence warned that Russia might use tactical nuclear weapons to prevent a general collapse of its forces. To contain what he believed was the greatest risk of nuclear war since the 1962 Cuban missile crisis, Milley contacted Gerasimov and queried him on Russian doctrine on tactical nukes. That call, and similar contacts by Austin and other top officials with their Russian counterparts, reduced their concern about escalation but didn't extinguish it.
Milley likes to cite Prussian general and military theorist Carl von Clausewitz's warning that human factors can drive wars toward extremes because the terrible loss of life usually stiffens combatants' resolve rather than breaking it. He worries that this hardening of position could lead both Ukraine and Russia to resist a negotiated settlement they might otherwise seek as rational actors if a grinding war of attrition stretches into next year.
After struggling so hard to keep the military out of politics during the Trump years, Milley ironically became a figure in America's poisonous culture wars. He's a White Irish Catholic from outside Boston, but when he defended the U.S. Military Academy teaching critical race theory, he was attacked by right-wing media as a symbol of a "woke" military leadership. The criticism infuriated Milley, but he held his ground as a proponent of a modern, diverse military.
Milley's most important but least recognized contribution to the military might have been his advocacy of new technology. Starting when he became Army chief of staff in 2015, he sought out tech leaders such as Elon Musk and pressed for ideas that could modernize Army logistics and weapons. He used the 18th Airborne Corps, headed at the time by Gen. Michael Erik Kurilla and Lt. Gen. Chris Donahue, as a test bed for new technology. Those two officers and many dozens of others have become advocates of preparing for digital warfare.
The Army had modern tools ready to help Ukraine identify and target attackers when Russian invaded, in what I described in December as "algorithmic warfare." Milley hopes this technological edge will deter China from attacking Taiwan and ensure a pulverizing defeat of any attempted Chinese invasion of the island.
As a student of military history, Milley understood better than most that war is an extension of politics. He tried to fence the chairman's office from political pressure, but in the Trump era, that proved impossible.
One of Milley's favorite military aphorisms is from Chinese strategist Sun Tzu. "See yourself, see your enemy, win a thousand battles." Milley did the first two, but as he made his last visit to Germany as chairman of the Joint Chiefs to urge support for Ukraine, victory was still an uncertain and probably distant vision.