It's fitting that, as James Corden closes in on the end of his tenure as the host of The Late Late Show, the most enduring and headline-grabbing farewell will probably not come from the host's chair in Los Angeles, but from one final installment of Carpool Karaoke. Though CBS will air a prime-time special commemorating the British actor-comedian's eight years as host before his final episode on Thursday, it's the show's signature segment, in which a typically committed Corden and a celebrity guest enthusiastically belt out songs during the host's "commute", that became an institution, the show's bulwark in the ever-jockeying field of late-night television.
Since Corden took over for the Scottish-American comedian Craig Ferguson in 2015, The Late Late Show, produced by Ben Winston (who has since also taken on the Grammys) and Rob Crabbe, has occupied a small corner of the linear television map. It's the 34th most watched show on CBS; ratings have been decently consistent over the years, though of course minor compared with the pre-streaming heyday of late-night television. But its celebrity bits such as "Spill Your Guts or Fill Your Guts" (AKA "Truth or Eat Repulsive Food"), anywhere from grating (traffic-stopping crosswalk musicals) to inspired (directing a Harry Styles music video in a lucky rando's apartment) allowed the show to punch far above its late time slot and ratings weight.
While Stephen Colbert, Seth Meyers and Trevor Noah focused on political satire, Corden's Late Late Show cultivated fun, fizzy celebrity. Carpool Karaoke, in particular, typified and accelerated a wave of outlet-specific series, such as Vogue's 73 Questions, GQ's 10 Things You Can't Live Without, or Jimmy Fallon's many Tonight Show games, that form a secondary charisma press tour. These celebrity-friendly bits, light in tone and heavy in personality, became golden opportunities to showcase a star's capacity to be chummy and casual, and slotted well into bite-size consumption online.


It wasn't always this way. In the final Carpool Karaoke, an emotional bonding session with his close friend (and typically brassy) Adele (whose original 2016 installment notched over 260m views on YouTube, a series best), Corden recalled how difficult it was to book anyone during the show's early days. "No one would do it," he said. "Everyone on planet Earth said no, but then suddenly Mariah Carey said yes."
The singer's sign-on, as well as the bit's appealing accessibility – celebrities are just like us, singing hard in the car – courted a who's who of stars: Stevie Wonder, Paul McCartney, One Direction, Ed Sheeran, Lady Gaga, BTS, Justin Bieber, Jennifer Lopez. Basically, everyone in music except Taylor Swift and Beyoncé, plus non-music celebs like Michelle Obama. Even as Corden's reputation waned due to rumors of rude behavior and some questionable performances, the segment still attracted some of the buzziest names in music, including, in the past month, global and multilingual superstars Bad Bunny and Blackpink. (Corden, for his part, gamely sang along in some Spanish and Korean.)
Corden's departure, announced a year ago, precipitated a season of change and contraction in late-night television. Months after his announcement that he'd "never want this show to overstay its welcome", TBS canceled Full Frontal With Samantha Bee, and by the end of the year, Trevor Noah, who began his late-night tenure the same year as Corden, ended his seven-year run on The Daily Show. (The Comedy Central program has since rotated through a series of guest hosts and has yet to name a full-time replacement.) The Late Late Show will end with Corden; CBS plans to fill his slot with a reboot of the gameshow @midnight.
t also arrives after a series of controversies over Corden's performances, persona and off-screen behavior. First there were a slew of questionable creative choices: the overall bomb that was Cats; Ryan Murphy's Netflix musical The Prom, in which Corden, who has won a Tony, drew widespread criticism for his flamboyantly mannered portrayal of a gay man. (As Vanity Fair's Richard Lawson put it: "one of the worst film performances of the 21st century".) There was Amazon's Cinderella flop starring Camila Cabello that Corden executive-produced and promoted by stopping traffic for a "Crosswalk the Musical" segment in which he hip-thrusted at an onlooker in her car. Clips from the bit drew some, to put it mildly, less than enthusiastic commentary online.
Most prominently, there was a Corden's dust-up last fall with Keith McNally, the owner of New York hotspot Balthazar, who publicly banned, then reinstated, then re-banned Corden from his restaurant after he claimed the host had been "extremely nasty" to staff on two separate occasions. Corden denied McNally's accusations detailed in several chaotic Instagram posts, though he eventually admitted on his show that, while he didn't yell or use derogatory language, he had been "ungracious" to staff.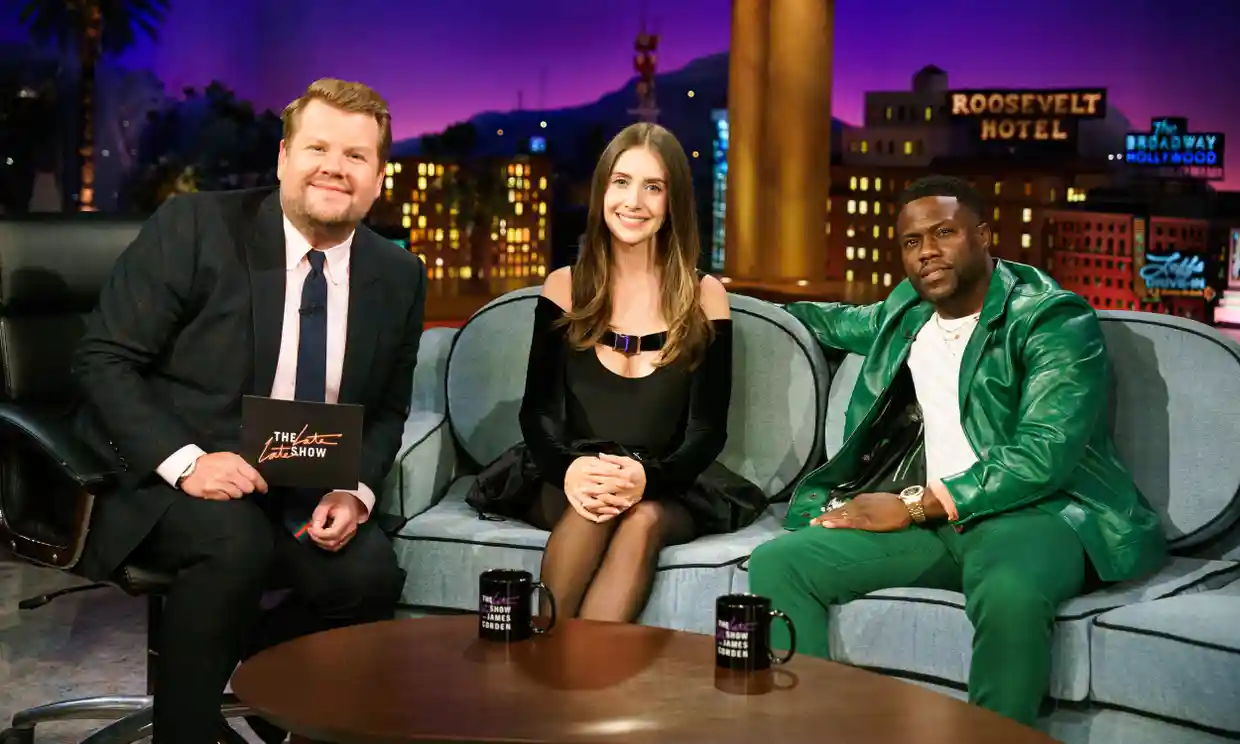 Still, the back-and-forth prompted a wave of anonymous and unverified reports of Corden's rudeness on social media, and resurfaced a 2017 video in which Corden, asked by Jimmy Kimmel to name two of his cameramen, pleaded the fifth. (Corden would say this has changed – "I think I underestimated how many friends I'd make doing it. It's like a family," he told Adele. "So more than anything I'll just miss going into work with my friends every day.") The rumors of behavior that clashed with Corden's persona as an enthusiastic, game-to-play host recalled similar hostile workplace rumors that marred Ellen Degeneres's final year on her popular daytime show and hastened her departure last May after 19 years on the air. (Those rumors, unlike with Corden, were substantiated by news reports and an internal investigation.)
Corden has not said whether the rough PR waters also hastened the end of his time as a late-night host (the Balthazar mess did occur after his announcement). In his final karaoke ride with Adele, the two speak obliquely of negativity and career doldrums, but nothing specific. Corden has publicly said he looks forward to returning to London with his wife, Julia, and their three children after a longer-than-expected stay in the US. "If I'm honest I thought it'd be cancelled within six months," Corden told the Guardian last fall. "My wife and I rented furniture. I remember telling her: 'The show willget cancelled.'" That he lasted for eight years is, depending on your view of Corden, a testament to either his appeal or endurance over overexposure. But it's also credit to the show's indisputable claim on the late-night celebrity ecosystem.