This interview has been edited for length and clarity.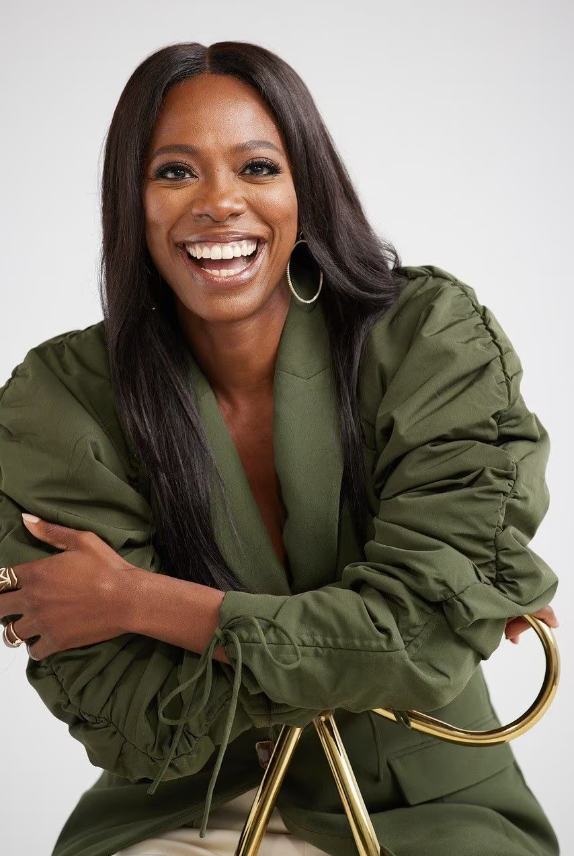 Actress and comedian Yvonne Orji says she is in her "bread pudding" era, and she's ready to serve. Despite months of work stagnation due to the writers and actors strikes, the Laurel, Md., native, best known for her role on HBO's "Insecure," describes the current season of her life as "thick, sweet and just right" because she's kept herself busy with comedy.
"I don't think I was hibernating, but I feel like I've had my season of chill, and now I'm about to come back in full force," Orji says.
The Emmy-nominated George Washington University alum — once named "funniest college student in D.C." — is coming back to the District to participate in a new three-day festival celebrating comedians of color. From Oct. 6-8, the Because They're Funny comedy festival will take over the Wharf with comedy showcases, improv classes, live music, documentary screenings, panels and more.
On Sunday at 8:30 p.m., you can catch Orji hosting the penultimate event of the weekend, the "DMV Black Comedy Homecoming" show at the Anthem. The stacked lineup will feature some of the most well-known stand-ups to come out of the area, including Tommy Davidson, Donnell Rawlings and onetime D.C. mayoral candidate Red Grant.
Because They're Funny was created by the producers of the American Black Film Festival with the dual mission of spotlighting veteran comics and elevating the next generation. "Wild 'N Out's" DC Young Fly will kick off the weekend hosting a competition for the breakout comedian of the year.
The Post caught up with Orji to learn how she finds the humor in vulnerability, the blurred lines of joke-making and why D.C. stand-up fans are not to be played with.
This interview has been edited for length and clarity.

Q: What does "Because They're Funny" mean to you?
A: "Why should we go to the show?" "Because they're funny!" I remember shows like "Def Comedy Jam" or "ComicView," and we were able to see comics of color rise. When opportunities and visibility like that go away, then you're seeing the ones who get plucked out of the fray — the lucky ones. Something like this, you can really see these people are talented.

Q: Recently, I interviewed another D.C. native comic, Earthquake, and asked what it feels like to perform in front of a D.C. crowd. How would you describe that experience?
A: When I did my tour at the DC Improv, it was electric. But then they're also like, "No, make us laugh for real." So you can't get one over on them just because you think you're funny. Nah, nah, nah. The audience is not to be played with, so you got to respect that. There's hometown love. But the folks who are taking the Red Line, the Blue Line, they're coming from work. They're still in their suits. They need a laugh at the end of the day. They want to know that this extra trip outside of work was worth it. When that bottleneck at McPherson Square happens, they're like, "If I'm coming out, please make us laugh!"

Q: How has D.C. informed your comedy?
A: I probably use some D.C.-specific words. I'll be like, "He a bama," and that doesn't translate everywhere. But definitely, if I'm back home, the audience will know exactly what I'm talking about. It's always fun to do shows back home. Subconsciously, what I say or just naturally do, it connects more. It'll be cool to maybe drop a go-go beat or a go-go reference. We'll see how that goes.

Q: There have been recent discussions about embellishing material in stand-up comedy. Where do you think the line is supposed to be drawn?
A: I think most people understand with comedy that there is embellishment, right? I can speak for myself when my mom is like, "Ah! What's this thing you say about me? I didn't say that!" Well, Mom, I took the spirit of what you said, and I added to it or talked about it in a way where in my mind I'm interpreting it how I envision you saying it. Maybe the difference in comedy is people are being endeared to you.

Q: You recently released the paperback version of your memoir, "Bamboozled by Jesus: How God Tricked Me Into the Life of My Dreams," and described writing it as an "excavating experience because you have to be vulnerable." Do you think stand-up is similar?
A: It actually is. It's just you and a page, like you and a mic. You know when it's going well immediately, and you know when it's going bad. What my fans like about me is my willingness and my ability to be vulnerable. "Hey, I'm doing EMDR therapy," or "here's why I'm sick of the standards that exist for men and women and dating," or "[I'm] going through a friendship breakup." It endears me to other people who also experience the same thing. The best comics are vulnerable because we at least know you have a point of view. Writing a book is also very isolating. Comedy, at least you have a crowd supporting you along the way, laughing at the things they're supposed to laugh at. When you're writing a book, it's just you, yourself and your thoughts, and you're hoping and wishing that it's going right.

Q: You have two HBO specials under your belt. What advice do you have for up-and-coming comedians?
A: Know what it is you're talking about. Have such a symbiotic relationship with not only the material that you put out but [also] what it is that you want the audience to remember about you so you stay on their mind. You leave an impression. They know what they're going to get if they buy a ticket and see you again.
Because They're Funny Festival, Oct. 6-8. The Wharf, 760 Maine Ave. SW. becausetheyrefunny.com. $25-$79.50.