SAG-AFTRA reached a tentative deal with major Hollywood studios Wednesday night after a 118-day strike.
Details of the tentative agreement SAG-AFTRA and major Hollywood studios reached Wednesday are coming to light.
The deal, which was reached after a lengthy 118-day strike, would include more protections around self-taped auditions, and pension caps would be raised for the first time in over four decades, said two sources familiar with the tentative deal.
The sources also confirmed details that union head Fran Drescher told The Hollywood Reporter, among them that it would mean the highest minimum wage increase in 40 years, with background actors getting an 11% bump in pay — the largest overall increase.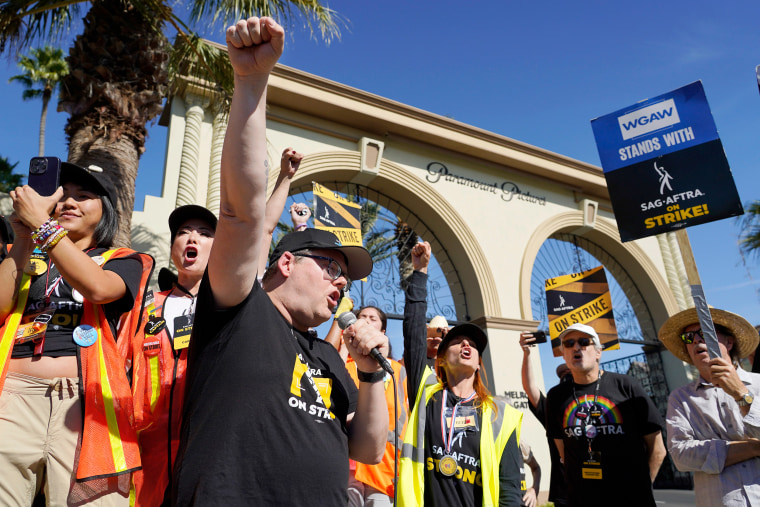 Also in the tentative deal are protections around artificial intelligence. The SAG-AFTRA union — which represents more than 150,000 film and television performers — and the Alliance of Motion Picture and Television Producers, known as AMPTP, have agreed to meet twice a year to make sure they are following federal regulations of AI as it continues to evolve, the sources said.
Details of how streaming residuals would be paid out are also baked into the tentative deal, which introduces a new model in which the top 20% of streaming shows would get a 75% increase in their residuals, with the other 25% going into a fund managed by both groups, the sources said.
SAG-AFTRA and AMPTP did not immediately respond to requests for comment Thursday.
The union's national board will review the tentative deal Friday, when more details are expected to be released.
Tens of thousands of actors represented by the union hit the picket lines on July 14 after they were unable to agree on a new contract with the AMPTP, which bargains for studios and streaming services. (The trade group represents Comcast, which owns NBC News.)
The Writer's Guild of America, a union that represents Hollywood screenwriters and also went on strike, reached its own tentative agreement with the AMPTP in September.