Hurricane Hilary, a powerful Category 4 storm off the western coast of Mexico with winds of 130 mph, headed toward Southern California and the Southwest U.S. on Friday afternoon, with heavy rain and potentially strong winds. While Hilary is likely to weaken below hurricane strength as it moves north, it could become only the third ever tropical system to make landfall in California, the first since 1939, and could remain a tropical depression as far north as Oregon.
Where and when Hilary will impact the region
The storm could bring severe conditions to the region between Saturday and Wednesday, peaking Sunday and Monday. Flood watches go into effect Saturday for much of Southern California, southern Nevada, western Arizona and southwest Utah, including the cities of Los Angeles, San Diego, Palm Springs and Las Vegas, as confidence increases that there will be excessive amounts of rain. Some desert locations are bracing for more than a year's worth of rain that could fall in one to three days.
Although the wind forecast is less certain, the potential for tropical storm-force winds has triggered a tropical storm watch from the California-Mexico border northward to Point Mugu, the first tropical storm watch ever issued for the U.S. West Coast. To the south, hurricane watches and tropical storm warnings have already been issued for southern portions of Baja California and the northwestern coast of mainland Mexico, where tropical-storm force winds could arrive starting late Friday along with flooding and landslides.
"Rainfall impacts from Hilary within the southwestern United States are expected to peak this weekend into Monday. Flash, urban, and arroyo flooding is expected with the potential for significant impacts," the National Hurricane Center said. "The threat of significant wind impacts continues to increase for … the Southwestern United States, especially in areas of mountainous terrain."
The center added later Friday: "Preparations for the impacts of flooding from rainfall should be completed as soon as possible, as heavy rain will increase ahead of the [storm's] center on Saturday."
The Hurricane Center is also warning that large swells from Hilary will reach the Gulf of California later this weekend. Meanwhile, winds surging ahead of the rain could fan fires in Northern California and Oregon.
It's unusual, but not unprecedented, for tropical systems to impact Southern California. Last year, Tropical Storm Kay brought wind gusts of more than 100 mph and flooding despite not making landfall on the state. Other notable tropical systems that have impacted the region include Tropical Storm Kathleen in 1976 and the remnants of Hurricane Doreen in 1977. Only two tropical systems — a Category 1 hurricane in 1858 and a tropical storm in 1939 — have made a direct landfall in California.
How much rain will fall?
Extreme amounts of rain are predicted for portions of Southern California and the Southwest, prompting a moderate to high risk of excessive rainfall that could cause flash flooding. For some areas it is likely the first time the Weather Service has issued a high risk for excessive rainfall three days ahead, which signals a 70 percent chance or higher of rainfall that could cause flash flooding.The National Weather Service is predicting around 4 to 7 inches of rain for interior portions of Southern California into far southern Nevada, including Palm Springs, Death Valley, Big Bear Lake and Ocotillo Wells, and isolated amounts up to 10 inches are possible in mountain areas. Some desert locations could see more rain in a day than they typically see in two to three years.

One to 4 inches of rain is expected along the Southern California coast including Los Angeles and San Diego, as well as further north into central Nevada and in western Arizona including Las Vegas and Yuma, Ariz. Only once since 1877 has downtown Los Angeles recorded more than two inches of rain in an entire summer, according to Maxar.
It's not just the amount of rain that has forecasters concerned, but how quickly it could fall. "There is a very real potential for 3 [inch] amounts in an hour in this environment," the Weather Service said. Some models show local amounts of 7 inches of rain in 24 hours, which "would challenge Nevada's 24 hour rainfall record, set in 2004."
Unusual weather pattern to accelerate Hilary toward California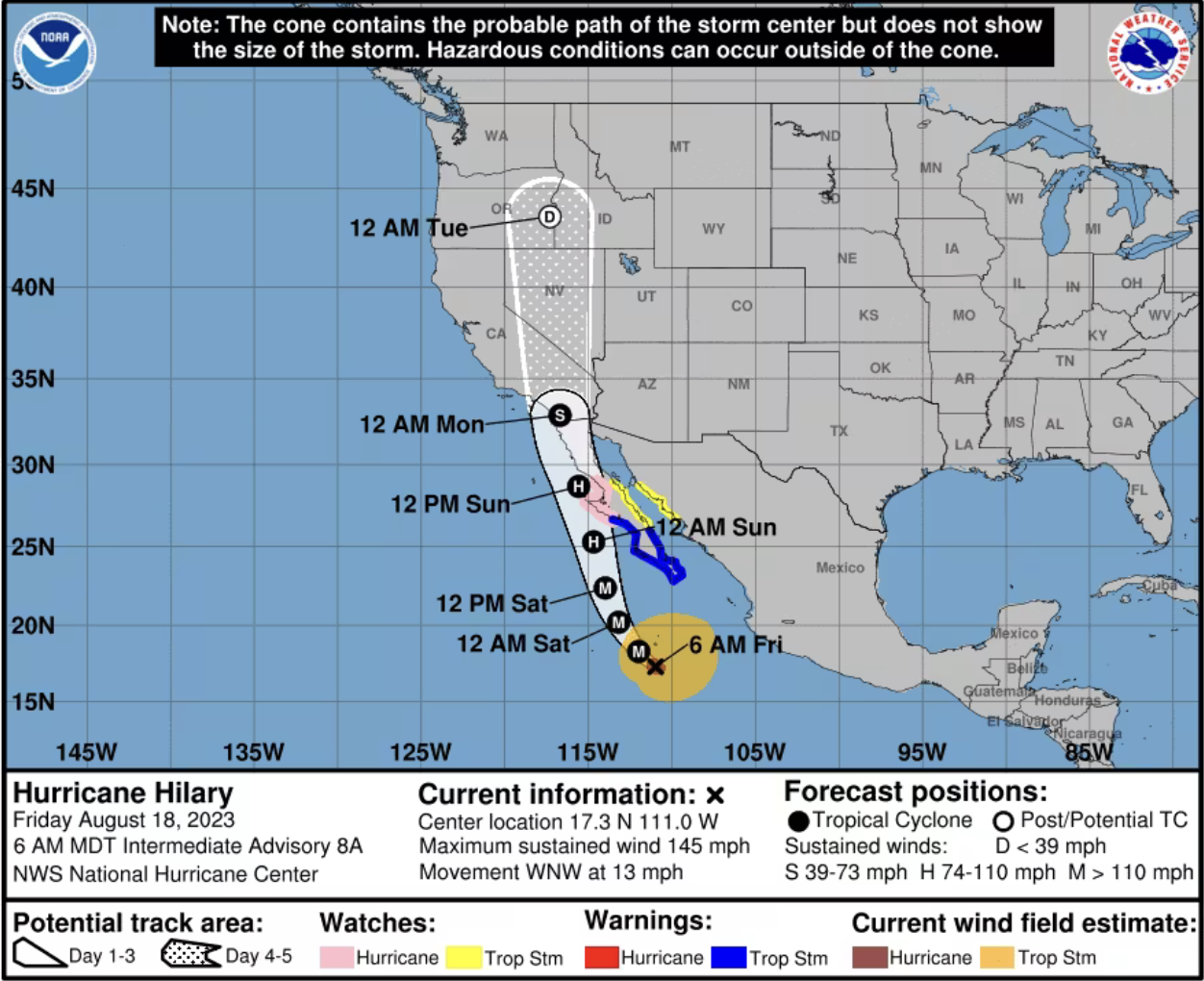 Fueled by extremely warm waters, Hilary's maximum sustained winds increased by 75 mph in 24 hours, more than double the rate defined as rapid intensification. The storm had started to weaken a bit Friday afternoon with further weakening expected into Saturday.
Fueled by extremely warm waters, Hilary's maximum sustained winds increased by 75 mph in 24 hours, more than double the rate defined as rapid intensification. The storm had started to weaken a bit Friday afternoon with further weakening expected into Saturday.
Hurricane Hilary is likely to track northwest and then north the next few days, potentially making landfall as a tropical storm somewhere between Los Angeles and just to the east of San Diego, or it could come ashore in Baja California before entering into Southern California.
Hilary is being pulled toward California by an unusual weather pattern. The two main systems steering Hilary to the north are a large high-pressure heat dome over the central U.S., which will bring extreme heat to the central Plains and parts of the Midwest Friday and this weekend, and a stagnant area of low pressure centered over the Pacific Ocean just off the California coast.
Together, the circulation around these two systems will act to funnel Hilary northward at a relatively quick speed. So while Hilary will start to weaken by Saturday as it passes over cooler waters west of Baja California, it won't have time to weaken as much as most storms would because of its fast motion. The result is an "an exceptional setup for an excessive event" that is somewhat common in the Eastern U.S. but relatively rare in the West, tweeted meteorologist Jacob Feuerstein.
As Hilary advances to the north, it will generate an atmospheric river that could reach level 5, the highest level on the atmospheric river scale. Atmospheric rivers are essentially a fire hose of tropical moisture that produce extreme amounts of rainfall in short periods of time. The predicted surge of moisture could be at a level "almost never experienced this time of year," the National Weather Service in Phoenix said, bringing much-needed rain to some areas, but also the risk of flooding to a region prone to excessive runoff because of dry soils.
Has a hurricane ever hit California?
While relatively rare, tropical systems have impacted California before. The only known hurricane to make landfall in California was a Category 1 storm that came ashore near San Diego on Oct. 2, 1858, bringing 39 to 73 mph winds to coastal areas as far north as Long Beach and flooding to inland areas. Somewhat more recently, on Sept. 25, 1939, a tropical storm made landfall between San Diego and Long Beach, producing 50 mph winds and flooding that reportedly killed at least 45 people.
Just last September, Tropical Storm Kay brought wind gusts up to 109 mph to the high terrain of Southern California and more than 3 inches of rain. The storm took down trees and power lines, flooded roads and triggered rockslides. Tropical Storm Kathleen dumped nearly 15 inches of rain when it entered Southern California from Mexico in 1976. The next year, the remnants of Hurricane Doreen caused severe flooding in California's Imperial Valley.