Far-right libertarian outsider Javier Milei has won Argentina's presidential run-off poll, according to provisional results.
Mr Milei's rival, economy minister Sergio Massa, called him to concede.
Former US President Donald Trump congratulated Mr Milei on his victory, saying he would "Make Argentina Great Again!".
The election comes at a difficult time for Argentina with rising inflation and an economy in crisis on peoples' minds.
Mr Milei's proposals, which included detonating the central bank, won support with voters desperate for change.
He confounded pollsters by easily defeating the candidate of the governing Peronists, provisionally by more than 10 points.
Provisional results showed Mr Milei had nearly 56% of the vote compared with 44% for Mr Massa, with almost 90% of votes counted.

"Obviously the results are not what we expected. I have contacted Javier Milei to congratulate him," Mr Massa said.
"From tomorrow the responsibility of providing certainty belongs to Milei."

It was a close race to the very end but the former pundit who at one point wielded a chainsaw on the campaign trail, won out.
A man who has been likened to former US President Donald Trump, and ex-Brazilian leader Jair Bolsonaro, Javier Milei is untested.
But that was part of his appeal.
His talk of introducing the US dollar as the country's official currency was met with applause by his supporters. Many economists though talk of financial disaster.
No matter, in a country where annual inflation is now over 140% and two in five people live in poverty, his win proves that Argentinians are fed up with traditional politics and economic disaster.
His victory means they are willing to try something new in an effort to make their lives better.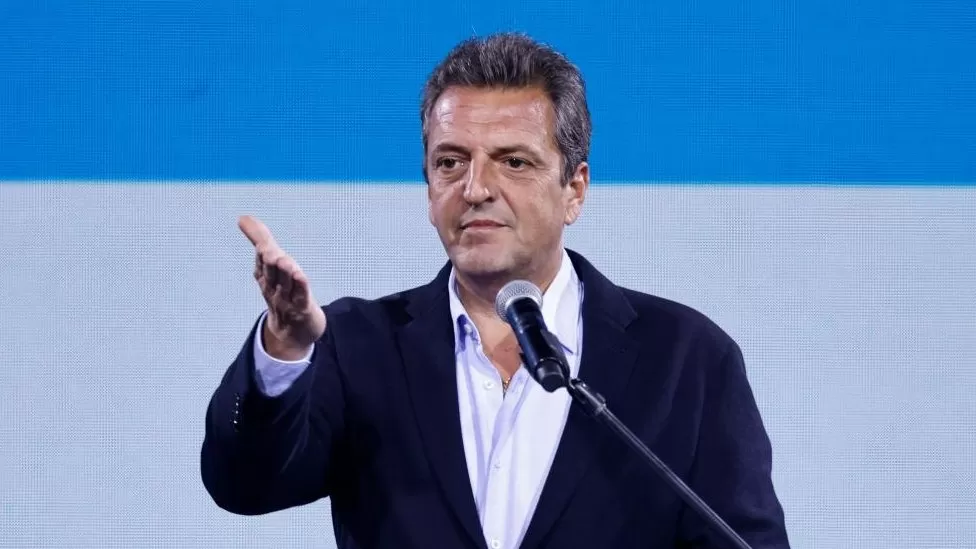 Reacting to the result, former President Trump posted on his Truth Social platform: "The whole world was watching! I am very proud of you.
"You will turn your country around and truly Make Argentina Great Again!"
White House National Security Adviser Jake Sullivan congratulated Mr Milei on his election "and to the people of Argentina for holding free and fair elections".
Posting on X, he said the US would "look forward to building on our strong bilateral relationship based on our shared commitment to human rights, democratic values, and transparency".
South American leaders have also been commenting on Mr Milei's victory, with Brazil's President Luiz Inácio Lula da Silva posting: "I wish good luck and success to the new government. Argentina is a great country and deserves all our respect."
"Brazil will always be available to work together with our Argentine brothers," he posted on X, formerly Twitter.
On the campaign trail, the president-elect publicly criticised Lula's policies and branded him an "angry communist".
Colombia's President Gustavo Petro said the result of the election was "sad for Latin America".
"Neoliberalism no longer has a proposal for society, it cannot respond to humanity's current problems," he posted on X.
But Chile's President Gabriel Boric said he saluted Mr Milei "for his victory and Sergio Massa for his worthy recognition of defeat".
He posted on X: "I wish the Argentine people the best and know that they will always have our respect and support."
Additional reporting by Emily McGarvey in London