It's a blatant and gigantic fraud....
NAIROBI — Zimbabwe's opposition on Sunday accused the ruling party of "blatant and gigantic fraud" after authorities declared the incumbent president the winner of last week's election, despite allegations of voter intimidation and a crackdown on government critics.
The Zimbabwe Electoral Commission, whose members are chosen by the president, announced late Saturday that President Emmerson Mnangagwa had won a second five-year term with more than 52 percent of the vote. According to the commission's results, opposition candidate Nelson Chamisa garnered just 44 percent. The elections were held on Wednesday and extended into Thursday after some regions, including the capital, Harare, did not receive their ballots on time.
"They stole your voice and vote but never your hope. It's a blatant and gigantic fraud," Chamisa wrote Sunday on X, formerly known as Twitter.
Addressing the media later at a news conference, Chamisa said Zimbabwe was suffering through a "vicious cycle of disputed elections" and accused Mnangagwa, who first came to power following a military takeover in 2017, of staging a "coup" against the ballot.
"You are not the last Zimbabwean; you are not the only Zimbabwean," Chamisa said, addressing Mnangagwa, who heads the ruling Zimbabwe African National Union — Patriotic Front, or ZANU-PF. "We are all Zimbabweans, we all count. We all matter and we will make sure we take our stand."
But the opposition leader, who also ran for president in 2018, stopped short of pledging to formally contest the results. Under Zimbabwe's constitution, candidates who want to challenge the final count need to file a petition with the constitutional court within seven days of the commission declaring a winner.
Instead, Chamisa, who leads the Citizens Coalition for Change party, said that the party and its supporters "have a million tools at our disposal to achieve our end."
The disputed vote comes as Zimbabwe, in southern Africa, grapples with soaring inflation and widespread corruption, the result in part of decades of economic mismanagement under former president Robert Mugabe, who founded ZANU-PF.
Mugabe spent 37 years in power before the military ousted him in a coup and installed Mnangagwa. The new leader vowed to tackle Zimbabwe's catastrophic economic problems — but both inflation and unemployment remain sky-high. And key people in Mnangagwa's circle have been ensnared in high-level corruption cases.
Late last year, the United States imposed sanctions on four people, including Mnangagwa's son, for graft and undermining democracy in Zimbabwe.
"We urge the Zimbabwean government to take meaningful steps towards creating a peaceful, prosperous, and politically vibrant Zimbabwe, and to address the root causes of many of Zimbabwe's ills: corrupt elites and their abuse of the country's institutions for their personal benefit," the Treasury Department said in a statementannouncing the sanctions.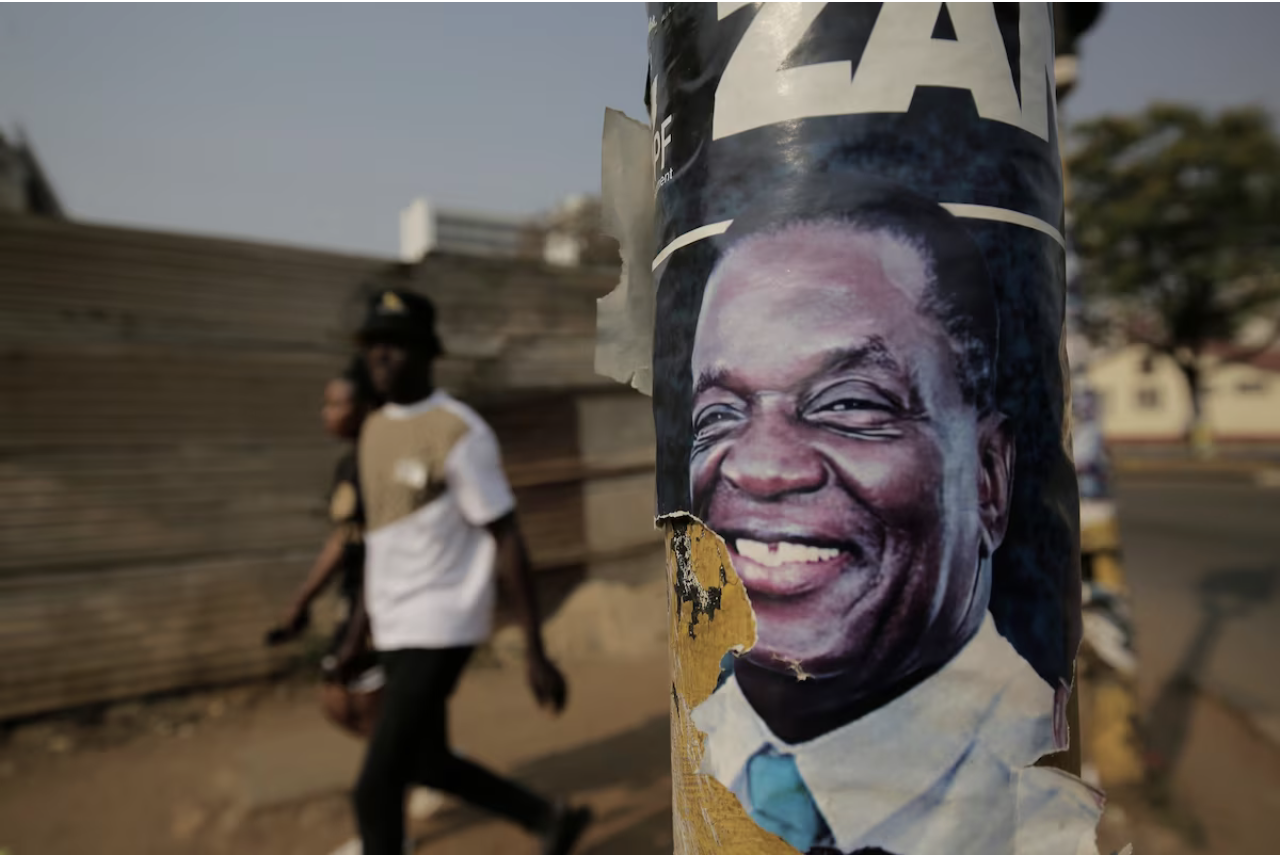 Farai Mukupete, 58, is a Chamisa supporter and member of the Zimbabwean diaspora in Britain. When reached by phone, he said he was distraught by what he described as a "stolen election."
"He is enriching himself and his family," Mukupete said of Mnangagwa. "He is building an empire for himself and his family out of the resources of this country."
Mukupete said some Zimbabweans are starting to view Mugabe more favorably than the current president. "Even though they hated Mugabe in the last years of his rule, people are beginning to say he was much better than Mnangagwa, despite all his failures," he said.
Outside observers, including the European Union, criticized Zimbabwean authorities for fostering a "climate of fear" around the election, including voter intimidation and the arrest of independent monitors ahead of the polls.
"During the election process, fundamental freedoms were increasingly curtailed ... which resulted in a climate of fear," the E.U. mission said in a statement Friday. "The election process fell short of many regional and international standards, including equality, universality, and transparency."
Nkululeko Sibanda, a worker for the Chamisa campaign in Harare, said the level of disorganization and violations he witnessed at polling centers was "shocking." In a phone interview from the capital, he said he spent most of the second day of voting arguing with election officials who said they didn't even have enough ink to stamp the ballots, which was required to validate them.
"It's unbelievable," he said. "My hope is that ZANU-PF will come to its senses and realize that they cannot run this country."
On Sunday, Mnangagwa denied engaging in fraud to win the election. On the X platform, he said his victory was "a testament to the power of unity and progress."
"Together, we will continue building a brighter future for Zimbabwe," he wrote.