Johannesburg, with a severe shortage of affordable housing, has hundreds of illegally occupied derelict buildings that officials and housing advocates say have become firetraps.
A fire tore through a multistory, derelict building filled with squatters in Johannesburg, killing at least 74 people, among them a dozen children, in one of South Africa's deadliest residential blazes, rescue services said Thursday.
More than 60 people were also injured in the fire that began around 1 a.m. local time on Thursday, Floyd Brink, the Johannesburg city manager, said at a news conference.
Rescue workers said that the bodies of some victims were charred beyond recognition and that DNA analysis would be used to try to identify them. Officials said a closed gate probably prevented some of the building's 200 residents from fleeing.
Brink called the fire a tragic event and "one unprecedented given the number of lives lost."
The cause of the fire is not yet known and is under investigation. But residents of the crowded building were known to have illegal water and electricity connections and to use fire for heat and light, officials said.
Johannesburg is one of the world's most economically unequal cities, with a vast underclass suffering from poverty, unemployment and a lack of affordable housing. An estimated 15,000 homeless people live in Johannesburg, according to the city's estimates.
President Cyril Ramaphosa visited the site Thursday and called the tragedy "a wake-up call" to address housing shortages and safety in the city.
The building is an apartheid-era heritage site owned by the city, Brink said. It had housed what was known as the "pass office," an arm of the government that issued permits regulating where Black South Africans could live and work.
In recent years, the city had leased it to a nonprofit organization to use as a shelter for women and children, but the group ceased operating by 2019 and the building was "hijacked," he said.
City officials last inspected the building during a 2019 raid in which they arrested about 140 foreign nationals illegally charging rent, Brinks said.
Photos of the scene Thursday morning showed blown-out apartment windows and bodies in the street covered with fabric.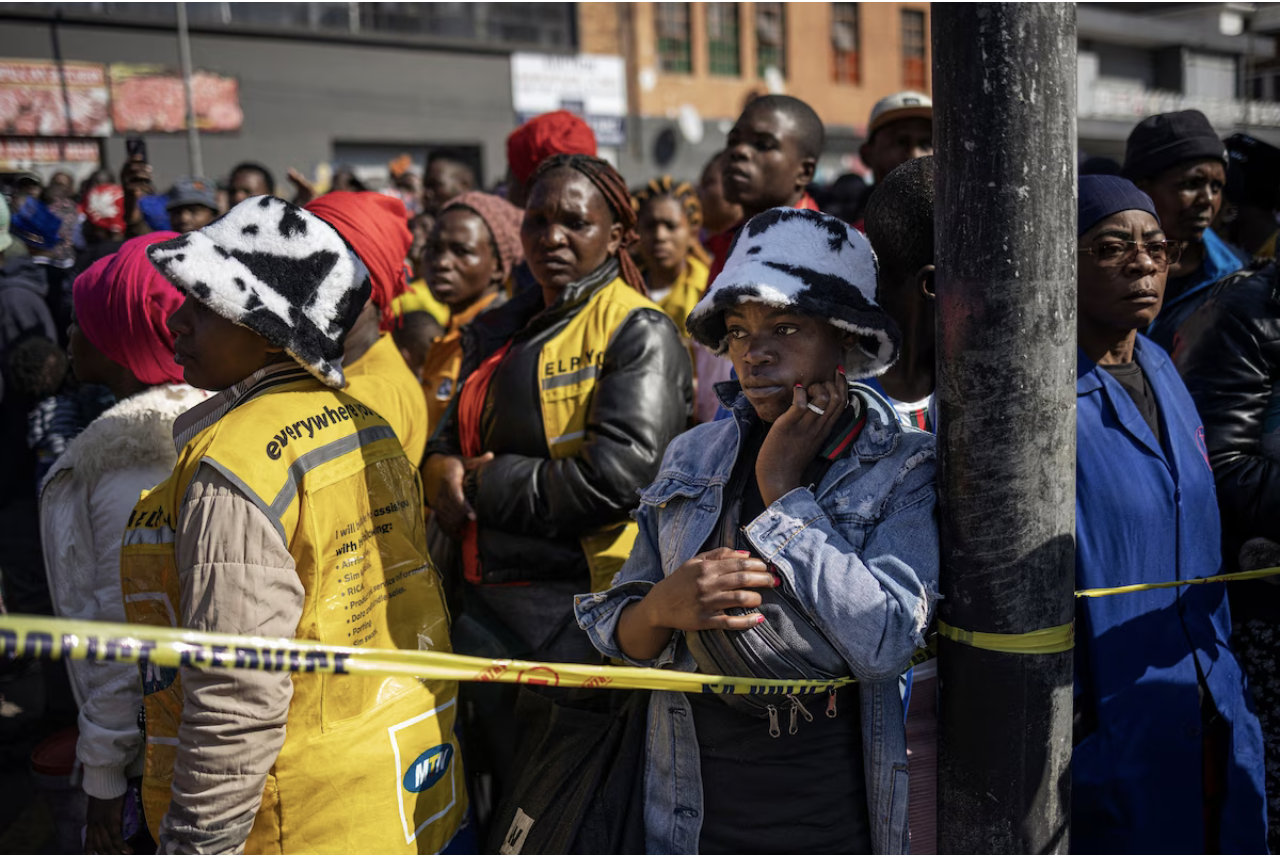 "This incident calls on all of us, from the emergency services and other entities of government to community-based organisations, to reach out to survivors to help restore people's physical psychological well-being and offer all material help residents may need," Ramaphosa said in a statement earlier in the day.
Imtiaz Sooliman, founder of the Gift of the Givers Foundation, a nongovernmental organization, said it was not uncommon for people in the city to be living in such conditions.

---
A fire killed at least 73 people in an apartment building occupied by informal residents in Johannesburg on Aug. 31. (Video: The Washington Post)
---
"It's not only about this building, it is about several buildings," he said, noting that many people who live in the cramped, dangerous conditions come from countries such as Somalia, Zimbabwe and parts of Nigeria.
Buildings like the one that caught fire are generally considered physically unsafe, but many of those who live inside feel they are better off there than in their own countries, he said.
"The rules are not followed. There is no dignity," Sooliman said, adding that people do not have the means to pay rent and find it difficult to get jobs in the area. "Locals are not happy with them being there."
Many buildings in Johannesburg's downtown were taken over by squatters after businesses left the central business district in the transition out of apartheid. The government has long grappled with what to do about them.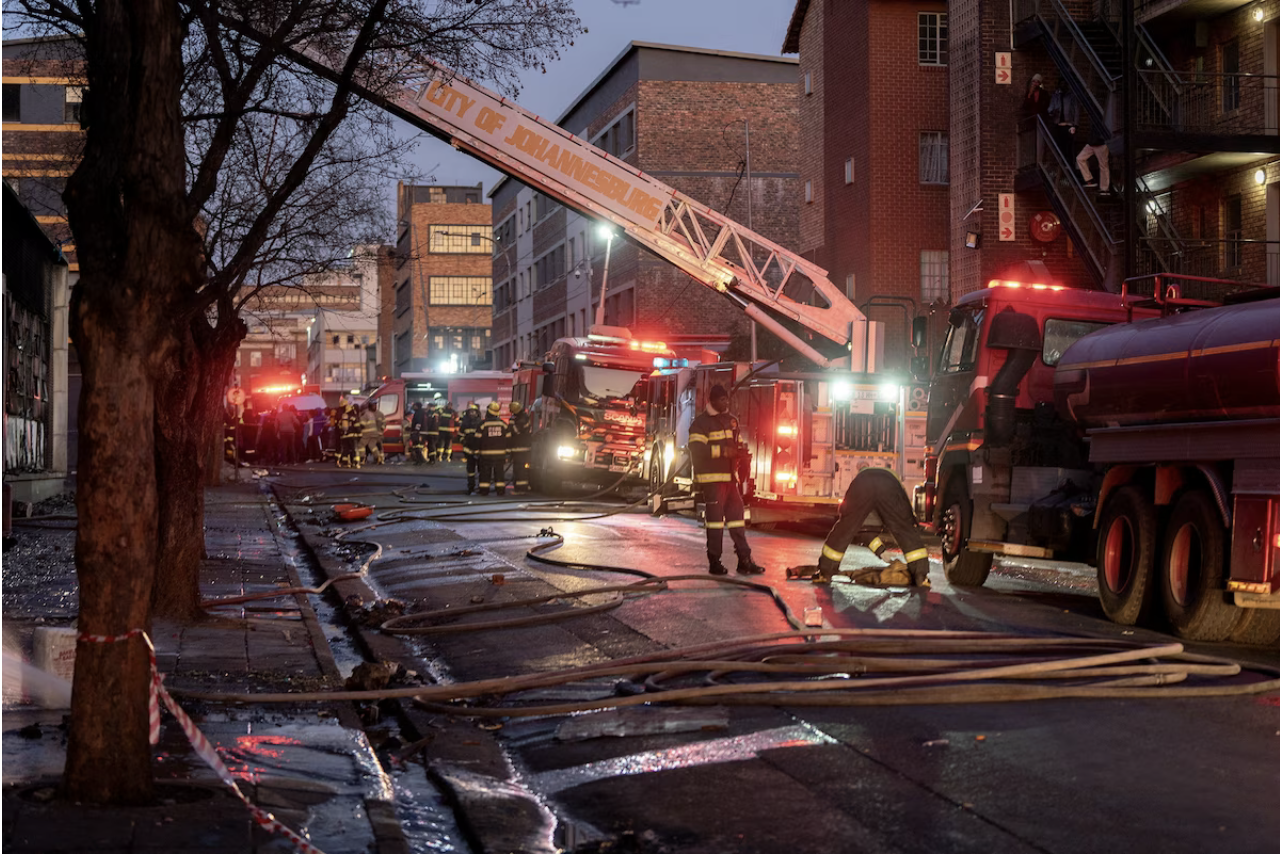 "If you take them out, where are you going to put them?" Sooliman said. Moving large groups of people would be costly and logistically challenging to a government already struggling with myriad issues, he said.
Tenants, landlords and governments all have a duty to ensure buildings are safe to live in, Sooliman said, but he added that he did not think Thursday's tragedy would change the country's bleak housing situation.
Sooliman said the Gift of the Givers Foundation, the largest disaster response NGO of African origin on the continent, was taking food, water and energy drinks to firefighters as they worked to recover bodies from the building. The group will then work to support victims of the blaze.
"The lesson for us is that we've got to address this problem and root out those criminal elements," Ramaphosa said Thursday. "It is these types of buildings that are taken over by criminals, who then levy rent on vulnerable people and families who need and want accommodation in the inner city."
Councilor Mgcini Tshwaku, a member of Johannesburg's public safety committee, told local news outlet eNCA that one of the reasons for the high death toll was that there were "a lot of partitions" inside the building, such as an internal security gate that blocked people's exit.

---
Tshwaku said many buildings like the one that caught fire have been declared unsafe and closed by officials. But this one, like others in the city's downtown, was still inhabited.
A firefighter told local media Thursday that emergency services are asking residents not to return to the building to collect their belongings, as the structure is likely to be hazardous.
"When I woke up, I saw smoke in the house. I grabbed this child, and I ran out," one resident told eNCA as she held a child. She said she did not know the whereabouts of her other three sons, who were also inside the building when the fire broke out.
Another mother told reporters at the scene that she was also searching for her child.
"The death toll is rising, and I am getting very anxious," she said through tears. "I don't know if my daughter is alive."