As one of just a handful of female world leaders, Jacinda Ardern's time as New Zealand's prime minister was dogged by sexist and ageist remarks from reporters, online commentators and fellow politicians.
She announced Thursday that she would step down as the country's leader after more than five years in office, stunning supporters and political insiders in the nation of 5 million.
"I am human. Politicians are human. We give all that we can, for as long as we can, and then it's time," she said, explaining her decision during an emotional news conference. "I know what this job takes, and I know that I no longer have enough in the tank to do it justice — it's that simple."

New Zealand Prime Minister Jacinda Ardern resigned on Jan. 19 after a two-term tenure and ahead of national elections later this year. (Video: Reuters)
---
Taking office at age 37, Ardern became New Zealand's youngest leader in more than 150 years when she was elected prime minister in 2017.
She was seen as a refreshing addition to a predominantly male world stage, riding a wave of "Jacindamania" in the island nation and leading New Zealand's center-left Labour Party as a liberal.
She will join a small alumni of former female leaders including Germany's Angela Merkel, Britain's Theresa May and Liberia's Ellen Johnson Sirleaf. Like them, she also contended with a string of sexist complaints.
5 moments that defined Jacinda Ardern's time as New Zealand prime minister
As a lawmaker in 2012, Ardern was told to "zip it, sweetie" by a fellow female politician — a phrase that was often used against her online after she became prime minister.
Shortly after Ardern was elected, prominent New Zealand economist Gareth Morgan tweeted that she would need to prove she was more than "lipstick on a pig," igniting rebuke from lawmakers and social media pundits about misogynistic language.
During her time in office, she was dubbed "Aunty Cindy" and referred to as a "babe" and a "pretty communist" by the media and commentators online. One television reporter asked about her child's conception, and last year police investigated a strip club for using a doctored almost nude image of her to promote its services.
This week, Fox News host Tucker Carlson referred to her as a "lady with the big teeth" while discussing her resignation.

New Zealand Prime Minister Jacinda Ardern and Finnish Prime Minister Sanna Marin responded to a reporter's question about their respective ages on Nov. 30. (Video: Reuters)
---
During a news conference in Auckland between Ardern and Finnish Prime Minister Sanna Marin, a male reporter suggested the two leaders were meeting because they were of a similar age and gender, prompting Ardern to hit back.
"A lot of people will be wondering: Are you two meeting just because you're similar in age and have got a lot of common stuff there — when you got into politics and stuff — or can Kiwis actually expect to see more deals between our two countries down the line?" the reporter from New Zealand radio station Newstalk ZB asked.
Ardern, looking slightly incredulous, replied: "I wonder whether or not anyone ever asked Barack Obama and John Key if they met because they were of similar age," referring to New Zealand's former prime minister who was born five days after the former U.S. president.
"Because two women meet, it's not simply because of their gender," she added.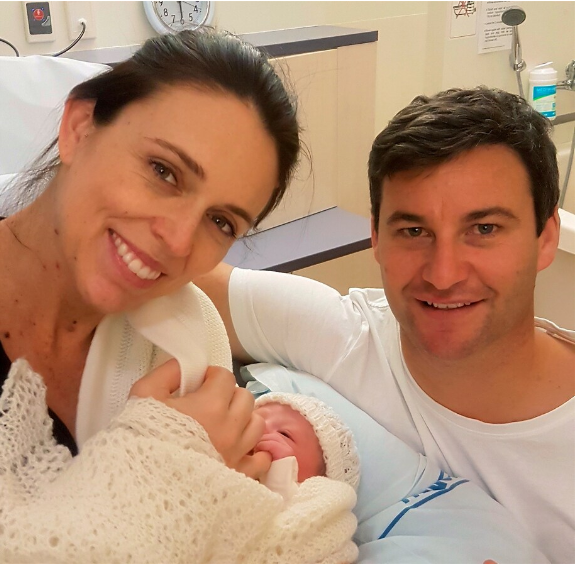 When Ardern became prime minister in 2017, reporters had focused their questioning on whether she felt she had to choose between having children or a career, which she called out as discriminatory at the time.
In 2018, she became the second world leader in modern times to have a baby while in office — following Pakistan's Benazir Bhutto — stating at the time that she was "not the first woman to multitask." Ardern took maternity leave for six weeks and later traveled with her 3-month-old daughter, Neve, to the U.N. General Assembly in New York.
Announcing her resignation in the coastal city of Napier, Ardern told reporters Thursday that she was looking forward to spending more time with her family. She and her partner, Clarke Gayford, had to cancel their wedding last year because of the coronavirus pandemic.
"Arguably, they're the ones that have sacrificed the most out of all of us," Ardern said, before addressing her daughter and partner. "So to Neve, Mum is looking forward to being there when you start school this year. And to Clarke, let's finally get married."

New Zealand Prime Minister Jacinda Ardern, who won global praise for her leadership during covid and other crises, resigned unexpectedly Jan. 19. (Video: Neeti Upadhye, Julie Yoon/The Washington Post)
---

Women remain extremely underrepresented in global politics, with just 28 countries represented by elected female leaders as of 2022, according to U.N. figures. "At the current rate, gender equality in the highest positions of power will not be reached for another 130 years," U.N. Women said.
India's social divisions erupt on flights, and women bear the brunt
In office, she formed the most diverse government in New Zealand's history after a landslide election victory in 2020, with more women, people of color, LGBTQ and Indigenous members of Parliament than ever before.
Last year, New Zealand became the first advanced industrialized democracy to have a majority-female legislature.
Ardern has also championed the #MeToo movement for gender equality and her empathetic brand of governing during several crises including the coronavirus pandemic and the 2019 Christchurch terrorist attack on two mosques, have elevated her on the global stage — even as her popularity recently began to slip behind the main conservative opposition at home.
A self-described feminist, she once said she hoped to be remembered as "a good leader, not a good lady leader. I don't want to be known simply as the woman who gave birth."
Ardern said she would step down by Feb. 7.
Rachel Pannett, Michael E. Miller and Helier Cheung contributed to this report.