The violence erupted suddenly but comes after a year of rising tensions between Israel and Palestinians in the West Bank and Gaza.
Israeli Prime Minister Benjamin Netanyahu said the nation was "at war" Saturday after Palestinian gunmen infiltrated Israel from Gaza, launching attacks on troops and civilians in the most brazen militant operation in years.
Israel responded with air and artillery strikes in Gaza, where the population was bracing for a wider campaign. By nightfall, at least 100 people had been killed in Israel, according to Zaki Heller, a spokesman for the Magen David Adom paramedic service. In Gaza, health officials said more than 230 people were killed in Israeli strikes.
The violence erupted suddenly Saturday morning — but comes after a year of rising tensions between Israel and Palestinians in the West Bank and Gaza, which has been under a joint Israeli-Egyptian blockade since 2007. This year alone has seen a spate of deadly attacks in Israel and the Palestinian territories, an escalation that followed Netanyahu's move to cobble together the most far-right government in Israeli history.
Hamas, which rules the Gaza Strip and carried out Saturday's attacks, said the operation was in response to the blockade, as well as recent Israeli military raids in the West Bank and violence at al-Aqsa Mosque, a disputed religious site in Jerusalem known to Jews as the Temple Mount.
"Enough is enough," the leader of Hamas's military wing, Mohammed Deif, said in a recorded message Saturday, the Associated Press reported. "Today the people are regaining their revolution."
As of Sept. 19, before Saturday's outbreak of violence, 227 Palestinians had been killed by Israeli troops or settlers this year, according to U.N. figures, with most of those deaths — 189 — occurring in the West Bank. At least 29 Israelis, mostly in the West Bank, were also killed this year as of the end of August, according to the same U.N. database.
Here are some of the major incidents that took place this year in the lead-up to the current conflict.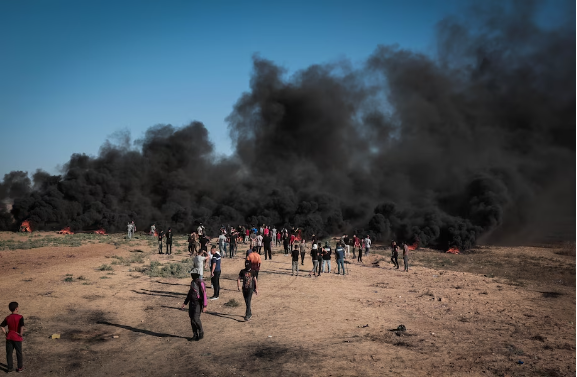 September: Growing fears of all-out conflict
Just last month, Israel and Hamas, the Palestinian militant group that rules Gaza, appeared to be on the brink of war. Israeli border agents found explosive material hidden in a shipment of jeans and halted all exports from the Gaza Strip.
Hamas put its forces on high alert and held field exercises with other armed groups, including Palestinian Islamic Jihad. The drills included practice rocket launches, ambushes and the "storming" of settlements, local media in Gaza reported, in an apparent preview of the attacks launched on Saturday.
Hamas also allowed Palestinians to begin protesting again along the separation fence between Israel and Gaza, where young demonstrators have faced off against Israeli soldiers. On Sept. 13, five Palestinians were killed when they attempted to detonate an explosive at the barrier wall.
"It has been quiet, but it is beginning to boil," Basem Naim, head of Hamas's Political and International Relations Department, said in an interview with The Washington Post in September. "There is a lot of pressure under the water."
A summer of military raids and retaliatory attacks
The tensions in Gaza followed a violent summer in the West Bank, where tit-for-tat attacks flared between Palestinian militants on one side and Israeli forces and Jewish settlers on the other.
Israel staged multiple military raids in the city of Jenin, where it said militants were planning attacks on Israeli troops and civilians. On June 19, Israeli forces raided Jenin and killed at least five Palestinians, deploying Apache helicopters in the West Bank for the first time since the second intifada, or Palestinian uprising, which lasted from 2000 to 2005.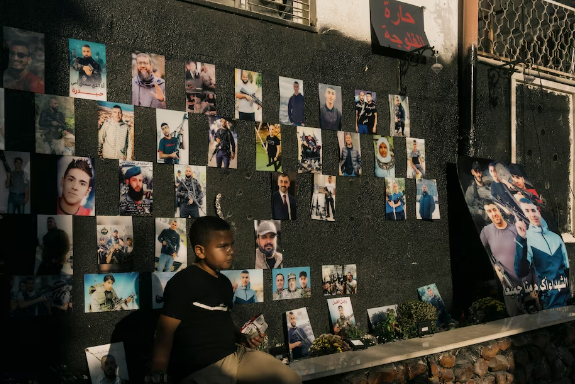 The next day, Hamas gunmen opened fire at a hummus restaurant outside Eli, an Israeli settlement in the West Bank, killing four Israelis. And on June 21, hundreds of Israeli settlers rampaged through Palestinian villages — including Turmus Ayya, where one person was killed — torching homes and cars, as well as shooting at residents, according to Turmus Ayya mayor Lafi Adeeb.
Israel then also carried out its first drone strike in the West Bank since 2006, killing three suspected militants. On July 3, Israel's military launched its biggest operation there in more than two decades, staging an air and ground attack on a refugee camp in Jenin with roughly 1,000 soldiers.
Israeli officials said they were targeting a militant "command center" in an operation that marked the start of an "extensive counterterrorism effort" that the Israel Defense Forces said would continue indefinitely. At least eight people were killed and 80 injured, according to the Palestinian Health Ministry.
Spring violence flares in Gaza and the West Bank
Before Israel's massive operation in Jenin in July, its security forces shot and killed a 14-year-old boy on a bicycle as they pursued two Palestinian militants in March. The Post created a 3D reconstruction of the raid by synchronizing and reviewing dozens of videos from March 16, when the incident took place, as well as speaking to witnesses.
In early April, during the Muslim holy month of Ramadan, Palestinian worshipers at al-Aqsa barricaded themselves inside the mosque. Israeli police then stormed the site in the Old City of Jerusalem and used "stun grenades and tear gas, fired sponge-tipped bullets, and indiscriminately beat Muslim worshipers — including elderly people and women — with batons and rifle butts," the U.N. Human Rights Office said in a statement.
About a month later, Israel launched surprise airstrikes in Gaza targeting leaders of the Islamic Jihad militant organization, which is backed by Iran. The strikes killed three top militants and 10 others, according to Palestinian health officials, including four women and four children. Israel carried out the strikes a week after it reached a cease-fire with Palestinian armed factions. The Israel Defense Forces said the three senior Islamic Jihad members who were killed were responsible for recent rocket fire and attacks against Israelis.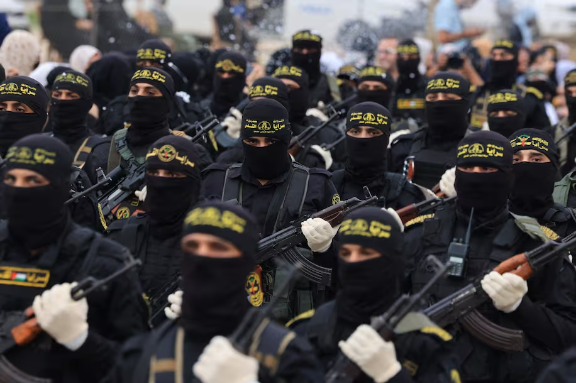 The strikes set off a five-day bout of violence that killed at least 33 people in Gaza and two people in Israel. Israel and Islamic Jihad agreed to a cease-fire on May 13.
January: An operation in Jenin and a synagogue massacre
The year started with bouts of violence, including an Israeli military operation in Jenin that resulted in a shootout that killed nine Palestinians, local authorities there said. The raid was carried out on Jan. 26 — and the next day, a Palestinian gunman opened fire at a synagogue in East Jerusalem, killing seven people, including children, during prayers.
At the time, Hamas official Mushir al-Mashri congratulated the attacker — who was killed by Israeli security forces — saying that the shooting was "a quick response to the Jenin massacre, and is evidence of the vitality and readiness of the resistance."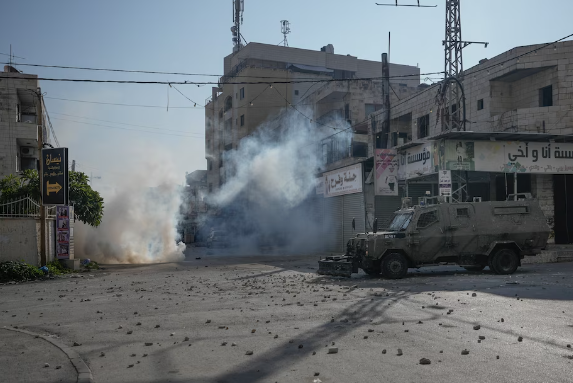 Hazem Balousha in Gaza contributed to this report.